Features, Profiles, Sports in Kensington
Front Street Gym's Frank Kubach Inducted Into the Pennsylvania Boxing Hall of Fame
---
  On Sunday, March 21, the Pennsylvania Boxing Hall of Fame inducted Front Street Gym owner Frank Kubach into the class of 2017. The ceremony was held at Romano's Catering in Juniata Park, with hundreds of boxing enthusiasts in attendance.
  Frank is a Kensington legend and his gym is iconic (Spirit News has written about him and the gym several times). It has been the training center and second home to a pantheon of great local fighters for over 35 years: fellow Hall of Famers Hank Quinn, Anthony Boyle, Brian McGinley, and Monty Sherrick trained there, among many others.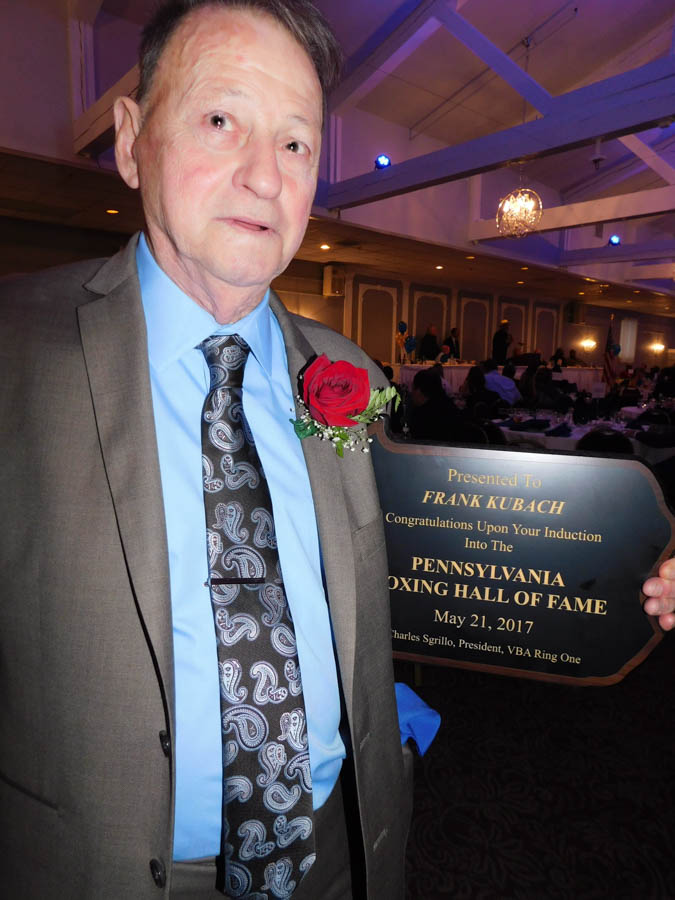 Kensington is not an easy place to grow up. Many of the institutions that people used to depend on — schools, churches, industry — have consolidated or moved away. But the Front Street Gym is a beacon in which many people in the community take great pride. Legitimate world champions have trained there, ESPN named it one of Boxing's Most Famous Gyms and the newest Rocky movie, "Creed", was filmed there.
  But people are most proud of what the gym has meant for so many kids who went on not to pursue a career in boxing, but went on the become policemen, firemen, roofers and laborers, or the first in their families to go to college, kids whose horizons were broadened. They were all able to do it because of Frank Kubach's 37 years of hard work and dedication.
  Frank got a standing ovation at the ceremony and was clearly choked up at the induction ceremony. He gave a short, emotional acceptance speech. He thanked everybody and said that the kids were the real people that should be honored.
  "The Kids" feel that this honor is long overdue for Kubach.
  "Frank Kubach is a great guy," Hank Quinn told me. "He did everything for the kids. He spent money out of his own pocket to take us to tournaments in Florida. He took us everywhere. I absolutely owe my whole professional career to him. He deserves this honor so much."
  Last year, UFC star Eddie Alvarez brought journalist Ariel Helwani for an hour-long segment about the neighborhood and brought the cameras into the gym.
  "Frank was monumental in creating an environment for young kids to get off the streets and into a place where they can push themselves and excel," Eddie told me by phone. "I was one of those kids. Frank always allowed underprivileged kids to work out for free, and that may seem like a small gesture, but that gesture continues to put kids on the right path to becoming better and more righteous men. I want to thank Frank personally, and on behalf of the entire neighborhood of Kensington."
  "Frank is a long-time fixture in the Philly boxing community," Freddie Druding Jr., vice-president of the Veteran Boxers Association, told Spirit News. "I have had the honor and pleasure of knowing him for so many years. From the very end of my amateur career through my entire professional career, I trained out of Front Street Gym. He's an all-around class act. This is a well-deserved honor for him tonight."
  The permanent Pennsylvania Boxing Hall of Fame will eventually be located at the Veteran Boxers Association, Ring One at 2733 East Clearfield Street in Port Richmond, just a short walk from the Front Street Gym.
  Others inducted this year include boxers Jerry Judge, Richie "The Bandit" Bennett, David "Hand Grenade" Bey, "Smokin'" Bert Cooper, Alfonso "Fonzie" Hayman, William "The Hammer" Jones and trainer Percy "Buster" Custus. •