News, Politics in Kensington
Green Party Candidate for PA's 197th District Vows to Fight Corruption at Press Conference
---
Cheri Honkala, a resident of the 197th district in Philadelphia for about 30 years, had trouble voting in that district's special election Tuesday morning. She is also the Green Party candidate looking to win that seat.
"Never did I dream that I would wake up this morning with my children, walk down Hancock Street, and go into my voting booth, and not be able to vote," she said at a press conference on the second floor of the Christ and St. Ambrose Episcopal Church, as a few dozen volunteers worked during election day.
Honkala eventually was able to vote, and urged people to persevere and vote for who they believed in, despite apparent chaos at the polls.
She wants to combat homelessness, a major issue in the district, by driving around in vans and giving those on the streets the resources they need —starting Wednesday, if she wins.
"There is no scarcity, it's all bullshit," Honkala said in response to how that plan would logistically work. "Politicians have a lot of social capital. You see all these empty churches? There's no reason for people to sleep outside. And if I have an office, they'll come sleep in my office if our city and our state can't house people."
Corruption is the main issue Honkala heard from constituents on the campaign trail, she said. The Green Party candidate said she's seen a lot of corruption in her lifetime, but the voting fiasco this morning at West Kensington Ministry was another surprise.
"I at least thought they'd create a perception of democracy when I came in to vote this morning," she said.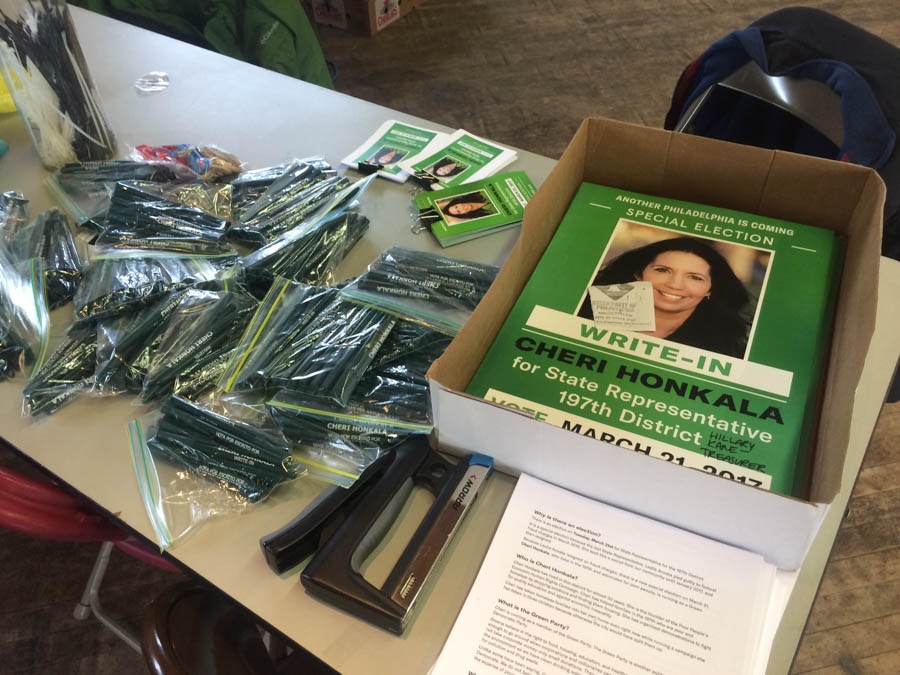 Honkala was Jill Stein's running mate in 2012, and said that experience showed her that third-party politics is legitimate.
"But the thing that has helped me the most is my time in, right here in this neighborhood for 30 years," she told Spirit News.
Polls are open today until 8PM and Honkala urged voters in her area to get to the polls.
"It's all about participation now," she said. "None of us can sit on the sidelines. Everybody's in the game. And if we're not all in the game, then we're all going down in the Titanic."