Features, Politics, Profiles
Kristin Combs: A Different Kind of Candidate
---
When Port Richmond resident and Fishtown school teacher Kristin Combs decided to run for City Council she sought the endorsement of her union, the Philadelphia Federation of Teachers (PFT). It seemed like a logical fit to her — adding another voice on Council for teachers, the union, the district and, most importantly, the students just made sense.
But Combs didn't get receive PFT's endorsement. She said she knows why.
"It's because I am [a member] of the Caucus of Working Educators," said Combs, who is running on the Green Party ticket.
The Caucus is a group of about 300 active Philly teachers and staffers that is running a slate of candidates against the current PFT leadership sometime in 2016 (whenever that leadership group decides to allow an election). Their mission is a more transparent, democratic, member-driven union, according to their website.
Yaasiyn Muhammad, who teaches at Central and is active in the Caucus (he is running for one of the PFT offices), agrees with Combs' assessment about the PFT's decision.
"I was at [that] meeting," Muhammad said. "The only objection to Kristin Combs was that she was a member of the Caucus."
Two other candidates sought the PFT endorsement at the same meeting
"Al Taubenberger and Andrew Stober were endorsed without discussion," Muhammad said. He added, "Taubenberger stood up there and said 'I'm okay with keeping the SRC around.'" The state-controlled SRC is a point of contention with many teachers and most Philadelphians. In May, 75 percent of Philadelphia voters approved a non-binding change to the City Charter calling for the abolition of the SRC.
Another reason any organization would hesitate to endorse Combs is because she is not running on one of the two major party tickets. However since PFT endorsed Stober, who is also running on an alternative ticket, that doesn't seem to be the case here. The PFT did not respond to The Spirit's request for comment.
So who is Kristin Combs? She's lived in Philly for seven years after coming to the area to attend grad school at Penn. She owns a home in Port Richmond. She's originally from Texas and wanted to make one thing crystal clear to The Spirit readers:
"I am NOT a Cowboys fan!" Combs claimed.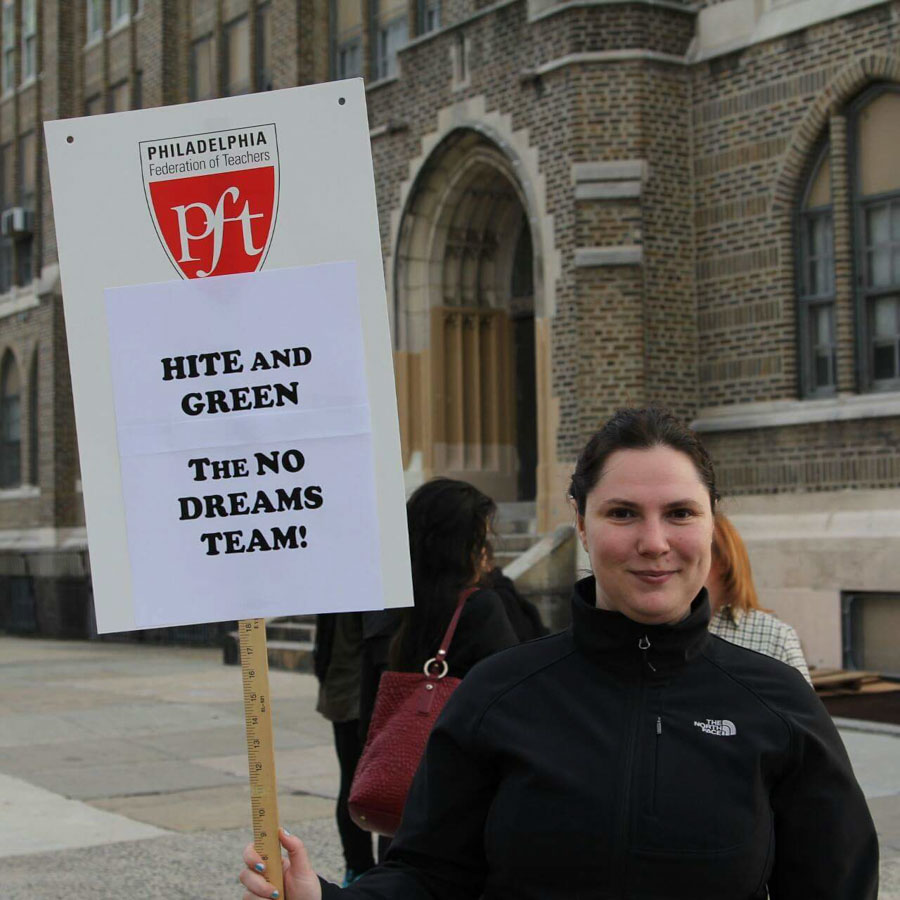 Combs teaches at Penn Treaty School in Fishtown after a few years at Roberts Vaux Promise Academy in North Philly. The SRC voted to close Vaux, along with more than 20 other schools, in 2013. That experience "triggered" her activism.
Penn Treaty got hit by the shrapnel of that mass-closing too. They picked up kids from other schools that were ordered closed and were forced to transition from a 6th through 8th grade middle school to a 6th through 12th grade school.
"It's still a challenge," Combs said. "We constantly ask, 'How can we make this better for the kids?'"
In addition to teaching and campaigning for office, Combs is active in a variety of counter-status quo movements.
"I try to amplify the voices of people who typically can't have them," she said.
Her passions in that regard include #BlackLivesMatter, homelessness activism and opposing school closings.
She uses her own voice for herself though too. She sings a cappella for Project Philly, a group that raises funds for art-based educational scholarship. Her boyfriend sings with the group as well, that's where they met. He is a teacher in a suburban district.
Combs' Council plan includes tax reform, particularly the way the city uses the 10-year tax abatement, which she calls, "Ridiculous."
"It needs to be re-worked," she said. Instead of being "automatic" for new businesses, Philadelphia should "target industries and businesses" that bring value. Also, all businesses that receive the abatement "should be paying a living wage to employees."
Her education plan is less about the "Three R's" (reading, writing and arithmetic) and more about attacking the problem at it's source: Poverty.
She focuses on the "Fight for 15," which is a movement to raise the minimum wage to $15 per hour.
"Many [council members] support this but no one commits to introduce the legislation" due to fear of offending their business supporters, Combs explained. "I will introduce it."
Her advocacy for the minimum wage increase attracted other endorsements, including the American Postal Workers Union Local 7048, based in Northeast Philly. Union president Vince Tarducci explained why they backed Combs.
"She was a big hit at our meeting," Tarducci said. "It was not the normal [rhetoric] you get from politicians."
The 7048 also wants someone on Council who continues to support the "right to unionize" and "fights for education," which "represents the personal values of our membership," Tarducci said.
As for her game day plan, Combs said she will have help from a variety of people from her group of endorsers and hopes to get representation in each ward at the least. Schools are off that day, but most teachers will be in school for a professional development day.
She'll still get some help at the polls though. George Bezanis is an elected Democratic committeeman in Fox Chase and member of the Caucus.
"I'm going to encourage people at the polls to vote for whichever Democratic candidate  they like, but they don't have to use all five votes for Democrats," Bezanis said. "I'm going to remind them that there are other progressive candidates in there."
Combs just wants voters to know one thing.
"This is the lowest risk independent vote ever," she said.
You've got the power to vote, here's everything you need to know to make the most informed decision on November 3rd.