Features, Sports in Kensington
Major Pain: Kensington Boxer Balances Life on Police Force with Budding Pro Career
---
Manny Folly is an undefeated, up-and-coming boxer from the neighborhood. He's trying to be a role model in the community, but he almost never started boxing at all.
"The first time I went, I was 12 years old and I walked in and it wasn't much space to really do anything," Manny said about the early days at the Rock Boxing Gym, in the former Dennery's Sporting Goods store at Kensington and Somerset. "The equipment wasn't good; the ring was an eight-foot square with ropes tied to wooden poles. I said to myself, 'This ain't no gym. I'm leaving!'  It's funny remembering where I started and how it has progressed."
He almost never began training, but fate has a funny way of catching up to people.  A few months later, trainer Buddy Osborne spoke to a group of kids playing flag football at McVeigh Playground. He convinced Manny and a group of about 10 boys to come and train at the Rock.
Spirit News previously wrote about Buddy Osborne and the Rock in October 2016. As we put it in that article, it's a "gym like no other gym."
"He was the only one who stayed," Osborne said. "One by one the other kids stopped coming in, but Manny kept coming."
Soft-spoken and mild mannered, Manny (9-0 with seven knockouts) comes off as one of the nicest people you will ever meet. But there is also a major reason he earned his nickname, "Major Pain." His hands can cause major pain to his opponents' heads and bodies.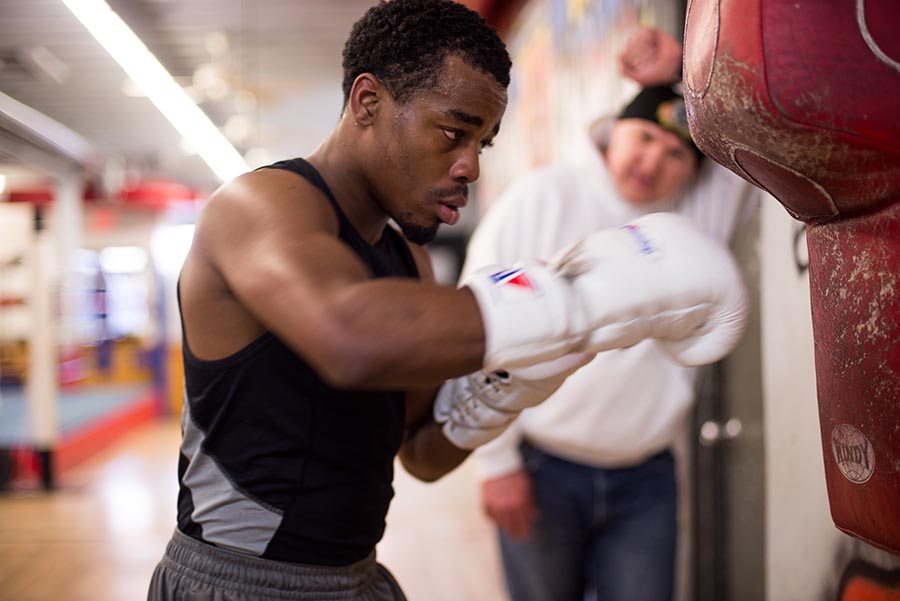 "Even in the very beginning, guys didn't want to spar with him," said Timmy Sinese, longtime Kensington boxing trainer who helped with the paperwork when Manny first went pro. "He hits hard. Real hard."
Manny went 26-6 as an amateur, twice winning Pennsylvania Golden Gloves and a bronze medal at Nationals.  He is the first professional fighter to emerge from the Rock.
"There are a lot of guys who had outstanding amateur careers," said Buddy. "They go on to have good pro careers.  Manny had a good amateur career, but I think he's going to have a great pro career. He's not where he needs to be at this point, he's where he wants to be, and that's better."
Manny went on to win the 2014 Briscoe Award for Rookie of the Year, Philly's top honor in the tight-knit boxing community. Former cruiserweight champion Steve "U.S.S." Cunningham has said that he believes Manny will be a world champion someday.
He has a bright future ahead of him, inside and outside of the ring.
Manny grew up near the intersection of Kip and Cambria and graduated from Stetson Middle School and Edison High School. At Edison, his favorite class was shop.
"I was always good with my hands," he said.
In 2014, he graduated from the Philadelphia Police Academy. Because of his work commitments as a patrolman, he doesn't get the time off that other fighters schedule for a full camp before a big fight.
"Right now, we're taking it one fight at a time," Manny told AbramsBoxing.com. "I'm making adjustments with the department, balancing out the two careers. I'm making it work."
His co-workers have been nothing but supportive.
"They love the fact that they a have a professional fighter here, someone that the kids look up to. I come from an area where you see a lot of violence and drug activity. I want to be a positive influence in my city," he told ABC News at his Academy graduation.
"I see every day as an opportunity to bridge the gap between the community and the police.  We're held to a higher standard, and have to set an example for the young people in our communities.  The area I grew up in is no joke.  The kids at my gym, 60 or 70 on any given night, they are watching. They see everything.  I want them to know that just because you come from a certain area, or grow up under certain circumstances, you don't have to choose that lifestyle."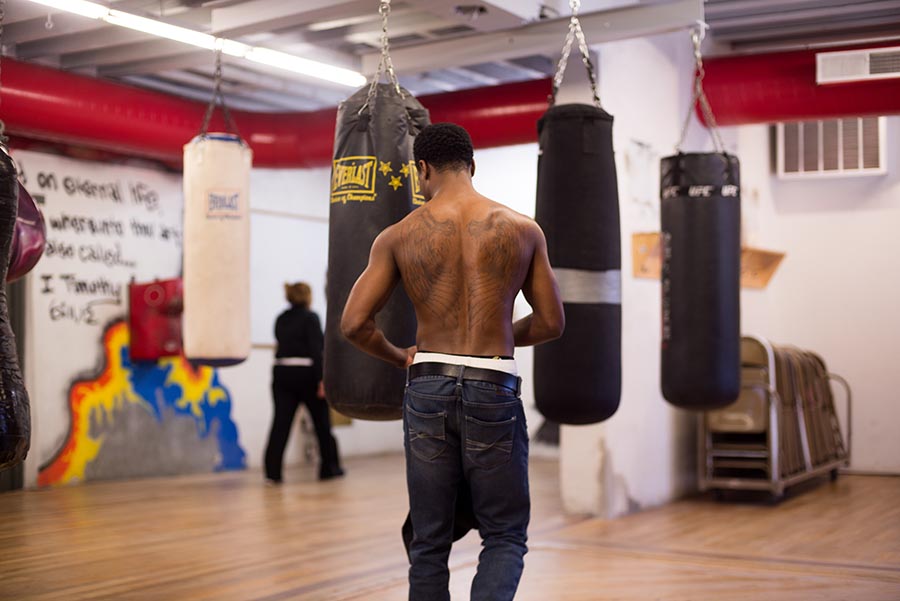 Like too many families in the neighborhood, the Folly's have been affected by tragedy.  Manny is the youngest of seven boys. The week before Manny's first professional fight in 2013, his oldest brother, Erving, was shot and killed.
"You see the caution tape," Manny told Fox 29. "You see all the police out there. I remember I could see my brother's foot hanging out of the door. That hit me hard. I just couldn't bear losing someone that close to me."
In his honor, Manny now wears his brothers nickname, NEAK, on his trunks when he steps into the ring.
"He said, 'Man, you can go as far as you allow yourself to go.'  I think that will always stick with me for my career. That is the reason I go a hard as I do in the gym."
Manny "Major Pain" Folly puts it on the line on Friday, March 31 at the 2300 Arena in South Philly, 2300 South Swanson Street (at Wolf). Doors will open at 6PM.
In the other co-main event of the evening, Jaron "Boots" Ennis (9-0, 8KO) who trains with his father at Bozy's Dungeon above Harrowgate Boxing Club, seeks to secure his 10th straight win since his professional debut just ten months ago.
For tickets and information, check www.VictoryBoxingPromotions.com
You can also follow him @Instagram.com/MannyFolly