Music, Real Estate in Fishtown
World-Famous Hip-Hop Artist Comes to Fishtown Townhome Open House
---
  Years of renting houses and apartments in Philadelphia will lead you to do one of two things. You can accept the fact that this city beat you, cut your losses, and move to a cushy suburban house with a front lawn and driveway in South Jersey or DelCo. One the other hand, you could do the unthinkable and lay down some roots in this city by purchasing your very own piece of the real estate pie.
  Real estate ranges from colonial townhomes to modern Tetris-y houses complete with all of the sustainable bells and whistles you can imagine to ensure you barely tickle the surrounding environment with your lifestyle. Developers and real estate agents are ready to create a house however you want, as long as you have money to make it happen.
  When it's time to start looking for a house of your own, the best way to check out a place is to see which listings are having open houses. These are typically low key affairs: An agent might hand you a glass of champagne or red jug wine to sip on while you and your partner wander aimlessly occasionally discussing closet space along the way.
  The Somers Team, a local real estate firm, decided to spice up the whole "open-house" thing by throwing an open house party at one of their newest properties on the river side of Fishtown and a stone's throw away from the Fillmore and growing entertainment district along Allen Street. To make it even more interesting, they brought in artists to display their work inside the home, showgirls dressed in revealing sequined outfits and hired legendary hip-hop artist Talib Kweli to chill and mingle with the guests.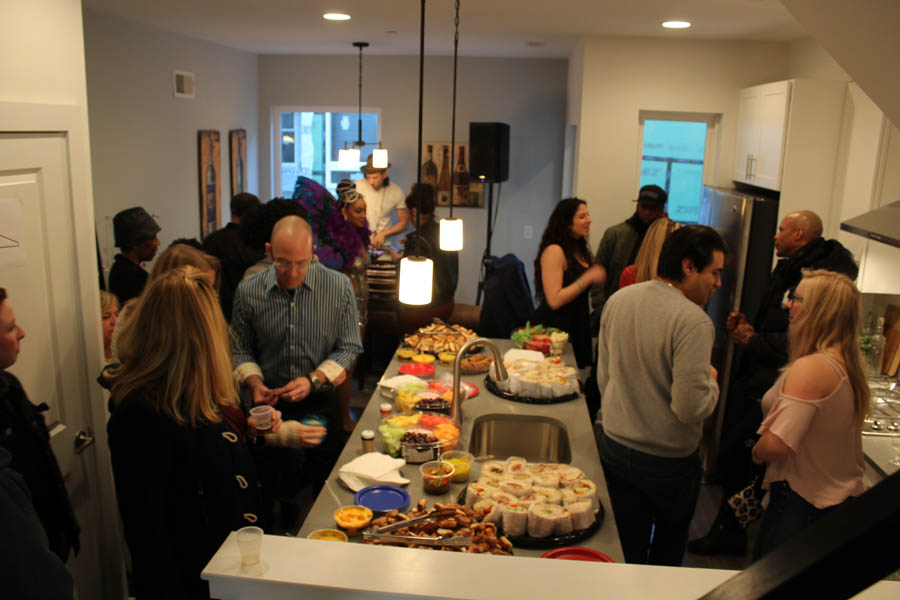 "The Residences at Fillmore" is developer RiverWard Group's project along the 100 block of Allen Street. Spirit News was invited to check out phase one of the 18-unit townhome community. The 2,000-square-foot single-family homes come with a garage, three bedrooms, 3.5 bathrooms, a roof deck and a green roof.
  Spirit News caught up with real estate broker Stephanie Somers who, together with her husband, Chris, owns the Somers Team, a Kensington-based real estate company that handles The Residences at Fillmore. We asked her how the open house party concept came to be.
  "It's really important to introduce the community to the space," Somers said. "We considered what is the lifestyle of the person who's going to live here? Why don't we bring in a few people, throw a soiree and see if folks who didn't know about this place finally see that Allen Street is on the map."
  One artist invited to display some work was Kensington native Cathey White. Her paintings highlight the urban landscape and feature many scenes of streets in the Riverwards. We spoke with her in front of one of her works titled "Relic."
  "All of my art is urban inspired, specifically to the Philadelphia area. I'm very interested in things we walk by every day and might not think of as beautiful," White said. "A lot of my stuff is just like a city, it's imperfect. I try to keep it very sketch like."
  White admits this was a unique experience, but she believes showing local art in a house people may be looking to purchase not only shows off her work, but helps the artistic community of the neighborhood.
  "I think it's great. It's an opportunity for people to come out, all different kinds of people can get together," White said. "People who are interested in purchasing spaces… it's a good opportunity for them to see a representation of Philly and the different cultures and people that are in Philly."
  The open house party also featured a Yards Brewery tasting in the basement, while Tito's Vodka and Bluecoat Gin had swag and tables set up in the bedrooms. A copious spread of pretzels, hoagies and veggies was also laid out for guests to nosh on.
  People wandered throughout the house, making sure to check out every nook and cranny while sipping on stiff drinks. As the booze continued to flow, the open house began to feel less like an up-tight affair and more like a college party in a super nice house.
  We spoke to Mo Rushdy, developer for The Residences at Fillmore and managing partner at RiverWards Group, about the project and how Fishtown is changing in terms of development. According to Rushdy, demolition on this project began about a year ago and there were some interesting finds.
  "When we did the demolition we found pieces from the prohibition period, we found underground cellars, so we had to spend a little more money on the demolition," Rushdy said.
  His company has been a part of many developments throughout the Riverwards. According to Rushdy, his company will look to begin a large scale project at Frankford and Lehigh Avenues at the former Woods Bros. Building Supply Co. site. Rushdy believes it will be another major piece of positive development along the Frankford Avenue corridor.
  According to Rushdy, the average age of people buying into The Residences at Fillmore is 33 and most have a dual income ranging in the six figures. "Were talking about young professionals who are going to be bringing up families here," Rushdy said. "A lot of them have good plans for the public schools here."
  On the downside, Rushdy acknowledges that the neighborhood is getting tired of all the construction. "They want to get it done," Rushdy said. "We're starting to see resistance and at the same time land prices are skyrocketing."
  Rushdy also points out that neighborhoods like East and South Kensington are seeing this rise in land price. In some cases, Rushdy has seen prices exceed what people were paying for lots in Fishtown a year ago.
  Rushdy hopes the housing market stabilizes and doesn't get saturated with developers that buy the land at astronomical prices and then in turn try to cut their losses by raising the cost of the house.
  "What's going to end up happen is you're going to have to raise prices not because the market is dictating prices increase," Rushdy said. "You're raising prices simply not to lose. The costs are too high, and that's not the way you want the real estate (market). You want it to be supply and demand." •