Politics in Fairmount
Coffee & Politics: Local Organization Brings the Salon to Fairmount
---
There have several big questions surrounding the uptick in political engagement and activism among progressive Philadelphians and Americans in recent months. But perhaps the largest of these has been whether the anti-Trump fervor we have seen will be maintained and translated into tangible political change. Skeptics will point to the Occupy demonstrations that sprung up in Philadelphia and around the world, which were high on emotion and protest, but did not deliver in the way of translating that discontent into movement on the legislative level.
   Philadelphia United for Progress, or Philly UP for short, seeks to change that.
  Philly UP hosted the first ever Coffee and Politics meet up at Mugshots Coffeehouse (1925 Fairmount Avenue) this past Sunday in hopes of promoting sustained civic engagement at the local level. Philly UP's mission states: "We are a grassroots, feminist, intersectional group of passionate Philadelphia progressives that stands in solidarity with all those organizing for justice, while simultaneously working to protect and strengthen democratic institutions in Philadelphia, in Pennsylvania and beyond."
  The meeting focused on the upcoming municipal elections for Pennsylvania Supreme Court, Pennsylvania Superior Court, Pennsylvania Commonwealth Court, City Controller and District Attorney. Attorney Rupali Shah sat in front of a crowd of about 25 people to explain why every election is important and what each position is responsible for.
  "Like a lot of people, I woke up on November 9th feeling scared and lost as to what to do next," Shah said in reference to President Trump's election. "I've always been an outspoken person, but never really a political one. So I turned to social media to find like-minded people and stumbled across a group of people who were as shell-shocked as me and interested in banding together to make change.  That group has since evolved into Philly UP, which has become widely known around the city for being the driving force behind Tuesdays with Toomey."
  Yesterday's talk was Philly UP's first educational presentation and Shah said that the group hopes to do a lot more before the May 16th primary and the general election in November.
  Philly UP members circulated detailed handouts with summaries of the responsibilities of each court and a list of candidates for each election. Wendi Barish, a candidate for judge in the Philadelphia Court of Common Pleas in the upcoming primary, was also in attendance to offer her insight on the election process and to meet with constituents.
  "I wanted to show my support for Philly Up," Barish told Spirit News, "Events like these are vital to help educate people on why the upcoming election is so important."
  Part of the problem, Shah noted, is that turnout for these elections is historically low — only about 12 percent of Philadelphians turned out for the last municipal primary, according to Shah. "That's a really bad turnout for people who are, essentially, elected for life," Shah said.
  While attendees seemed to accept the notion that the primary elections are worth paying attention to, they, like many others, expressed that they were unsure of how to make informed decisions when the information about local judges is often obscure and inaccessible.  Compounding the problem is that most viable candidates running in Philadelphia identify as Democrats, making it difficult to differentiate between the plethora of primary candidates.
  The primary for the Court of Common Pleas alone has 48 registered candidates and because of the lack civic literacy one needs to make an informed choice, the top 10 candidates on a ballot generally do disproportionately better than candidates lower on the ballot.
  Since judges are not supposed to have formal positions on political issues and they do not typically choose the cases they hear, Shah suggested using resources such as the Philadelphia BAR Association (Philadelphiabar.org), where anyone can look up pertinent questionnaires filled out by some of the judges up for election.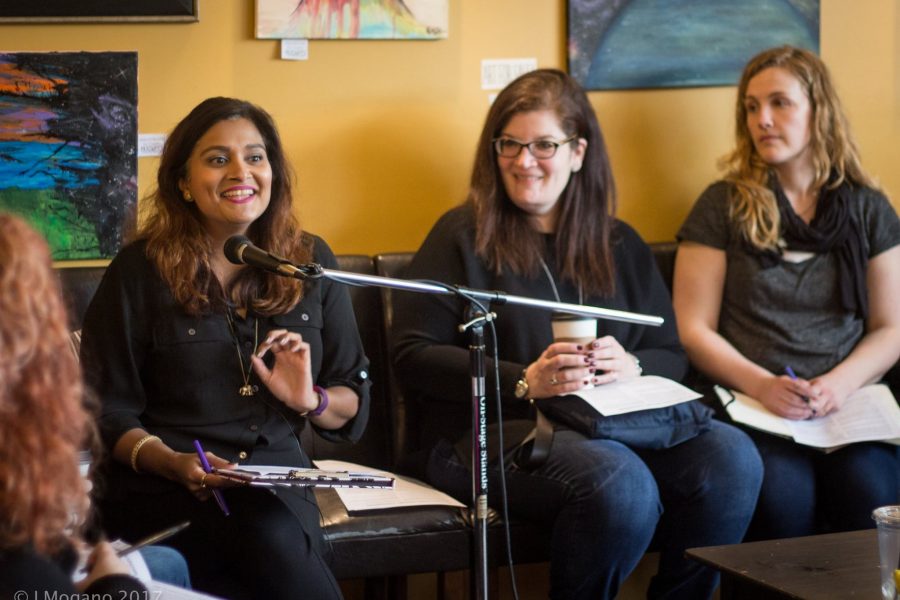 Shah offered a few potential hypotheticals one can ask themselves while reading through the questionnaires: "How committed to the city are they? Did they go to public school? Did their kids go to public school if they have kids?" 
  Shah understands that a crash course in the structure of the Pennsylvania Judiciary can get a bit dull, at one point during the event conceding, "If you're suffering from insomnia, call me and I'll explain it all to you." Understanding this, attendees were encouraged to jump in and ask questions whenever they felt compelled. Some of the topics covered included marijuana decriminalization, voter turnout, why city controllers get paid as much as they do and how language barriers can contribute to low voter turnout.
  Once the presentation ended, Shah, Barish and members of Philly UP made themselves available for one-on-one meetings.
  Craig Getting, a South Philly native, heard about Coffee and Politics from going to Tuesdays With Toomey, an event designed to put pressure on Senator Pat Toomey every week on a variety of issues. Getting ventured up to Fairmount for the gathering to "be the guy in my group of friends that knew what they were talking about."
  "I've been getting more involved, going to meetings like this [from] the Women's March on," Getting said. "I'm trying to go to every new meeting and learn about every little pocket of activism I can, learning from people who know way more than me and then sharing their information out to others. I'm not really in a position to do work directly other than to amplify the right voices."
  Beth Finn, one of the main organizers of the Philly Women's March, describes herself as a new activist. "Just through [The Women's March] I found a lot of these new activist groups, and Philly UP is probably one of the most effective ones that I've been involved with," Finn said.
  Her hope, is that the new energy around politics can bring about a new age of political literacy. "It's really exciting to me that there are a lot of people that are newly awoken and aware now. I want to make sure they don't lose that passion after a few months," Finn said. "It can be really hard to understand and I think that's why we have some of the problems in politics that we do. It's not easy for the layman or laywoman to understand."
  Jo Johnson, a member of Philly UP and one of the organizers of Tuesdays With Toomey, first found some of her Philly UP colleagues on the popular pro-Hillary Clinton Facebook group "Pantsuit Nation". Johnson met some of the people she knew exclusively online from Pantsuit Nation for the first time at Coffee and Politics. While not every new activist supported Hillary Clinton, Johnson seems to echo a sentiment shared by many of them.
  "A lot of us that were on Pantsuit Nation decided to act," Johnson said. "The originator of the group did not want to be an [activist group]. Many of us pulled away and said, excuse my language, 'fuck that, we need to organize.'"
  You can find out more about Philly UP and their upcoming events at facebook.com/philadelphiaup, or email hello@phillyup.org.