Features, Politics
Walking the Walk, Talking the Talk: Philadelphia Activists March on Harrisburg
---
When Tone Starks gets to talking, you better be ready for a political earful. And when he starts walking, you'd best go ahead and make an appointment for a foot massage. It's no wonder this Port Richmond resident signed up for a weeklong protest march to Harrisburg.
As a father to nine kids, Starks is trying to set an example. He works as a maintenance man in a building downtown during the week and he hustles for some extra cash by DJing on weekends. He told me all about his life, and so much more, during our 3.6 mile walk together, which went from Aramingo Ave., down Clearfield to Richmond, along Richmond to Cambria (just under I-95), up Cambria to Cedar, (at Cohox Rec), then up Cedar past Westmoreland into the shopping centers and stopping at Aramingo and Castor. Whew.
 "Maybe we should head back?" Starks wondered aloud. I certainly wasn't going to suggest a tour of Harrowgate at that point.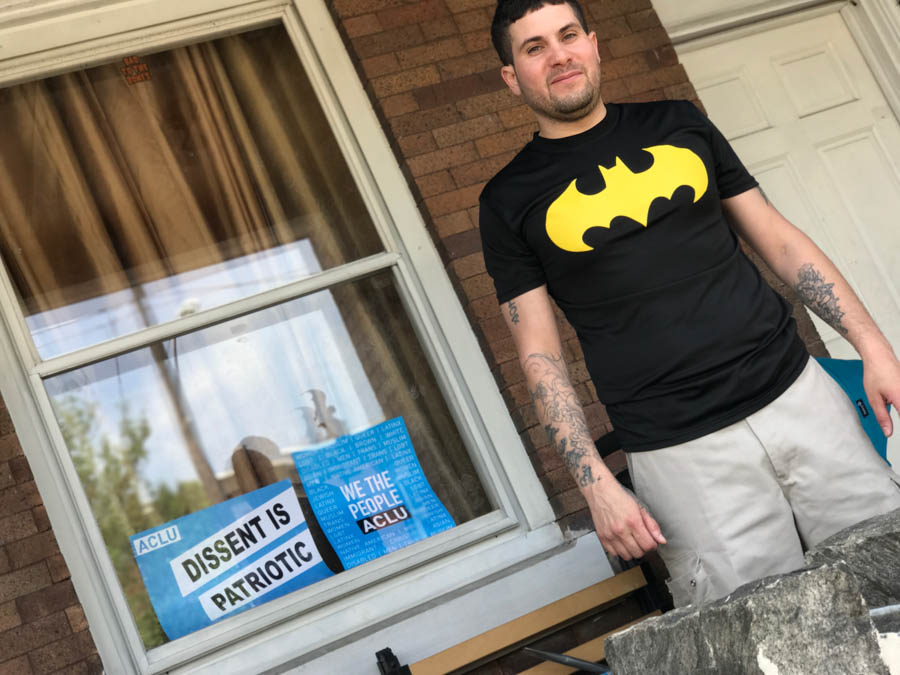 Our conversation went from Stark's displeasure with Trump, to Obama failing the people, to the Democratic National Committee rigging their primary for Hillary Clinton, to the Standing Rock pipeline dispute, to Pennsylvania's potential future "Standing Rock" in the heart of Amish Country, to his rough childhood, his poor choices as a young adult, his disabled wife, and a discussion about how the protesters in America are are not unified on solid positions yet.
 Did you get all of that? Hold on, let me catch my breath.
 With all of that off of his chest, Starks wants to focus on solid, specific points to help bring on change. He's hoping that the fractured factions of protesters across the country want to do the same. "Whatever it is that this group wants to do," Starks started, then counting off on his hand, "the Gerrymandering, the gift ban, the registering voters, whatever. We gotta make something happen."
 The group Starks is referring to is called "March on Harrisburg" and that is exactly what they are doing. The March started in Philly on May 13th and will reach the state Capitol by the 22nd. That's about 100 miles — my Google Maps app says it would take 36 hours of straight walking. I don't think Starks will go Full-Metal-Jacket Sgt. Hartman on anyone, but put him down as a guy who'll probably seem annoyingly chipper to non-pedestrians by the 22nd.
 When it comes to specifics, the March on Harrisburg's positions are creating in-state, nonpartisan redistricting, placing reasonable limitations on gifts to public officials, and instituting automatic voter registration.
 When they arrive in Harrisburg, the activists, who self-describe as a "collection of citizens deeply concerned about the lack of trust between our government and We the People," will lobby for those specific causes. The group claims to come from "various ages, genders, races, religions, political orientations, sexual orientations, and socio-economic backgrounds," and plan to "not let our political differences keep us from acting on our moral similarities," according to a statement on a public document the group created.
 One of the group's organizers, Emily DiCicco, an experienced protester, elaborated over coffee. She wants to improve on the models of protests she's been a part of in the last year or so. Various actions she's participated in missed the opportunity to educate activists on the issues and how to do their own protests. "People almost felt like a backdrop," DiCicco said.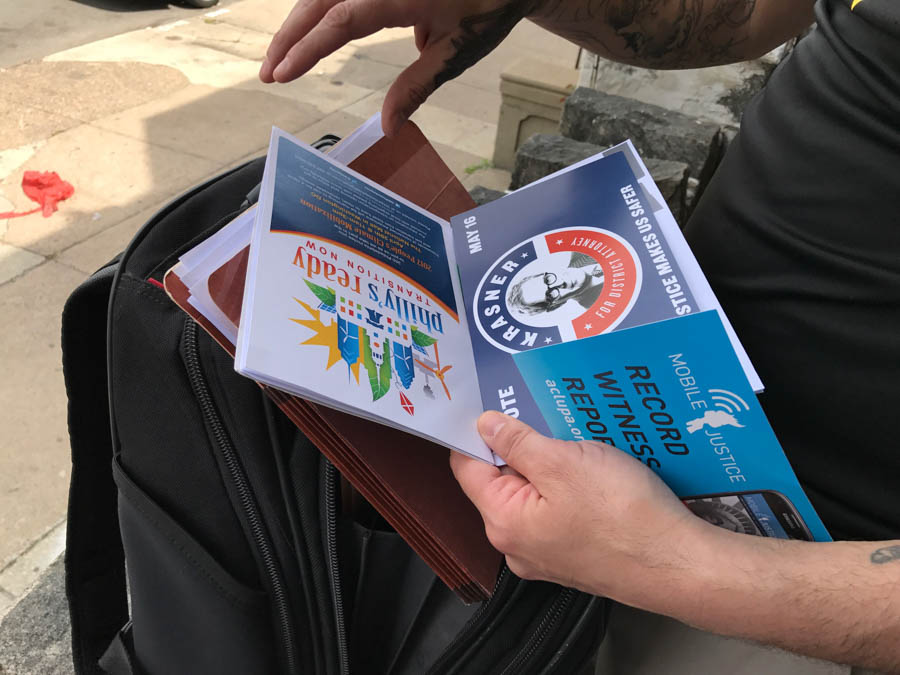 March on Harrisburg will run programs every night. "One of the programs will be focused on safety on our march route," she said.
 They'll also teach participants how to plan a route for a march, how to find housing, how to coordinate food for such a large amount of people. Other topics include getting media attention for their cause and a panel with authors who've written books on the state of democracy. "Basically we want everyone to know what it took to get here, what we are fighting for and how to [do it yourself], so every night we have programs," Dicicco said.
 The group has made headway with politicians too, having contacted every single state representative and senator. Members of the group regularly visit Harrisburg to lobby officials for change. Each of their issues have bills currently in committee in one or both houses.
 Two of the three issues present simple solutions. First off, Pennsylvania is one of only 10 states that don't already ban large gifts to legislators. There are bills in the PA House and Senate addressing the issue. Few folks on the right or left think their rep should be getting money and cars from special interests (Seth Williams anyone?). The other is Automatic Voter Registration. This would simply mean that a citizen turning 18 would automatically be registered to vote rather than having to take extra steps to do so. Six states already do it and 29 other are considering it.
 The third issue is a bigger, more important one, but requires a complex solution. Currently legislators get to design their own districts. Democrats and Republicans team up to make their districts more solidly in their own favor, then party in power tilts it a bit more their way. The practice leads to unbeatable incumbents who are less accountable to their constituents. The practice is commonly referred to as "Gerrymandering."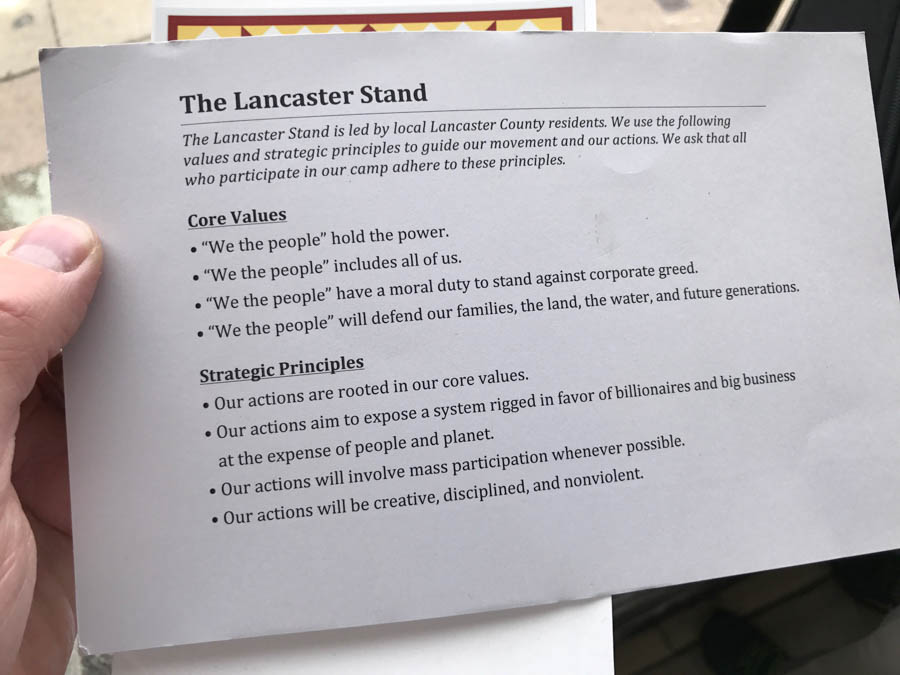 The March on Harrisburg wants to flip the script and let voters choose representatives, not reps choosing voters. Don't count on those in power giving that up so easily, though. Gerrymandering has been going on for more than two centuries and the party-in-power would have to voluntarily give it up.
 For people like Starks and DiCicco however, it's worth the fight. They both know that these bills being in committee is just a beginning and could easily get nowhere. After the 22nd, they plan to "agitate" for change through the 25th. Starks will be cautious with his previous record and not wanting to risk losing his kids. With his wife's disability his family could be torn apart.
 DiCicco is also ready, but for what? She will only say that it will be "non-violent civic-disobedience." She pointed out that recent marches, like the Women's March in DC, have "energized" people, but wonders, "How much does it push the needle?"
 Her and people like Starks will focus that energy on the needle.