Politics, Real Estate in Fishtown
Flag Lot Drama: The Curious Case of 1323R E. Montgomery Ave Takes a New Turn
---
We often find ourselves sitting in rec centers and churches across the Riverwards covering zoning meetings that concern our readers. These meetings can be mundane and are often filled with legal jargon that would put the average citizen to sleep. Sometimes they are interesting, like when they revolve around city-dwelling chickens and a man who just wants to eat fresh eggs in Northern Liberties. Regardless, you will always find passion at these meetings from someone with direct ties to the proposal.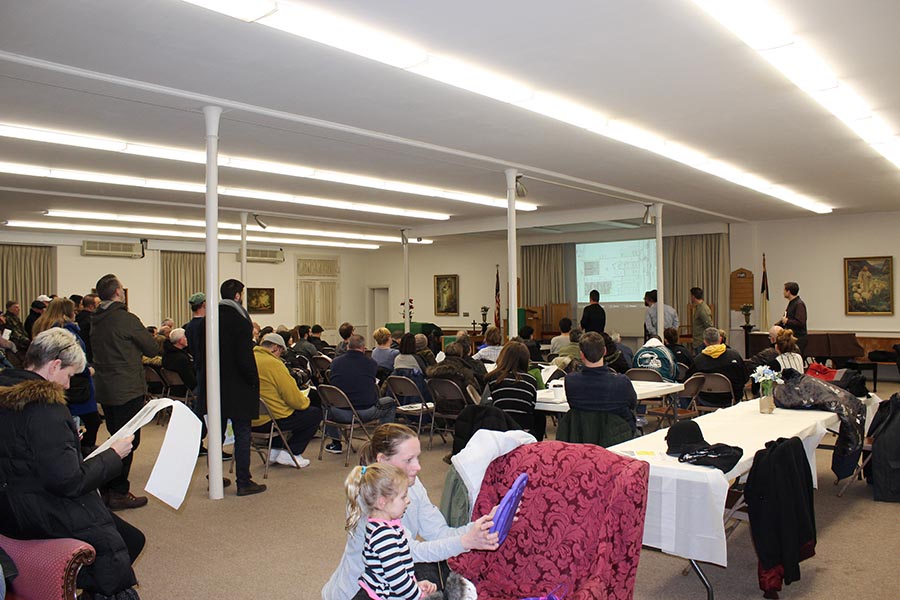 Last Thursday, a large group of passionate and boisterous Fishtowners packed the First Presbyterian Church on East Girard to once again voice concerns over a proposed residential development on a lot in the heart of the neighborhood. This is the second variance the developer is seeking on this particular lot. The first proposal for 12 townhouses was voted down at an FNA zoning community meeting in January. Now the developers are proposing a six-townhouse plan that is similar to the original plan, but with less residential density.
The lot in question is a rear lot located at 1323R E. Montgomery Avenue. The location of this parcel of land makes it a flag lot, which is a parcel located at the end of a long narrow street. When you look at a parcel like this from an aerial view, it resembles a flag on a flagpole. In this case the narrow street is the 1300 block of Wilt Street, which is located between Montgomery Avenue and Berks Street along Belgrade.
The changes the developer made to the plan include going from 12 to six dwellings, duplexes to single-family homes, 38 ft to 33 ft in height, one parking space to two spaces, a zero-foot setback to a five-foot setback for the houses and exterior trash storage to interior trash storage. The developer also increased the open area from 52.7 percent to 54.9 percent and the overall square footage of the units will now be 1670 feet since the duplexes are now single-family townhouses.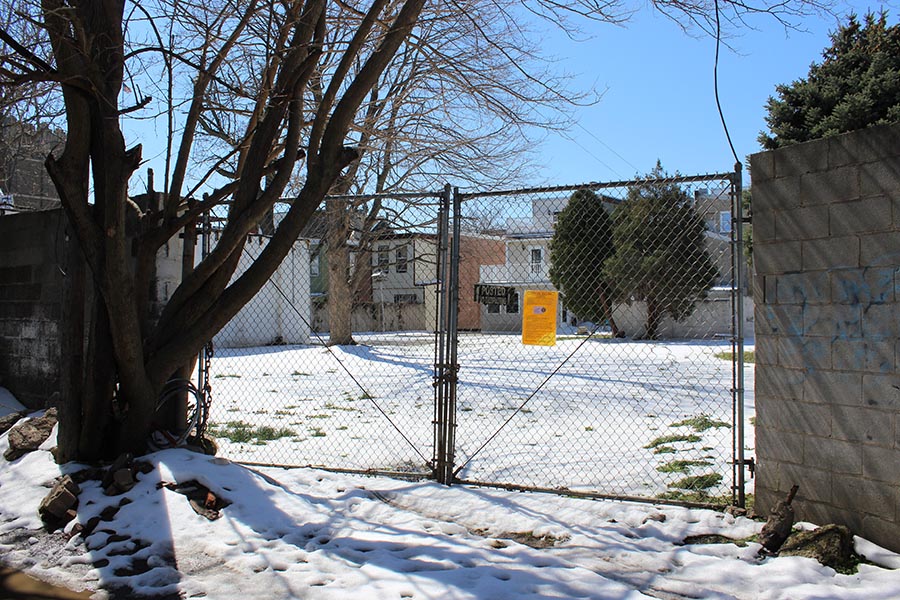 There are two factors about this project that the public should be aware of. According to Matt Karp, FNA's Zoning Committee Chair, the architect for this project, Kevin O'Neil, was recently  on the zoning committee, but has since resigned from his position. Karp says the architect had recused himself from this process due to conflicts of interest.
"Kevin was on the FNA Zoning committee and was recused from the project as anytime he has had his own commissions come in front of the community," Karp said. "He also has recently stepped down from the zoning committee since it was too much time to commit to right now. I can agree with him, that it is a lot of time to organize and hold these meetings."
The second, more dubious issue is that on January 4, 2017, Elaine F. Mcknight, principal of St. Laurentius School and mother of Lawrence Mcknight, one of the potential developers on the proposed development at 1323R E. Montgomery Ave, encouraged parents of students at St. Laurentius to come out and vote in favor of her son's projects throughout the neighborhood. Lawrence McKnight is the president of Urban Renewal Builders (URB), a local development firm.
According to the letter Matt Karp provided Spirit News, URB pledged $5,000 to help with a new roofing project for the school and an additional $500 for every house URB closes on in Fishtown.
Here is an excerpt from the letter:
"In addition, Urban Renewal Builders has pledged $500 for each closing on a house they build in Fishtown! All they ask is that you come out and support them at any zoning hearing through FNA. I will notify you of any upcoming hearings, via email that will include time, place and a link to their planned proposal. If you agree, please take some time out of your busy schedule to support them."
Karp told us at the zoning meeting that the FNA, Principal McKnight and her son had discussed this matter privately. There is no record of what was said at this meeting, but Karp was able to provide Spirit News with this official response which he says was written by FNA President Ian Wilson:
"It was made clear to the FNA by the letter's author that there was no intent to encourage voting solely based on the potential for a donation to the school; the letter clearly indicates recipients should vote on a project's merits. Parties agreed the optics were poor and a letter correcting the record is needed. The Principal of St. Laurentius offered and the FNA agreed to work together on a letter to send out to the school's parents clarifying the statement. The FNA will address the letter publicly at the outset of any upcoming FNA Zoning Meetings with this developer to ensure the public is aware of the FNA's position on the matter."
The initial proposal was struck down with a fairly clear vote of no from the community and residents within 500 feet of the project. The FNA community zoning meetings have two votes: Residents within 500 feet of the project cast votes separately and the rest of the votes come from residents with addresses inside Fishtown.
The community once again voted the proposal down at this meeting. Residents within 500 ft voted one yes to 60 nos. The overall community vote was seven yes to 50 nos. The results will be notated in a letter to be sent to the Zoning Board of Adjustment (ZBA) for the final ruling on the project. The vote came at the end of one of the most heated zoning meetings we have ever attended. At times it took long-term FNA Zoning Committee member Marie Windfelder banging her gavel on the back of a metal folding chair to restore order to the meeting.
Architect Kevin O'Neill began by outlining the parts of their proposal that had changed.
"We've tried to adjust everything possible to make it a little more palatable for everybody," O'Neill said. According to the architect, developers are seeking a variance for lack of street frontage due to the fact that Wilt Street is not legally a city street and is not on the city plan.
"Wilt Street, Pig Alley, whatever it is, according to the City Planning Commission and Streets Department, they don't treat it as a street," O'Neill said. "To them it's a gray area, it's a black hole. They don't treat it as a typical city street and that ties into why we can't subdivide these into six units."
Streets like this are often confusing when it comes to basic city services like police, fire and trash removal. Many residents fear that police and fire response could be delayed because those services rely on maps that often don't list small streets that are not on the official city plan, like the 1300 block of Wilt Street. One resident reminded the audience of a fire that had occurred there in the past.
"You aren't getting a fire truck back there," one person said, claiming to have 20 years' experience as a professional truck driver. "There was a multi-alarm fire back there a few years back. The house burned down because they couldn't get a fire truck in there. They didn't even know where it was. They were calling us and asking where was 1300 Wilt St."
Access to 1323R is limited to a small gated entryway off East Montgomery Avenue and Wilt Street, which is unpaved and a muddy mess after any rain or snow. According to Leo Mulvihill, the developer's attorney for the project, since Wilt Street is not technically a city street, everyone, including the developers and new residents, are entitled to the same right of usage to the alley. "As much as anybody else who lives on the street does," Mulvihill responded to one resident asking about usage of Wilt Street. "The address for this property was assigned by the city. We didn't ask for it."
Residents believe lack of sight will cause there to be no parking zones next to the entrance at Wilt and Belgrade Streets. However, other residents worry that the primary entrance will become the driveway off East Montgomery Avenue.
"Wilt Street is not big enough for two-way traffic," one resident said. "You may as well have them come in and out on Montgomery Avenue and we're not going to let you do that either. This is an unsafe project. You're going to put families in the middle of nowhere. Not safe."
At times exchanges between the architect and the community became personal. "You told me, Kevin, that you were going to build back there no matter what any neighbors had to say," one resident said to O'Neill.
"I did not say that. I did not say that," O'Neill sharply replied before being cut off by Windfelder's gavel as well as Mulvihill jumping in to quell the situation.
"I think we're getting a little heated and we didn't actually address the concern. Let's respect where we are," Mulvihill said.
Shawn Hyska, pastor at the First Presbyterian Church, also had to intervene to bring order to the room. "Your voice will be heard. I will make sure all your voices are heard, but please let's let everyone answer the questions. I'm not for this project or against it, but I'm gonna make sure your voices are heard and so is his, and that they answer the questions you ask," Hyska said.
The developers argued that the size and shape of the lot prohibits them from making a profitable investment under the current RSA-5 zoning, thus causing them a "hardship." This term is used when developers are seeking a zoning variance.
"There's a hardship here with developing this property. The only thing that can be built would be, to the best of my knowledge, a 12-foot house that faces Montgomery Avenue, goes all the way back, allows a nine-foot rear yard and has all that [the remaining flag lot] belonging to that one house," Mulvihill said.
One woman immediately jokingly chimed in: "That's really good. Thank you, perfect."
Another neighbor said, "This is a hardship you are bringing on yourself, not in terms of the zoning code."
One neighbor claimed he was there along with other residents of Wilt Street. He offered a compromise. "I want the community to know we have all offered to purchase the land behind it to keep it green space. There's no hardship here; it's just financial gain," the neighbor said, drawing applause from the audience.
A woman stood up at one point and described a situation she is having with the official ownership of her property at 1323 East Montgomery Avenue. Her property faces East Montgomery Avenue and 1323R, the lot to be developed, is directly behind her property. According to the woman, who wished to not have her name published, she has been receiving numerous requests to view the rear lot and has also been receiving mail addressed to the owners of the rear lot, Michael and Laurie Kavanagh.
The woman became suspicious and ran her property through the Office of Property Assessment (OPA) database and found out some disturbing news. According to the OPA's website, the Kavanaghs purchased the lot at 1323 E. Montgomery Ave for $1 on November 2, 2016.
The woman adamantly denied this sale ever occurred and was very unsure of how this happened. Spirit News did check the OPA website and did confirm that the Kavanaghs are listed as the owners of both 1323 and 1323R East Montgomery Ave. We also checked property records through another source who deals with title transfers and this person was unable to find any official record of the $1 sale to the Kavanaghs. We have reached out to the OPA for clarification and will update this story when we learn more.
The heated zoning meeting for the flag lot was not the only project discussed that night. Kurant Cider was seeking a variance at 436 East Girard Ave for their new taproom. The cider house will not have a restaurant, but the brewers say they will offer light fare with locally brewed beers as well. The local vote was 7-0 in favor of the project, 86-21 in favor from the community. If the ZBA goes with the community vote, Fishtown will be getting a new cider house. •