Photos in Temple University
HOOTATHON 2017: Temple's Student-Run Cancer Fundraiser, In its Fourth Year, Raised $400,000
---
  Typically, the Liacouras Center floor is the home of Temple's men's and women's basketball games, along with commencement ceremonies, convocation and the occasional concert.
   This past Saturday, however, hundreds of students donned shirts of myriad colors, all with the same message: For Miracles, For Childhood, For the Kids: Hootathon 2017.
   Saturday was the first time Hootathon — a dance marathon that raises money for the Children's Hospital of Philadelphia (CHOP), its Child Life Department and the Children's Miracle Network — was held in the Liacouras Center. The first three years of the event had taken place across Broad Street, in Mitten Hall.
   Brian Cupitt, 22, a senior strategic communications major at Temple, served as Hootathon's executive director. He said his main role is to oversee other executive members and ensure everyone is on track with fundraising and other event logistics.
   Cupitt has three nephews who have been through CHOP's Child Life Department, who have dealt with genetic hearing loss, severe allergies and nephrotic syndrome, respectively. He lauded the work of the department.
  "The ways that Child Life has touched them is something that I'm forever grateful for," he told Spirit News at the event on Saturday. "It's part of CHOP's dedication to holistic care … they treat the body, they don't just treat the illness."
   During the dance marathon, hundreds of students danced in small groups in the Liacouras Center. Individuals who have had relatives and friends affected by cancer and other diseases addressed the group on stage, praising them for their work.
   Cupitt said that in order to participate, individuals must fundraise at least $100 throughout the year. In 2016, Hootathon raised a little more than $280,000. This year, the organization collected a total of $404,074.85, surpassing their $400,000 goal.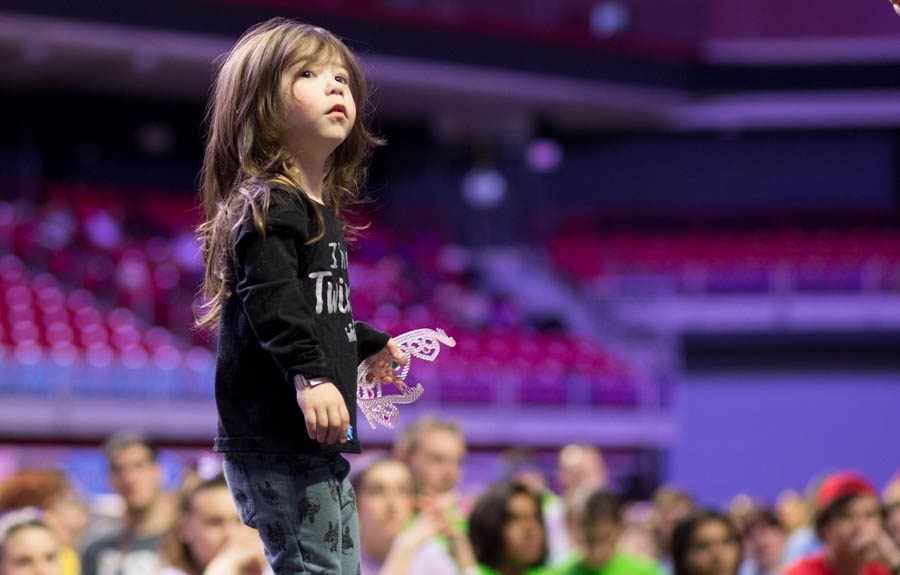 One individual who is grateful for the fundraising is Mary McGettigan. McGettigan, 33, has a 5-year-old daughter named Cara. Cara was born in CHOP with several heart defects and endured open-heart surgery at one day old. She was presented as a "miracle kid" at the dance marathon Saturday.
   McGettigan detailed how important fundraisers like Hootathon are to CHOP.
   "Any services they provide are not eligible for health insurance reimbursements," she said. "They cannot do this work without fundraising from events like this."
   Kelly Ryan, a 22-year-old senior biology major at Temple, has been a part of that effort in all four of her years at Temple. She used to work in Hootathon's operations committee, which organizes the events and coordinates with other committees, along with other logistical facets.
   Ryan added Hootathon has been growing significantly since it started in 2012, not only in fundraising, but also public recognition. She hopes the half-day dance marathon continues to expand in the future.
   "The goal is to be Philadelphia's dance marathon," she said. "We're growing every year, our [fundraising] goal is increasing … I just want to see it keep growing as big as it possibly can."
   Samuel Trilling, 18, is a freshman journalism and political science double major who created a Hootathon team with other students in Johnson and Hardwick, a residence hall at Broad and Diamond Streets.
   Trilling has known friends and family members affected by cancer and other diseases, and his mother works in the Newborn/Infant Intensive Care Unit at CHOP. He said Hootathon is not only vital to nurses like his mom who perform critical services, but also to children who have been diagnosed with such diseases.
   "Being both in her position and in the position of someone who is diagnosed with cancer must be terrible, and that's why I'm out here," he said.
   Trilling added that dancing for 12 hours can be daunting, but ultimately satisfying.
  "Eventually, every opportunity to sit looks more and more enticing," he said. "But it's a nice mix of being able to express maybe not my talents, but my more playful side."
   He even believes the dance marathon should have more dancing.
  "At the end of it, you should be crawling back to your room," he said. •