Photos in Kensington
Kensington Blues: Jeffrey Stockbridge's Powerful Photo Exhibit On Display Through June 2nd
---
  The first time Philadelphia-based photographer Jeffrey Stockbridge drove down Kensington Avenue, he was too scared to get out of the car.
  "Every woman on every corner was making eyes at me," he said. "They thought I was going to pick them up because here I am, a single man, long hair, big beard, driving a beat-up black sedan. I fit the profile of the kind of guy that would pick them up. I had to kind of grow my legs in the neighborhood."
  Stockbridge did so pretty quickly, traveling around Kensington from 2008 to 2014 with his large format camera, photographing intravenous drug users and sex workers and asking them to write in his journals or record their stories as audio. Those prolonged expeditions into a place that Drug Enforcement Administration agents have called one of the largest open-air heroin markets on the East Coast eventually led to Stockbridge's blog, KensingtonBlues.com.

  This spring, Stockbridge also has a solo exhibition at the Savery Gallery in Philadelphia, which runs through June 2, and he just published a book, "Kensington Blues," sold on his blog and at Savery Gallery. 10 percent of all sales go to Prevention Point Philadelphia, an organization that aims to reduce the harm involved in sex work and substance use through its needle exchange, medical clinic and other services.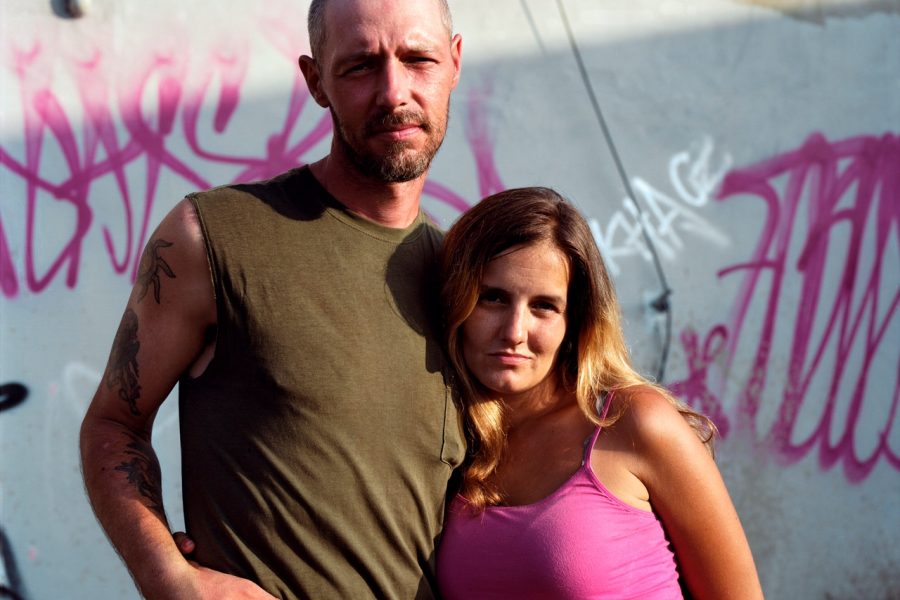 Stockbridge's documentary project feels eerily timed to coincide with the national opioid crisis. More than 900 people died from drug overdoses in Philadelphia last year, many of them opioid-related.
  Stockbridge said that at first, he didn't know where his interest in the people of Kensington would lead. "I had your typical pop culture idea of what prostitution was, and in Kensington, it's something very different," he said. "In Kensington, it's this brutal lifestyle that's about survival."
  At the May 5 Kensington Blues exhibition opening and book release party, fine arts student Em Jensen said she had long been following Stockbridge's work and that she felt it was her duty to understand what was going on in her city.
  "It's extremely powerful," Jensen's friend Catie Ritchie said about the show. "I'm still kind of soaking it all in."
  One striking portrait features Tic Tac and Tootsie, 20-year-old twins who were homeless and turning tricks when Stockbridge met them in 2009.
  "They experienced all sorts of horrible things on the Avenue," Stockbridge recalled. "They had guys pretend to be undercover cops and then rape them."
  To build the trust of the people he met, Stockbridge – who graduated from Drexel in 2005 — showed them prints of his work and asked their thoughts about their neighborhood and lives. "I'm coming to them as an outsider saying, 'Hey, you're the expert here,'" Stockbridge said. "'Tell me what you know about what it's like to live here.' Because I have multiple emotions about it. I'm fascinated by it. I'm scared by it. I'm extremely intrigued by it. I want to know how these people survive and why they are where they are."
  Pat and Rachel, who Stockbridge photographed in 2012, were homeless in Kensington and so deep into their addiction that they ultimately decided to call Philadelphia's Department of Human Services and give up their children.
  "Still to this day, we don't know where they are, and it kills me as a mother," Rachel told Stockbridge, who transcribed their interview for his blog and book. "But I felt I was doing the best thing I could do for them at the time, giving them a better life."
  Another series of four photographs feature Wilfredo crouching in an abandoned lot and injecting heroin into his arm. Once he started shooting dope, he was "married to the devil, the devil himself," Wilfredo told Stockbridge in an audio interview.
  "I'm not demonizing these people," Stockbridge said. "I don't think they're bad people, and that's the real problem. Everybody who gets mad about this, they literally think that drug addicts are less than human. They think that prostitutes are less than human. It's like, no. They're just like you and me. It's just that through a series of circumstances, they've found themselves in a really dire situation. And what they need is help. They don't need to go to jail. They don't need to go to prison."