History in Northern Liberties
KNOW YOUR HISTORY: Dougherty Bonded Warehouse
---
In the Riverwards stands an old warehouse that was constructed during the Civil War, and has remained on Front Street ever since. This past summer, the Historical Commission in Philadelphia designated that old warehouse as a historic landmark. Even though the warehouse was not used for its original purpose since the first half of 1919, it still "exemplifies the cultural, political, economic, social, [and/or] historical heritage of the community."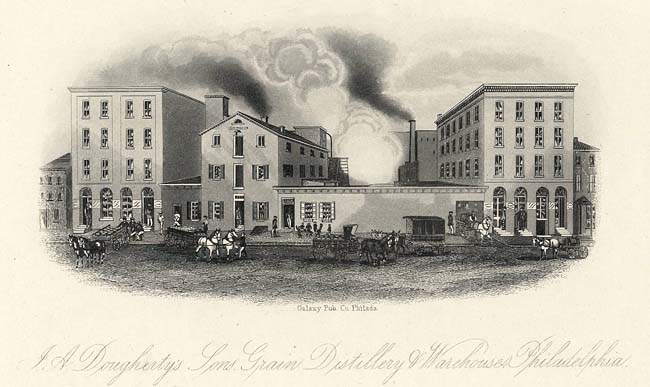 John Alexander Dougherty was born in Northern Ireland on June 10th, 1788 to Jerrard Dougherty and Elizabeth Russell. He immigrated to the United States in 1814 and began working as a baker. According to Portnerbreweriana.com, "he eventually became involved in the trade in distilleries on Spruce and Shippen [(Bainbridge)] Streets." He started his own company is 1849, and he opened up his whiskey distilleries on Front Street during the 1850s. His business would continue to grow throughout the rest of the 19th century, and his whiskey would be considered some of Philadelphia's finest.
John Alexander married Eliza Porter Sherborne in 1819. Together they had several children: William Henry, Charles Ashton, John Alexander Jr., Mary and Anna Isabella. At the time of his death on October 21st, 1866, John and his wife Eliza lived at 1758 Frankford Avenue.
The business was renamed J.A. Dougherty & Sons once his boys were old enough to help run the company. William Henry was the primary manager of the business after his father died. William lived at 1435 Girard Avenue and on North 11th Street with his wife, Harriet Shee. Aiding William, and then taking over after his death were two of his brothers: John Jr. and Charles.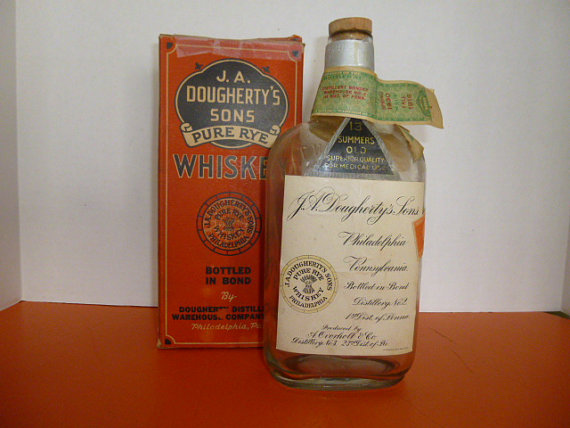 Charles lived on the eastern side of 6th Street and John Jr. lived on North 10th Street. The business continued to excel after the death of John Alexander Sr. The bonded warehouse that was built in 1864 was enlarged in 1880. When the business began, it could only produce 750 gallons of rye whiskey in a wooden still. The capacity expanded to 3,000 barrels of whiskey when the historic warehouse was built. The nomination of this property can be found at phila.gov, and it describes that the business in 1860 "employed 15 men and had a total value of materials of $72,372 and of product $85,800." By 1870, the company "employed 24 men" with a "total value of materials of $236,000 and of product $473,000."
Tax records from 1894 show that Dougherty's distillery produced 215,219 gallons of rye whiskey. Eventually, the Dougherty sons passed away, and the business had to halt production at the start of the Prohibition. The buildings were sold off, and this nominated building was used as part of a coffee business for a period of time.
In order to pay for the Civil War debt, the federal government raised taxes on distilled liquor. In order to adjust to this new tax, distilleries could store their product in a bonded warehouse. Dougherty & Sons held their whiskey in this bonded warehouse until it was ready to be sold. They would avoid paying the additional taxes on the whiskey until it was out of the bonded warehouse.
The building on the 1100 block of Front Street is the last surviving piece of the J.A. Dougherty & Sons Whiskey business, "the largest rye whiskey distillery in Philadelphia prior to Prohibition." Interesting aspects specific to the building also give credibility to its historic designation. Apart from its connection to the alcohol industry, its architecture "reflects the environment in an era characterized by a distinctive architectural style."
The Progressive Era demanded that higher standards would be implemented in the industrial workforce. One of these standards was fireproofing buildings. During the building's enlargement, it replaced some all-wood areas with brick or "metal-lined models" that were intended to make the building safe from a fire. Industrial fires and other accidents were of great concern during this time period, and the Dougherty family made sure to follow the new standards as they arose. One of the most famous industrial disasters was the fire at the Triangle Shirtwaist Factory in New York City a few decades later.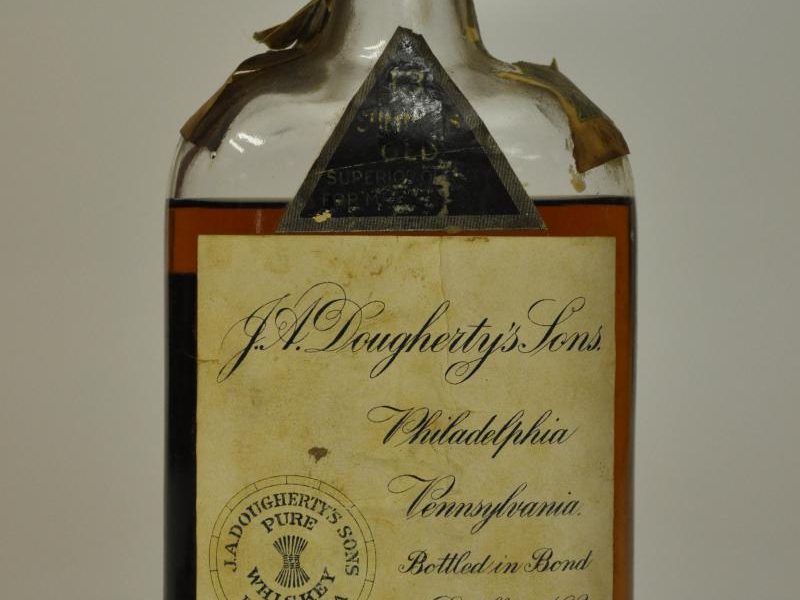 Items with the Dougherty name on them hold great value today, such as crates, bottles, paperweights and whiskey itself. These rare surviving relics of an old Philadelphia distillery are sold online for as much as several hundred dollars. A partial pint of Dougherty whiskey sold for $626 on whiskey-online auctions.com in August 2013. Whiskey enthusiasts may spend more money of these items if they are in need of completing their collection. Money.cnn.com states that in 2010, "a 64-year-old scotch…went for $460,000 in New York," proving that some alcohol is more valuable to purchase and sell, rather than to consume.
The Dougherty Bonded Warehouse was nominated for historic designation by Kensington Olde Richmond Hertiage, LLC, and historian Oscar Beisert. According to the Philadelphia Free Press, at its June meeting, the Historical Commission's Committee on Historic Designation had received a near-record 20 nominations for properties to be added to the Historic Register, recommending that nearly all be forwarded to the full Commission. The Dougherty Bonded Warehouse was one of them.
"The addition of these properties to the Philadelphia Register of Historic Places ensures that any significant alterations proposed for these buildings first gain approval of the Philadelphia Historical Commission," Patrick Grossi, advocacy director of the Preservation Alliance,  told the Free Press, "and likewise that every effort be made to maintain and rehabilitate these properties so that they live on fully into the next century. Moreover, they establish an anchor for the neighborhoods in which they are located, a sense of place in an era where character and form are routinely under threat."
The old warehouse on Front street is more valuable than its current status: blocked by the El and forgotten. It is a reminder of an immigrant's success story and the impact that the Irish had on Philadelphia. The current owner of the building has plans of redeveloping the building for use as a residential property. Just as an old Otto Wolf brewery is used as Temple dormitories, and A.J. Reach's baseball factory is now loft apartments, the Dougherty distillery may be the next reconditioned piece of history to accommodate the residents of the neighborhood.