Politics in Art Museum
"Our Revolution": Bernie Sanders Talks New Book, Election at Free Library
---
  Independent Vermont Senator and former presidential candidate Bernie Sanders made a stop by The Free Library of Philadelphia Monday in support of his new book, "Our Revolution". The thorough, no-frills event featured a speech by Sanders focusing upon the post-election climate of the country, the more familiar topics he has championed throughout his long political career, and ended with an on-stage interview from Democracy Now's Amy Goodman in front of a sold-out crowd in the library's auditorium.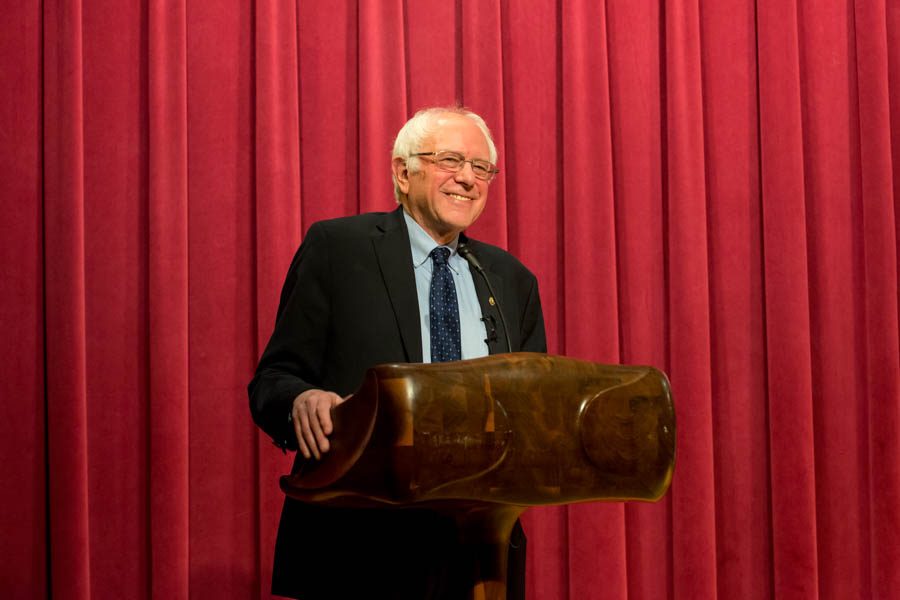 Just under three weeks removed from a presidential election that saw Pennsylvania flip from blue to red, Sanders began his night notably by not mentioning his book and focusing on what had been on his collective electorate's mind: Donald Trump. Sanders, not known for pulling punches with the president-elect, did his best to take Trump to task while also offering comforting words to the Philadelphia crowd.
   "Hillary Clinton won the popular vote by over 2 million votes, and that tells us Mr. Trump has no mandate." Sanders then listed some of his longtime political priorities such as income inequality and free higher education before saying, "On every major issue, and this is very important for progressives to understand, the strong majority in the country agree with us. You can go out and do a poll today and ask if people think it's a great idea to give tax breaks to billionaires, as Mr. Trump and his friends will try to do, and cut social security, and I would say 90 percent of the American people do not think that makes any sense."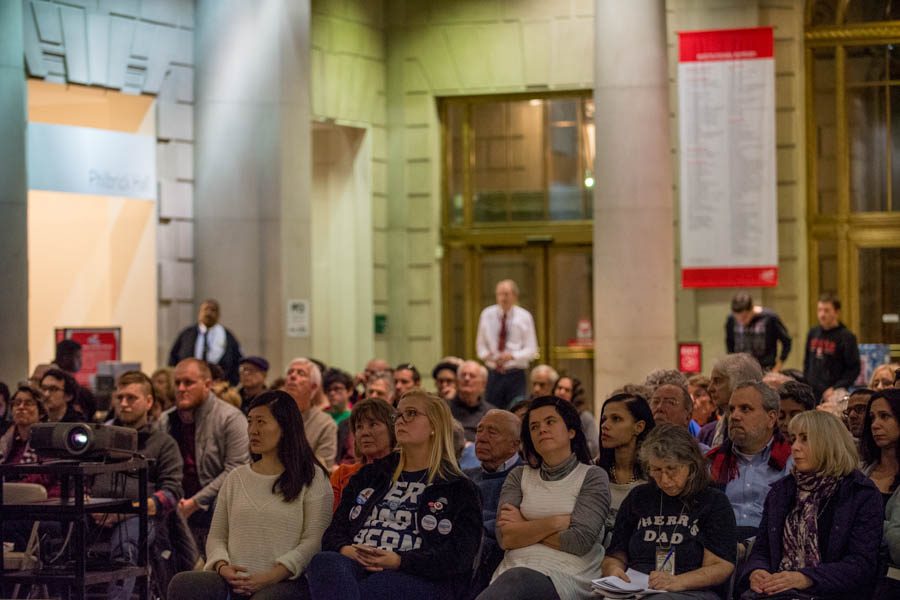 Sanders not only called the president-elect on his policies, but how he ran his campaign. "The ugliest things that he said, the most disturbing things that he said, were based on bigotry. And in my view, there can be a lot of discussion about a lot of issues, but there cannot be a compromise on bigotry," Sanders said to cheers.
   After spending nearly half his speech systematically rebutting Trump's platform, Sanders moved on to "Our Revolution" and the topics addressed in it.  Mirroring the structure of the book, Sanders spent a little time detailing his surprising presidential primary campaign, but mainly focused on how he believes The United States addresses issues such as overcoming an oligarchic society, preserving and improving domestic programs, an imbalanced economy, and the threat of corporate media to the state of American democracy. Sanders' delivery of his agenda was typical of his campaign syle: conversational yet technical in content, passionate yet measured in tone, shuffling through notes written on ripped pieces of legal pad.
   Once Sanders concluded his speech, Amy Goodman, host of independent news outlet Democracy Now!, joined Sanders on stage for a live interview.  Questions raised by Goodman ranged from the recent death of Fidel Castro, lack of media coverage during the primary, and the electoral college.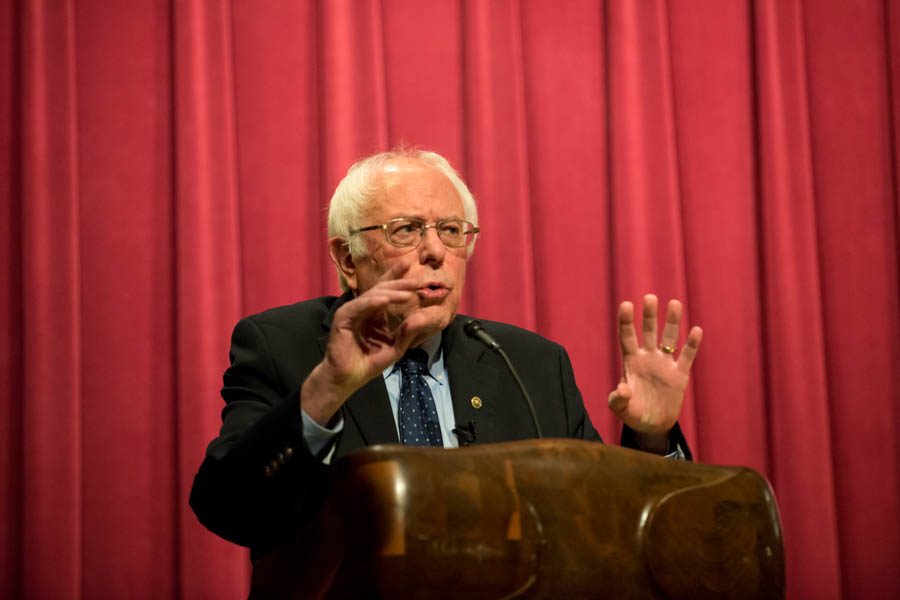 Shiloh Previti, a Stockton University literature student, reacted to Sanders' speech and interview with cautious optimism. "It's good to know that other people are also thinking it's not too late to get mobilized even though it definitely should have happened in the past, but it was still great to see people trying to do it now," Previti said, "It will be interesting to see what Bernie Sanders will still accomplish within the Democratic Party even though he's not really a Democrat."
   Previti's friend and Stockton alumnus Amber DeBellis was encouraged by Sanders' appointment to Democratic leadership, seeing him as a valuable contrarian voice in a party needing change in tone and strategy. DeBellis said, "I think what he talked about being the new [Democratic Party Outreach Chair] is super important.  It seemed like right after [the election] the Democratic Party was falling back into the same pattern."
   Jenn, a resident of Center City who described herself as a Bernie supporter long before before he announced his candidacy, used the event, like others, to recalibrate politically.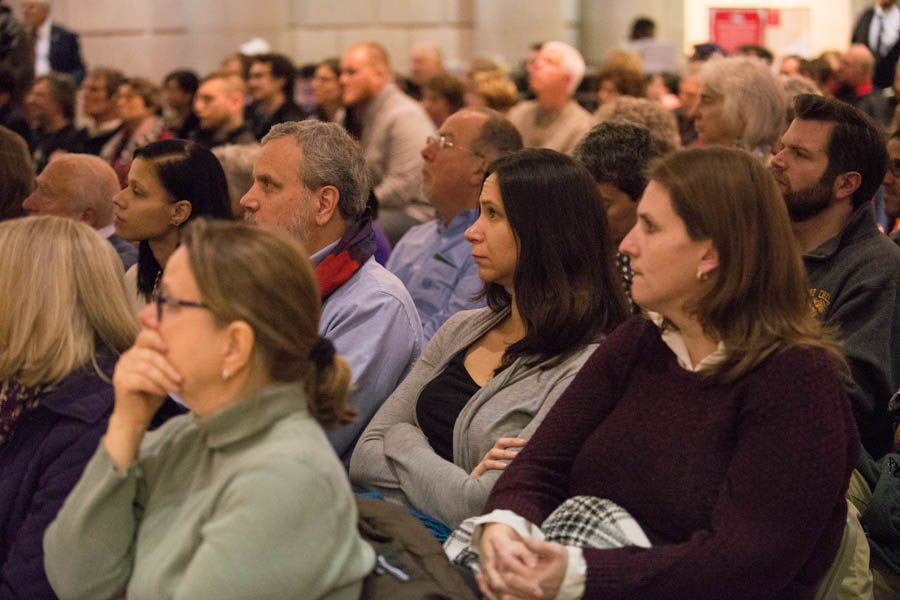 "It was rejuvenating. I feel like the past month has been, as [Bernie] described it, kind of depressing, kind of discouraging, and I wanted to figure out what to do next," Jenn said, "It was good to hear about issues our progressive leaders are going to be focusing on, to see where I can best contribute. I'm really encouraged to hear about grass-roots efforts and his focus on the 24-hour news media and how that has really negatively impacted this country."
   "I just wanted to reorient myself back to the issues and see where we go from here regardless who won."
You can read the transcript or watch the full video of Sanders' speech at https://www.democracynow.org/2016/11/30/watch_bernie_sanders_full_speech_in  •