A&E, Features
A Brighter Belgrade Tunnel: Mural Arts' Restoration Program Bringing New Mural to the Neighborhood
---
 The next time you're driving, biking, or walking through the tunnel on Belgrade Street between Lehigh Avenue and Seltzer Street, allow yourself to be safely distracted.
 Throughout June, local artist Brad Carney and the Mural Arts' Restoration Program are painting murals on both interior walls of the Belgrade Street tunnel.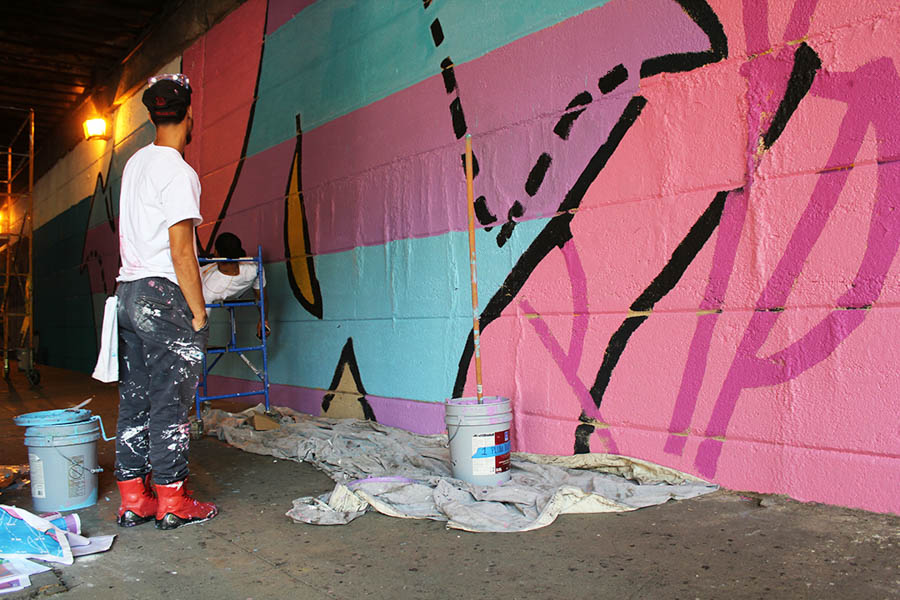 As of June 12, the tunnel's 9,500-square-foot canvas was over halfway covered in bright and pastel-colored paint. The color scheme may look familiar; the same paint was used in a mural Carney painted last summer in the Oval, a public space nested in the Benjamin Franklin Parkway. Carney was left with about 10,000 square feet worth of paint from the 33,000-square-foot job in the Oval, and no project for it.

 Meanwhile, the neighborhood has been pushing to revitalize the area tunnels. While the New Kensington Community Development Corporation (NKCDC) is not a major participant in this project, the NKCDC has been spearheading beautifications efforts in the neighborhood. The NKCDC notes in its North of Lehigh Plan that the NKCDC will work with partners at Mural Arts to "use murals and public art to enliven key connector streets." Carney had the background and the paint right for a job in the area.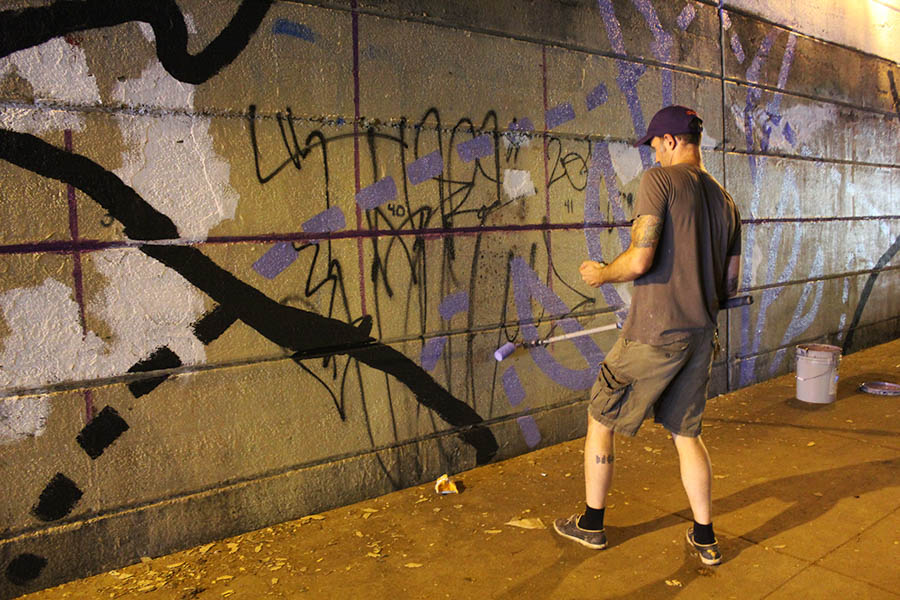 "Someone passed me in the hall and said, 'Hey, I got this giant 10,000 square footer,' and I said, 'You do, eh? I happen to have about 10,000 square feet worth of paint that I'm looking to use,'" Carney said.

 Carney would still need a crew, but that's where the Guild offered their members for the job. The Guild, Mural Arts' Restorative Justice Program, is a paid apprenticeship program for those formerly incarcerated to work on creative projects as they transition back into society and the workforce. Carney encourages his 12-member crew to let out their frustrations in the paint and teaches them valuable tools for any job environment.

 "It's a way to kind of grow and talk and work through some of the acclimating issues," Carney said. "We all have our back stories, but we're trying to move forward one day at a time."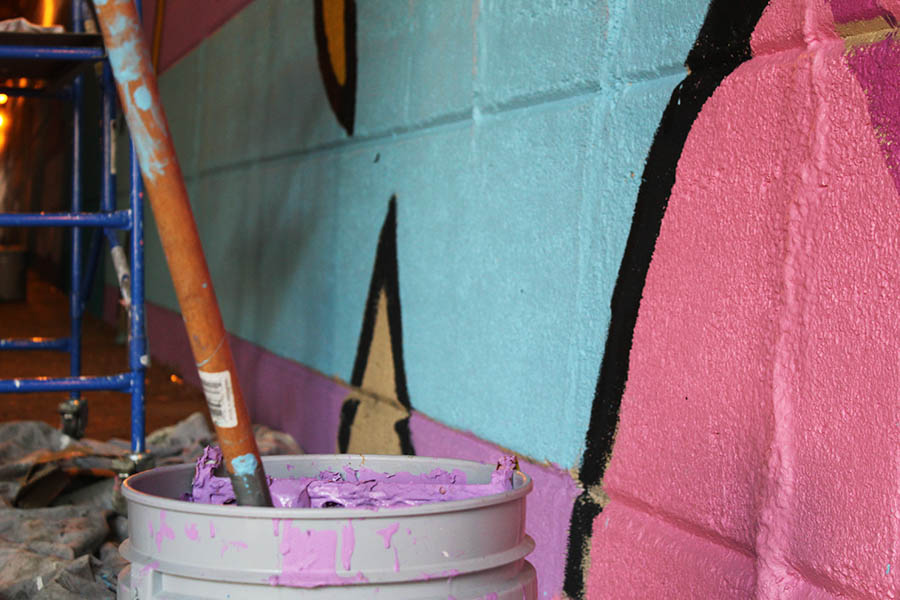 Crewmember Juan Rosado loves being in the Guild and painting in between the lines Carney makes. Rosado is from A Street, and to beautify and give back to a community that he belongs to feels extra special.

 "This whole area — Lehigh going down — is getting a makeover, and I'm proud I get to be a part of it," Rosado said.

 Kyle Perez reminds his fellow crewmembers of the importance of patience. Even on an afternoon pushing past 90 degrees, Perez enjoys painting and claims working on site is filled with "good vibes."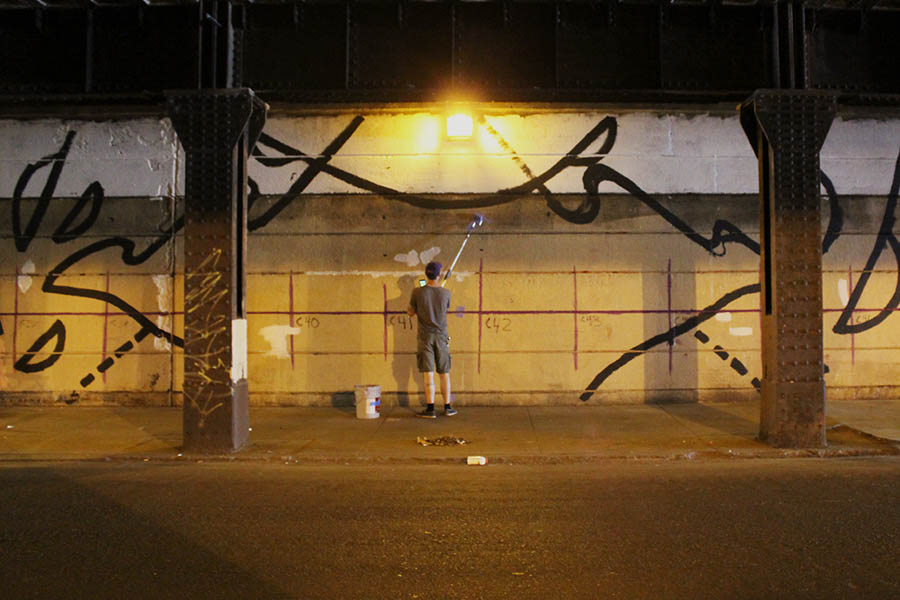 "I even messed up my sneakers for this," Perez said as he showed me his light blue and pink splattered shoes.

 The design is floral and flow-like in nature, so "people flow through it" while driving and walking, Carney describes. The concept for the mural's design comes right from Carney's personal drawings and style work. "So this is me," Carney said of the design. It seems fitting; what's progressing in the Belgrade Street tunnel and Carney are both whimsical and upbeat.

 "He needs his own YouTube channel," Rosado said of Carney.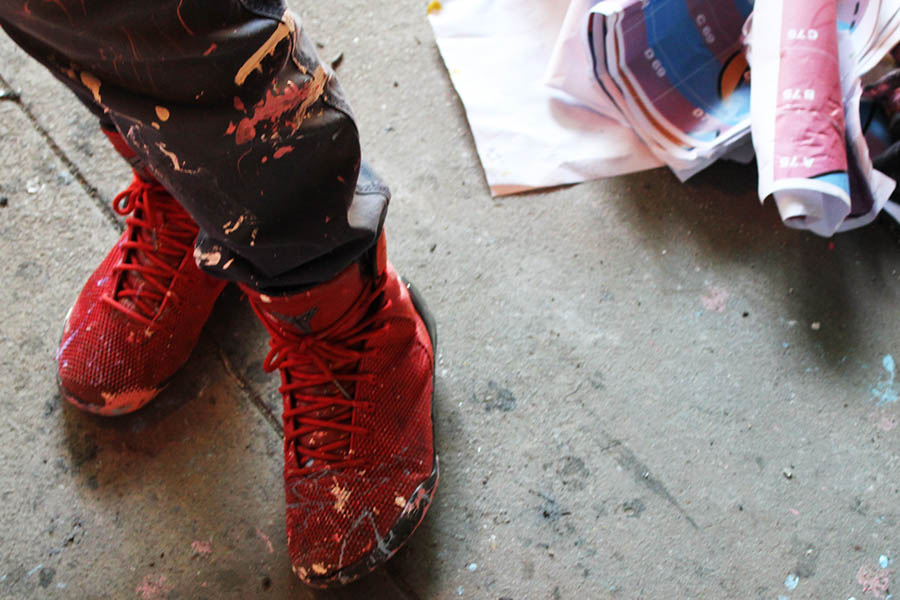 The mural is expected to be finished by the end of June. As for the future of Philadelphia, Rosado hopes to see the Restorative Justice Program implemented because he claims it will create jobs, get people off the streets, open doors for people, and not discriminate on background. Through mural making in the Restorative Justice Programs, Rosado wants to see the whole city look like the Belgrade Street tunnel.

 "Hopefully, more people find out about this type of work and more people get involved. Then Philly, in a couple of years from now, will be like a city of murals. Everywhere you go it'll be a mural," Rosado said. "That'll be something beautiful for the city."