News, Weather
Accu-Reggie 7 Day Forecast (April 19, 2017 – April 25, 2017)
---
 If you are looking forward to a repeat of last week's weather, unfortunately I have to bring you the bad news up front: it will not be as nice. Last week featured summer-like heat; this week will feature cloudy rainy weather. However, it's not all doom and gloom, since we will get some nice days thrown in as well! It doesn't look like we will make it to the 80s this week, so temperatures will be closer to normal.
 We start the week with a series of nice days, but then rain will arrive late Thursday and continue into Friday. We get a sunny, cool day to start the weekend on Saturday before a large storm brings rain on Sunday that will continue into Monday. If the storm leaves quickly, we will end the week on a nice note with temperatures near 70; however, if the storm hangs around, it will be cloudy with periods of rain and drizzle all the way until Tuesday. You know we can't have dry and warm weather all the time – at some point we have to pay for it!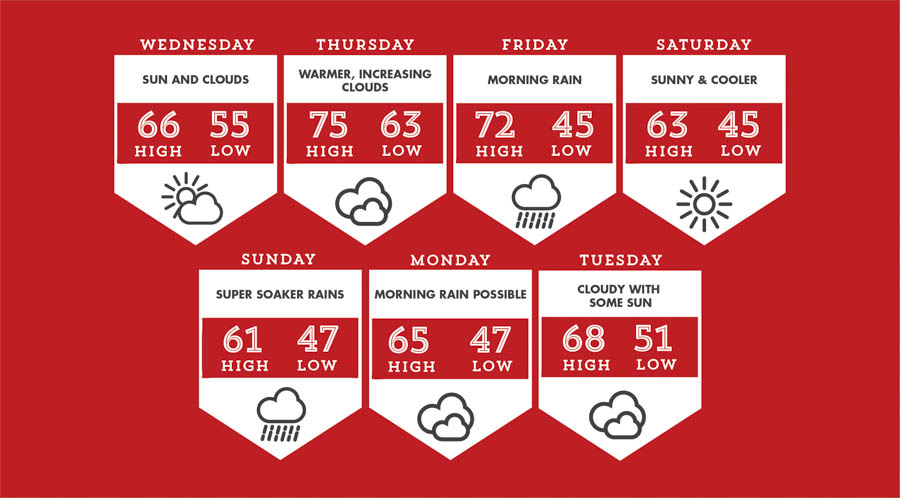 Wednesday is a nice day with temperatures in the 60s. It will be warm under bright sunshine.
 Thursday is a touch cooler than Wednesday, but it's an absolutely gorgeous day. Temperatures will climb into the 70s with clouds increasing later in the day and at night.
Showers look likely early Friday, but the day won't be a washout. Gradual clearing will take place as the day progresses. Temperatures will be in the 70s and holding steady.
A little cooler weather settles in for Saturday, but it's not going to be cold. Temperatures will only be in the lower 60s but with plenty of sunshine it will be perfect for outdoor activities.
Rain arrives for Sunday as a big storm sweeps in, bringing a prolonged period of rain with it. The storm could drop over an inch of liquid on the city. Any of the flowers or plants you may have planted recently will enjoy it!
Monday will continue the gloomy trend; steady rain may end in the morning but clouds and showers will linger as temperatures stay in the 60s. There is a chance the storm leaves fast enough to make Monday a great day. Sunshine will return on Tuesday as the storm kicks out to sea far enough away to leave us alone.