News, Weather
Accu-Reggie 7 Day Forecast (June 21-June 27)
---
 Last week was very nice: We had plenty of sunshine and we managed to dodge oppressive heat.
 This week, fortunately, is going to be similar to last week. It's going to be a week of "typical" summer weather. I don't see any major heat waves or big rain storms. We will get hit with the occasional front that brings shower chances, but nothing out of the ordinary. So sit back, relax and enjoy the mild summer weather!
 The forecast period is going to start off in the 80s with sunshine and will end in the 80s with sunshine. We will run up to near 90 degrees on Friday, but mega heat stays away. Showers are possible on Friday, Saturday, and Monday, but overall it does not look like a wet week. After all of the different types of weather extremes the past two months, it's as if the weather is finally behaving and giving us a break for once!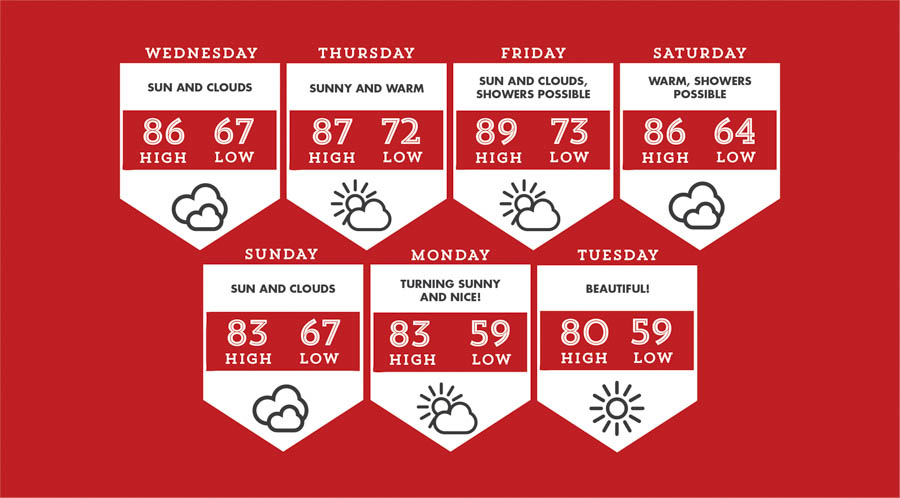 Wednesday starts the week off with nice weather in the 80s. I'll take 86 and sunny in Philly any day!
 Thursday is a touch warmer than Wednesday, especially with an increase in humidity. It will feel closer to 90-95 outside.
 Friday is the hottest day of the week. I won't be surprised if we hit or exceed 90 degrees! A cold front comes through late in the evening and could bring some showers with it.
 Saturday is a little uncertain because of a shower chance. The threat looks low, so for now just bank on 85 with some clouds.
 Sunday looks like a nice day with a warm breeze from the south. Temperatures will be average for this time of year.
 A cold front comes through on Monday with a shower and thunderstorm likely.
 Behind the front, on Tuesday, we get absolutely gorgeous weather with lower humidity and temperatures a few degrees of 80! Ooohh la la, bring it on!