News, Weather
Accu-Reggie 7 Day Forecast (June 28, 2017 – July 4, 2017)
---
 Last week was a thing of beauty! Temperatures hovered in the 80s, and while a brief bout of very humid weather struck on Friday, most of the week was very comfortable! You knew it couldn't last forever, so take this as a warning: We are going to heat things up this week!
  We start the week with glorious Summer weather. When it's 80 degrees and sunny late in June in Philadelphia, I just don't know if you can any better than that?! The warm-up begins on Thursday and drags into the weekend. This mini-heat wave won't be record shattering but we will certainly feel the difference. There is a small shower chance on Saturday, but a better chance on Sunday. Monday night could be wet, but rain looks more likely on Tuesday. None of our rain chances are washouts this week, they are all associated with quick moving fronts or storms that are gone very quickly after they arrive!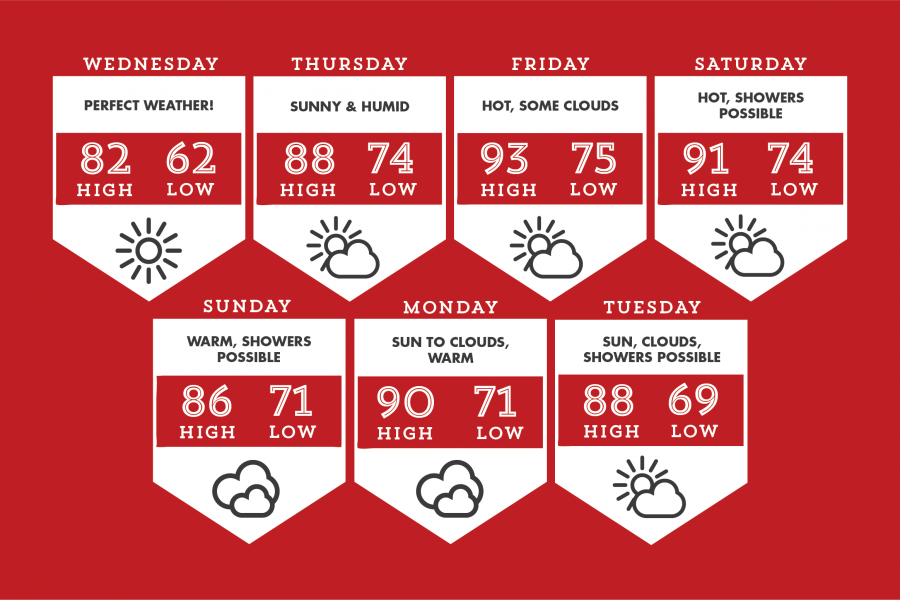 Wednesday starts the week off with the most perfect weather we can ever get in Philly: 80 and sunny!
 Thursday is warmer than Wednesday, especially with an increase in humidity. It will feel closer to 90 outside.
  Friday is the hottest day of the week. Temperatures will surge past 90 degrees. It's going to be a shock to the system after all the nice weather!
 Saturday remains in the 90s, but we could also see a late day shower. It's not a big deal, but something to be aware of.  
 Sunday is sort of a messy day. It's going to be warm with showers running around here and there.
 Heat and humidity try to jump back in for Monday as we could flirt with 90 degrees again. Showers may come through on Monday night, if not, then they will arrive on Tuesday which will also be warm and cloudy. Overall, I think you will like this weather week, enjoy it!