News, Weather
Accu-Reggie 7 Day Forecast (April 26, 2017 – May 2, 2017)
---
  Last week was cool, rainy and yucky! We were stuck in a malaise of clouds and rain for much of the week. This week is absolutely insane for April! It's like we flip a switch to another climate zone. The weather this week is something we would normally see at the end of May or June. Summer-like weather will be the norm this week.
  We start the week in the 60s before spending the next five days in the 80s. The weekend days will flirt with or surpass 90 degrees! Temperatures will warm dramatically on Thursday and continue warm until early next week (Monday). What's so striking about this early bout with summer heat is not so much the extremely high temperatures but how long it stays warm. We've hit 90 degrees in April before, but to stay at 80 or more for almost a week is pretty impressive. We kick the warmth out on Tuesday, and it looks like cool and rainy weather returns later next week.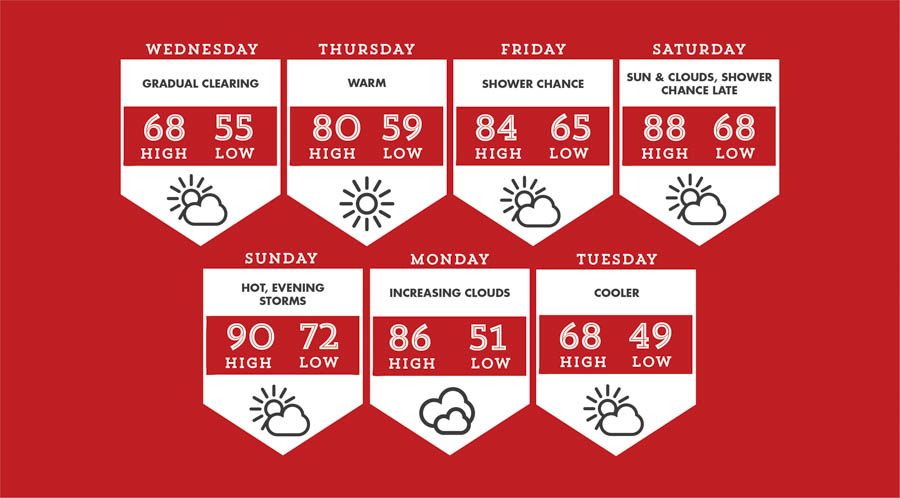 Wednesday may start with some light rain but there will be gradual clearing as the day goes on. We will get at least some sunshine. Temperatures will get to near 70 most places.
  Thursday is the start of our warm streak. Temperatures jump to 80 degrees!
  Friday continues warm as temperatures make it all the way up to the middle 80s. We need to watch for an afternoon shower or thunderstorm, but it should not be a big deal.
  Saturday and Sunday are the warmest days of the week as temperatures get near or above 90 degrees! It will also be humid, so it will feel very summer-like. There is a small chance for a late- evening shower on Saturday and a better chance for showers and thunderstorms Sunday afternoon and evening. Keep the umbrella in the car just in case.
  Monday is our last day with mega April warmth. If we get more sun than clouds we could make another run at 90 degrees. A cold front will come through overnight Monday into Tuesday with thunderstorms and torrential rain.
  Tuesday will be much cooler as we drop back into the 60s.
  As always, be sure to check on social media for daily updates! •