News, Weather
Accu-Reggie 7 Day Forecast (August 10-August 16)
---
Last week was absolutely beautiful with temperatures in the 80s and lower 90s. It was mostly dry and sunny with heat building back in the region as the week progressed. The heat will continue for the start of this forecast period, but it will become less hot and humid after the weekend. Overall, it will be typical August weather in Philadelphia
   The best chances for rain and thunderstorms come on Friday and Saturday, but the weekend does not look like a washout at all. The intense heat and humidity on these days could lead to pop-up storms, especially in the afternoon and evening. Of course, it's impossible to know exactly where and when storms will occur, so keep the umbrella handy these days just in case they develop over your neighborhood. Sunday does look like the best day of the weekend as it looks to be drier and less humid.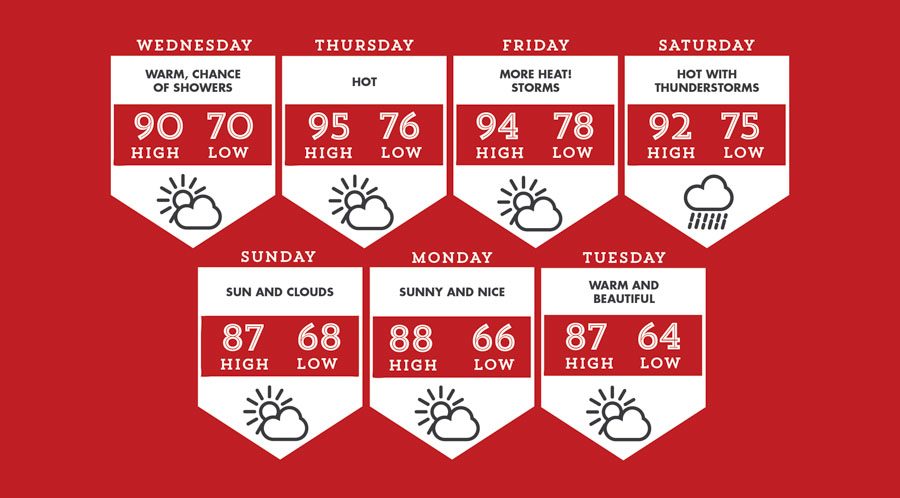 Wednesday kicks off the weather period very hot and humid. Temperatures will be in the 90s and we could also see a stray shower.
   Thursday continues the heat wave as temps jump to the middle 90s. Yuck. I think we have all had enough heat this summer!
   Friday features temperatures in the middle 90s again, but we also have the threat of thunderstorms from all the extreme heat and humidity.
   Saturday should be the last day in the 90s as a front comes through in the afternoon with thunderstorms and showers that push out the latest heat wave.
   Sunday is warm, temperatures will be in the upper 80s, but dry.
   Monday and Tuesday continue the nice streak of weather, but the way the heat has been surging over us this summer, get ready for more heat soon!
  The weather winner of the week is Monday; the weather loser is Friday. •