News, Weather
Accu-Reggie 7 Day Forecast (February 1, 2017 – February 7, 2017)
---
Well, we finally got colder, but the month of January was nearly six degrees above average. Sheesh, that is some crazy blow torch weather!
  But the cold has returned, which means we are back in the running for a snowstorm, even if the overall pattern still supports warm and rainy weather followed by a cold and dry period. February is setting up to be a bit colder than normal, so we will see how long the true cold air lasts and along with it, our chances for snow. As a huge fan of snow, I've hated this pattern! But to all our warm-loving readers, this has been the winter for you!
  This week, we have a chance for light snow on Sunday. This storm looks weaker and weaker, but I will keep an eye on it to see if it resurges on us. It looks like a 1-2 inch event now at best. The storm set to start next week on Monday and Tuesday looks much larger, but it looks more wet than white. On a positive note, you may have noticed the days are getting longer. Yes, spring is not far away!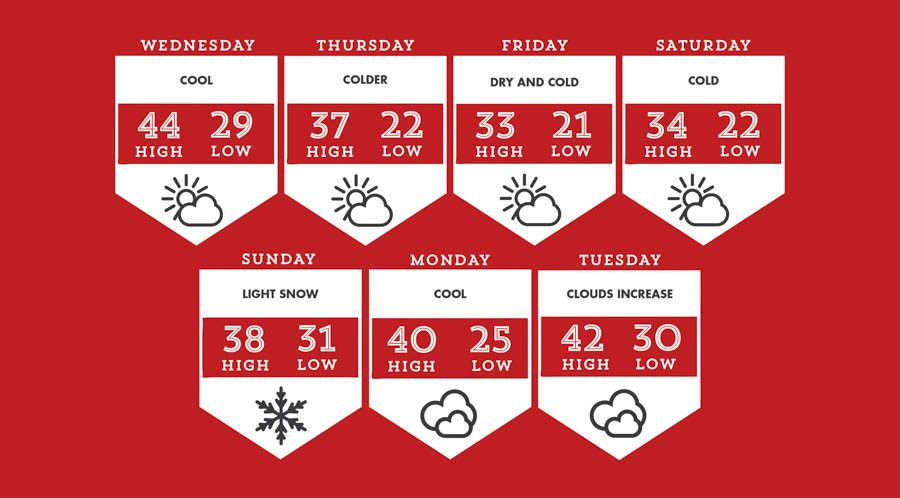 Wednesday starts off the forecast period with seasonal temperatures. It will be cool, but not cold as temperatures top out in the mid-40s.
Thursday, Friday and Saturday are all cold days with temperatures in the 30s by day and 20s by night. No major storms are able to develop over the region and bring us snow, just a cold breeze and flurry here and there.
  Sunday features more clouds and the threat of a snow event. This looks like a period of light snow that could drop an inch. Just enough to remind us it's still winter.
   Monday will be continued cool behind the storm but the Arctic air begins to ease.
  A storm approaches the area on Tuesday, but the details are still cloudy (no pun intended!) Check the daily updates throughout the week on Twitter!). This storm has the chance of producing snow for the region but could just as easily be rain. If the past is any indication of the future — it's gonna rain, folks! •