News, Weather
Accu-Reggie 7 Day Forecast (February 15 – February 21)
---
  Last week finally brought some exciting weather back to the City. Our storm underperformed but at least we saw a general 2"-5" of snow, depending on where you live. This winter, for winter lovers like myself, has been terrible. Right now we are over five degrees above normal for the month of February and have received only eight inches of snow officially in Philadelphia for the entire winter. It's been nothing but a dud and that will continue!
  This week we have a cool shot to deal with up front before spring-like weather takes over. Winter returns with a vengeance to the Pacific Northwest which means the warm southern breezes will be on this side of the U.S. This warm pattern looks to extend through the end of the month.
  A return to cooler weather is set up for the beginning of March, but by then winter is just about toast. Overall, what you see is what you get this winter – brief spouts of cold and snow but otherwise very mild and rainy. With that being said, March is a whacky month so anything is possible, including big snowstorms.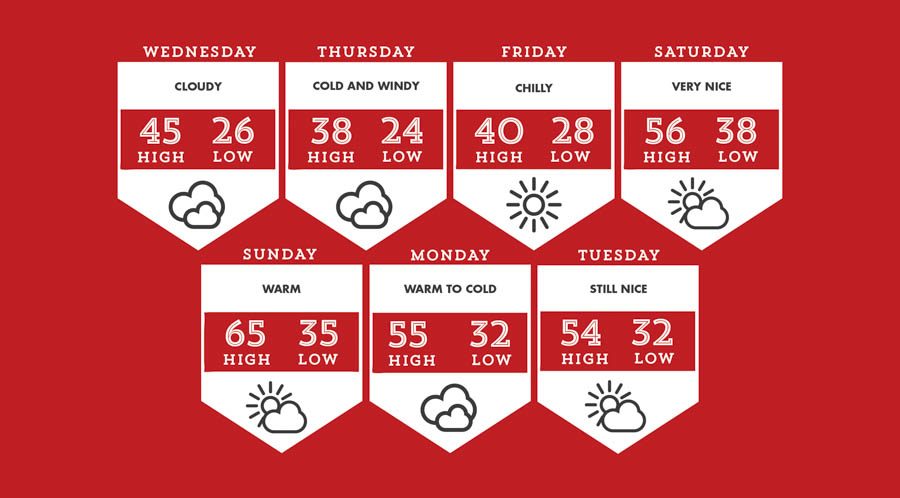 Wednesday is brisk and chilly with clouds; there could be some light rain at the shore and other areas south of the city.
  Thursday is a cold and windy day as an intensifying storm over Maine rips cold air down from Canada right on top of us. It will be the coldest day of the week.
  Friday is a day with plenty of sunshine but it will still be on the chilly side.
  Saturday and Sunday are going to be great days! Warmth surges in from the west as our winds turn up from the south allowing milder air to settle in. Temperatures will be in the 50s on Saturday and the 60s on Sunday. Clouds increase on Sunday but it should remain dry.
  Monday is also a nice day but with some clouds and temperatures hanging out in the 50s. Rain looks to stay away for now.
Tuesday continues what will amount to be a beautiful stretch of weather. Temperatures won't even come close to winter-like. Eventually rain will arrive to kill this winning streak, but until then, go out and enjoy it! •