News, Weather
Accu-Reggie 7 Day Forecast (February 8, 2017 – February 14, 2017)
---
  Winter returned last week, but quickly gave way to warm and rainy weather AGAIN! I'm bored with this pattern; it's either cold and dry or warm and rainy. But that all changes this week. This is what I love about the weather: it can change in a moment. One week, one plowable snowstorm and it feels like winter is back again in the Northeast. This week will start off with a storm that will bring snow (finally) back to the city.
  I must warn you that this is a complex storm. Some will get primarily rain and 20 miles north and west others will get six inches of heavy, wet snow. This battleground will set up near the city. The storm could also be weaker and provide light snow that does not fall heavy enough to accumulate. Right now 2-4 inches is the call in the Philly area, but I'll lock it in with video and social media updates as we get closer.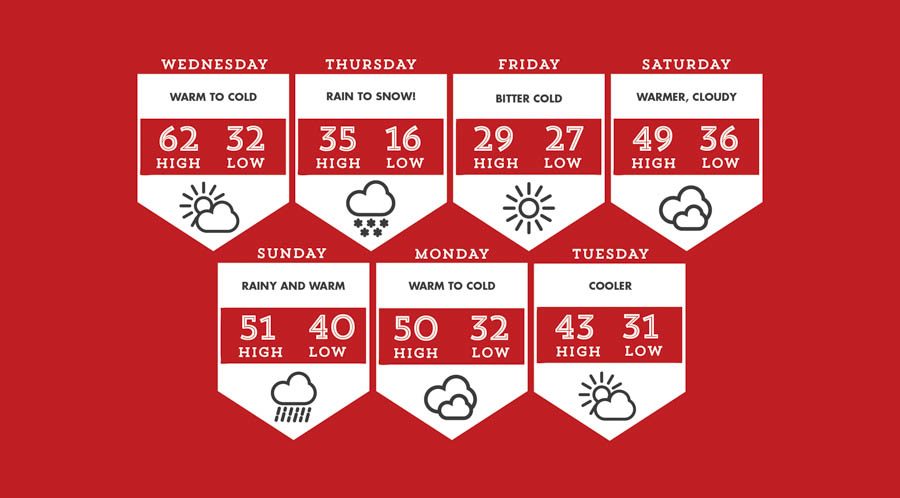 Wednesday is crazy warm with temps near 60 before dropping in the afternoon. A key for the Thursday storm is getting colder air in place before the storm.
  Thursday is the storm day. Light rain will begin in the morning and mix with and change to snow from north to south across the region as the storm intensifies. How much snow vs. rain we get depends on the intensity and track of the storm.
  Friday is cold. Just know it's going to be windy with temps in the 20s most of the day.
  Saturday and Sunday are warm again as temps flirt with the 50s both days. Rain arrives for Sunday, making it a bit of a dreary day.
  Monday is a transition day as it will start warm before a cold front drops in from the north and drops our temperatures along with it.
  Tuesday is back to chilly weather and we watch for another storm to move in later in the week. Even though the chances for snow look decent the next two weeks I'm certainly not holding my breath. The weather can be like Super Bowl LI sometimes: you think you have something for sure coming your way…until you don't! •