News, Weather
Accu-Reggie 7 Day Forecast (January 25, 2017 – January 31, 2017)
---
  Ah, this pathetic winter continues as we averaged around 10 degrees above normal last week. Winter has waltzed away to the cheering of the warm-lovers, but the dismay of the snow-lovers. The season returns this week: It's not going to be super-duper cold, but it is going to feel like winter (30s by day, 20s by night).
  I am on the lookout for snow, but at the moment I don't see anything legitimate brewing. Of course that can change in a flash, so I'll keep you updated as the week progresses. A storm tries to develop on Monday, but the setup is awful. It looks like the general pattern of "warm and wet, cold and dry" will continue until the end of the month.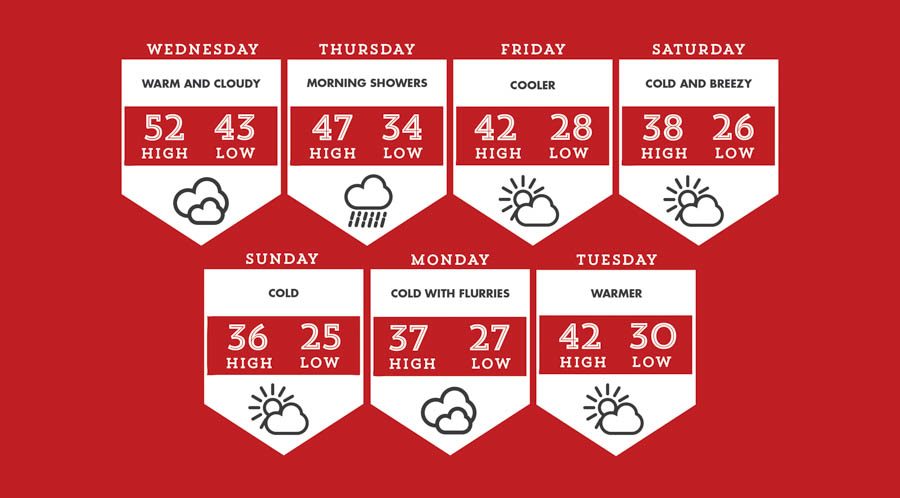 Wednesday is the warmest day of the week. Temperatures spike ahead of the cold front that will return us to more seasonal temperatures. Clouds will also increase later in the day.
  Thursday starts off wet as the front brings showers through the region. It will also be windy behind the front and turn noticeably colder with temperatures dropping through the 40s.
  Friday is a cool day, but it won't be brutally cold. Temperatures climb to just above 40.
Saturday and Sunday are both cold days. Temperatures will not leave the 30s during the day and will fall into the middle 20s at night.
Monday continues the cooler weather, but with clouds and the chance for a snow shower. Temperatures hover in the 30s. There's a small chance this develops into a storm, but don't count on it.
  The cold air relaxes on Tuesday ahead of a fresh shot of cold air ready to settle in for the following week!
  It's going to snow again this winter, but the chances of it happening this week are small. As always, keep up with my daily updates online for more. •