News, Weather
Accu-Reggie 7 Day Forecast (May 17, 2017 – May 23, 2017)
---
  Last week was cool and raw. In fact, on Saturday we did not make it out of the 50s. We were 21 degrees below the normal high temperature for that day! So after such a strong swing to cooler weather what is coming next? Extreme heat! No, really. Get ready for Summer-like heat this week! I am baffled by this weather pattern, we seem to be endlessly swinging from one weather extreme to another!
The week starts off warm, near 90s degrees, all the way up until the weekend. I wouldn't be surprised if we register an official heat wave which is defined as three or more 90+ degree days in a row. We will cool down for the weekend but it certainly will not be "cold" like last weekend. After the weekend we bounce back to "normal" May weather in the 70s and 80s. Our best chance for rain occurs on Monday as a storm travels to our north and west over us. This does not look like a major rain maker for the area but more of a nuisance.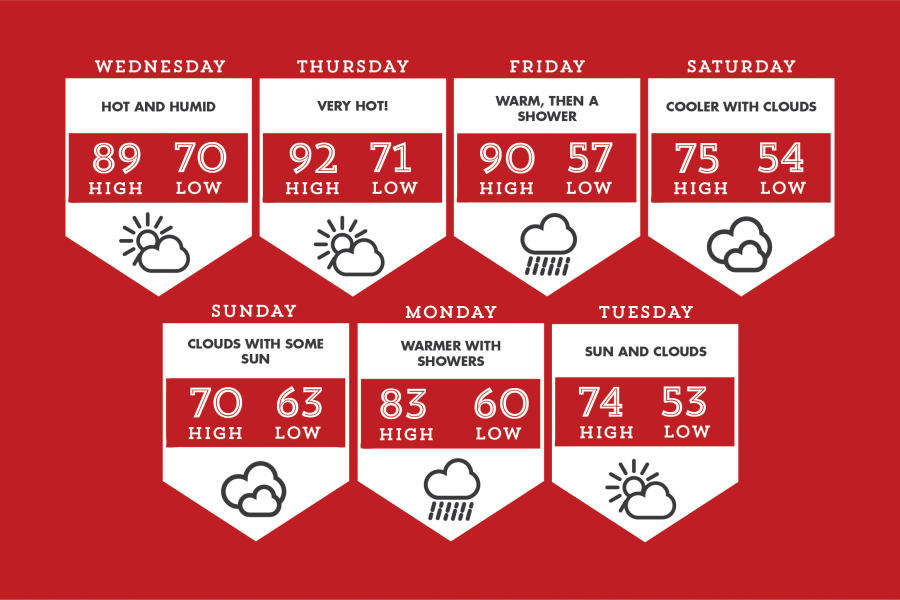 Wednesday is a hot start to the week with noticeable humidity as well. We either hit 90 degrees or are just shy of 90! Also, nighttime temperatures are going to be uncomfortable, you will want to turn the A/C on!
  Thursday is the hottest day of the week as temperatures easily rise past 90 degrees. There is a slight chance of a pop-up thunderstorm in the evening.
  Friday starts warm and humid but then a cold front will drop down later in the day with a chance for a shower with it. Temperatures will drop into the 70s late in the day.
Saturday and Sunday look like decent days with temperatures in the middle and lower 70s. While it does not look like we will get rain, they will feature a fair amount of cloudy conditions. After the major heat I don't think any of us will be complaining about 70 degrees through.
The warmth returns on Monday but the heat will also be accompanied by rain. A round of showers will roll through in the morning and afternoon. Tuesday features some clearing and the return of sunshine and absolutely gorgeous weather. All is well that ends well.
  As always, check us out on social media for daily weather updates!