News, Weather
Accu-Reggie 7 Day Forecast (May 31, 2017 – June 6, 2017)
---
 Last week's temperatures were up and down as we bobbed back and forth between dry and wet weather. Thursday was a washout, and then a mostly dry weekend turned wet and cloudy for Memorial Day. In spite of the cool temperatures, I trust you all had a very nice holiday!   
 This week continues the smorgasbord of weather we have been experiencing. Some days will be sunny and warm; others will be cool and rainy. Overall, I think you will like this week, but be prepared for frequent bouts of rain. We are stuck in a very wet pattern that shows no sign of stopping even as we enter our first real summer month (June). Some of the shower chances are just that — chances — like on Wednesday and Friday, but others are legitimate rainstorms that will impact everyone for more than 24 hours. The Sunday storm is an example of the latter. As we head into June, expect to see the 80s more frequently as the warmth across the South becomes stronger and more intrusive.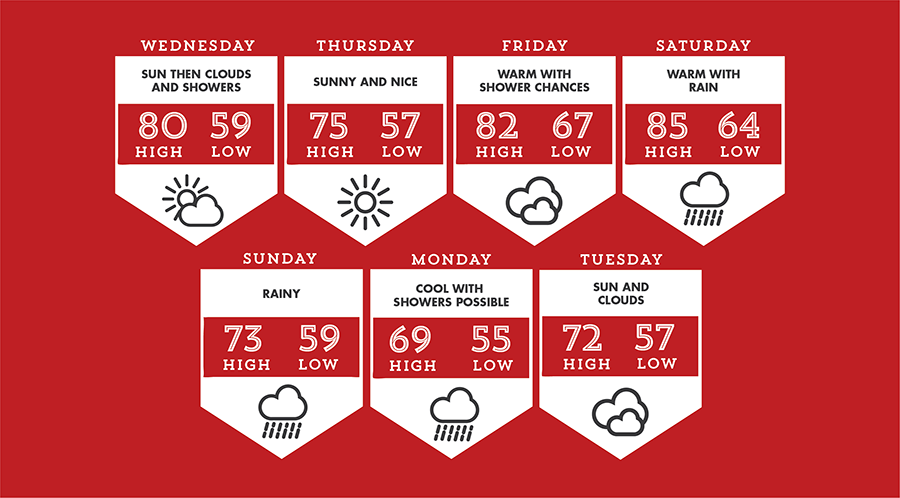 Wednesday starts the week off on a warm note. We will welcome normal temperatures near 80 degrees. Later in the evening, we could see a shower as a cold front comes through.
 Thursday looks like it will be the best day of the week. Temperatures will be in the 70s and there will be plenty of sunshine without any threat of rain. Go out and enjoy it!
 Friday is warmer than Thursday, but with the warmth comes instability and the chance for showers in the afternoon and especially the evening.  
 Saturday will feature another run to near 80 degrees, but a slow-moving front will move south across the region during the day and arrive in Philly after 2PM. Rain along the front will impact the area Saturday night, and then a storm system will ride along the front to bring us some rain on Sunday. The showers from Sunday's storm last into Monday as the storm takes its time moving away.
 We will dry things out for Tuesday but remain on the cooler side as temperatures stay in the 70s.
 As always, check us out on social media for daily weather updates!