News, Weather
Accu-Reggie 7 Day Forecast (Memorial Day Weekend 2017)
---
  Last week we registered our first official heat wave of the warm season: Temperatures went ballistic on us in the 90s for three straight days (Wednesday through Friday). Cloudy, cool, and showery weather returned to end the week. The weather takes another interesting turn this week; the theme is "unsettled."
  A storm that brings rain for days is not on the horizon, however, this week will be characterized by many chances for showers from small storms flying around everywhere. The temperature will be cool when it's rainy and/or cloudy and near 80 degrees when it's not.
  The week starts off with a chance for light rain on Wednesday morning as a quick-moving storm misses us to the south. It will rain at the beaches but not so much in Philly. Rain hits everyone on Thursday as a bigger storm moves in from the west. Showers from this storm will linger into Friday. Saturday should be dry, but clouds increase in the evening. Showers return for Sunday evening into Monday morning and then again on Tuesday. Stay nimble with the umbrella this week!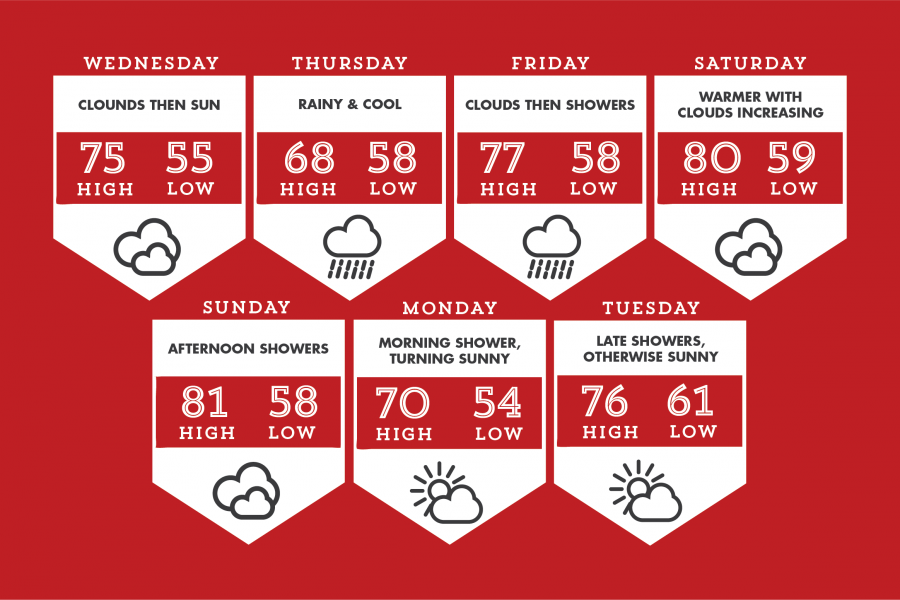 Wednesday starts the week off on a cloudy note. The clouds will dissipate as the day wears on and temperatures climb into the 70s. Anywhere south and east of Philly will be rainy; Philly may see a shower.
  Thursday is a rainy and cool day. We've had plenty of them this month, you know the drill.
  Friday starts rainy and cool but should turn decent by the afternoon. Temperatures jump to the 70s.
  Memorial Day Weekend will provide the best days of the week as temperatures get to about 80 each day. A shower is possible late Saturday, but very probable Sunday afternoon and evening.
  The showers from Sunday last into Monday as cooler marine air works back into the region. Tuesday features some clearing and the return of sunshine but showers return in the evening.
  As always, check us out on social media for daily weather updates!  •