News, Sports in Kensington
Boots Ennis and Manny Folly Rock the House at PHILLYSTRONG Boxing Event
---
  Friday night, two local fighters shone at the Victory Boxing Promotions' PHILLY STRONG event at the 2300 Arena in South Philly.
  In the main event, Jaron "Boots" Ennis defeated James "Shotgun" Winchester of North Carolina by unanimous decision in a six-round welterweight clash.
  Appropriate to his nickname, Shotgun (20-13, 8 KO) came out blasting with a straight-ahead frontal attack that Ennis had little trouble picking apart throughout all six rounds. If Winchester was a shotgun, Boots was firing a pair of machine guns, hitting him with multiple unanswered lefts and rights that frustrated Winchester to the point that he resorted to a double-leg takedown attempt and a subsequent cheap shot in the second round that got him a point deducted by referee Shawn Clark. Winchester was tough and durable, kept moving forward and landed a few good punches late in the fight, but he never landed the haymaker he was hoping for. Ennis had better footwork, more punches and more significant strikes and easily won all six rounds.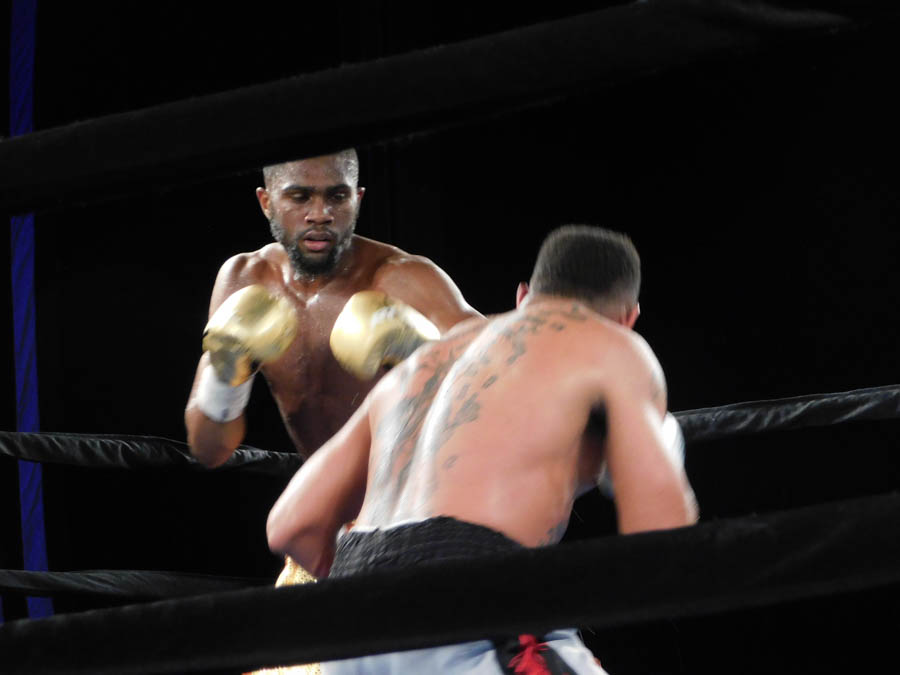 Boots is Philly boxing royalty. His father "Bozy" Ennis is his trainer and a former pro fighter himself. His two brothers are Derek "Pooh" Ennis and Farah "Quiet Storm" Ennis, all of whom trained at Bozy's Dungeon, fought professionally and have trained others. Combined, the Ennis family has a professional record of 60 wins, 8 losses, 1 draw with 36 knockouts. Friday was a great night for Team Ennis, as you could see decades of boxing knowledge manifesting itself with each and every punch. At 10-0, good things are on the horizon for Boots.
  In the other significant fight of the night, Kensington native Emmanuel "Major Pain" Folly stopped former WBO Latino bantamweight challenger Luis Hinojosa of the Dominican Republic in the first round after three quick knockdowns.
  Manny Folly is Philadelphia's working-class hero and the Philadelphia Police Patrolman is gaining a legion of fans inside and outside the ring. He has a deadly right hand and knocked Hinojosa (30-11, 17 KO) down there times in the first minutes of the scheduled six rounder. Ref Eric Dali called it at 2:18.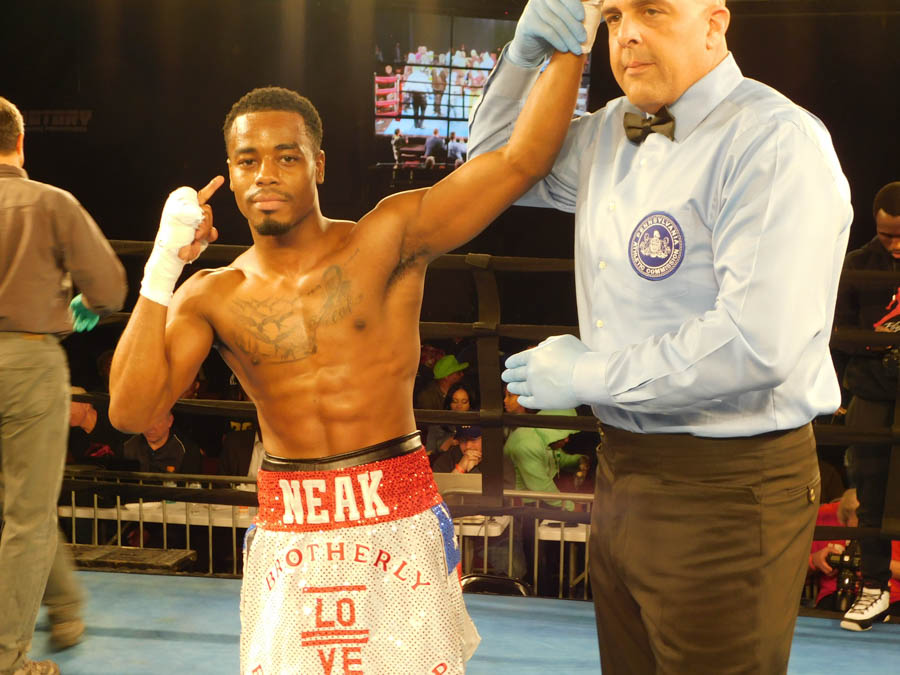 It is Manny's fourth consecutive first-round stoppage and eighth knockout overall. Unfortunately for Hinojosa, the bout did not take place on paper.
  "On paper, he was my toughest opponent so far," Folly said after the fight. "But I feel that I carried out my game plan exactly as I planned it. I knew I had to make every single punch I threw count, because Luis Hinojosa is a 40-fight veteran with tricks up his sleeves. But I'm Manny 'Major Pain' Folly with a few tricks of my own and God blessed me with the talent and skills."
  Manny didn't even seem to break a sweat. Within minutes of the conclusion of his bout, he was dressed and downstairs posing for photos with trainer Buddy Osborn and cheering on his friend Boots Ennis.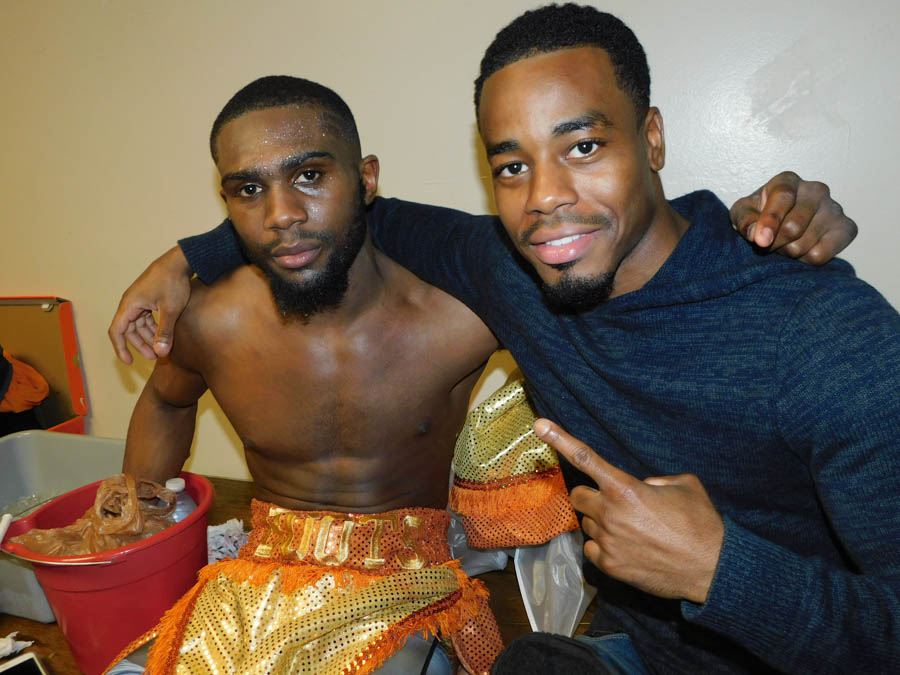 In the rest of the undercard, New Jersey boxer Darren Goodall (5-0, 4 KO) defeated Juan Zapata from Honduras by ref stoppage in the second round. Brandun Lee (2-0, 2 KO) of Coachella, California defeated Seth Bassler of Illinois by first-round knockout at 2:21. Joshua Jones defeated Dustin Arnold of Florida in a four-round unanimous decision.
  Philly is going through a boxing Renaissance, with a great number of young fighters, trainers and promoters grinding it out seemingly every week. Just a few short years ago, you could count the number of quality local boxing events in a year on one hand. Bouts were in difficult places to get to, and you didn't always get your money's worth. In 2017, there are great fights seemingly every other weekend at the 2300 Arena, and at other venues like the Liacouras Center, Sugarhouse Casino and the Fillmore in Fishtown. Many say we're in the best city in America for boxing. Philly is strong, just as the name of the event suggests. •