News, Politics in Bridesburg
Community Updates From Rep. John Taylor, PA State Rep From the 177th District
---
Make Sure Your Drinking Water is Safe
By Michael Klusek
   With the recent situation in Flint, Michigan, many are concerned about water purity.
   John Taylor, PA Representative for 177th District, which covers Port Richmond, Bridesburg and some of Northeast Philly, held a community meeting to update residents on water testing and safety.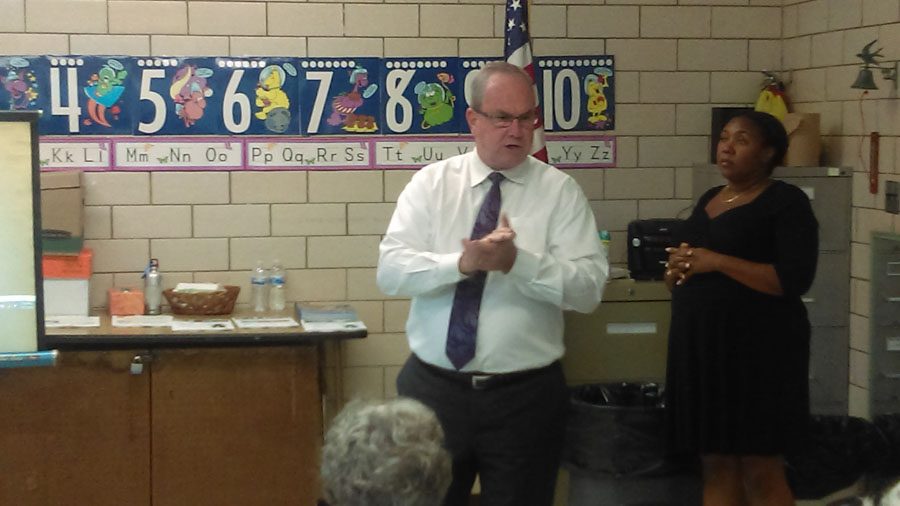 Drew Brown, long-time environmental engineer for the Philadelphia Water Department, spoke on lead in drinking water and where it comes from.
  Lead in water is especially harmful in children nine months to six years old. Lead tends to accumulate in the brain and can cause learning deficiencies.
  The water that is supplied to the street in iron pipes is free of lead, but lead can enter the water via the service line from the street main to a homeowner's house. Older homes had lead pipes. If the service line was not replaced, water siting in lead pipes for more than six hours can leach into the water because water is a universal solvent. The quick solution is to run the tap for a few minutes before you use it for drinking or cooking. Never use hot water tap for cooking either.
  There is a simple method to test if your service line is lead. Locate the line from the wall to the water meter. Rub a sharp key on the service. If is is soft and ductile and you can see silver it is probably lead. Another indicator is whether a magnet sticks to the pipe. Lead  is not magnetic so a magnet will not stick to it. Most modern plumbing is copper, which has an orange color, or ductile iron.
  Most of the lead service lines have been replaced. Only 10 percent remain in Philly.  If you suspect you have lead pipes, call 215-685-6300 and an inspector will come to confirm.  If the city is scheduled to replace the water main in your street in the near future then the service line will be replaced for free at that time.
  If not, the service line is responsibility of homeowner, but there is a zero interest loan help line for assistance 215-685-4901. You can learn more at http://www.phila.gov/water/lead •
Attend the First Bridesburg Community Action Alliance Meeting
   State Rep. Taylor wants to encourage residents to attend the first meeting of the Bridesburg Community Action Alliance on Sept. 21, 6PM, at the Bridesburg Recreation Center, 4601 Richmond St. This is an active group committed to fighting blight and strengthening our community ties. Come out and support their work! •
Launching the Children's Scholarship Application Process
   State Rep. Taylor had the honor of attending the kickoff of the Children's Scholarship Fund Philadelphia's (CSFP) new application launch event at the Please Touch Museum.
   CSFP is a privately funded program whose mission is to provide children from low-income Philadelphia families the financial access to quality, safe, K-eighth grade, tuition-based schools, thereby increasing their long-term economic and social success.
   Keep in mind that the application process is open now — two months earlier than in previous years. Get more information here: http://www.csfphiladelphia.org/about/news/csfp-application-launch-and-opening-day-lottery/) •
Drugged Driving Focus of House Transportation Hearing
   In helping to keep highways safe, the House Transportation Committee held a hearing in Montgomery County this week to explore the differences and challenges between drugged driving involving both drugs and alcohol and more traditional cases of driving under the influence of alcohol.
   Specifically, the hearing covered several topics, including the effects of different types of drugs on motor skills and hand-eye coordination; police training to spot, detect, investigate or arrest those suspected of drugged driving; trends observed in drugged driving; prosecutorial experiences or difficulties with drugged driving; and ways in which states are dealing with the issue.  •
   Experts testifying included representatives from the PA DUI Association, AAA Federation, Mothers Against Drunk Driving, NMS Laboratories, SmartStart, Pennsylvania State Police, local police chiefs and Pennsylvania District Attorneys Association, along with Montgomery County District Attorney Kevin Steele and Lackawanna County Judge Michael Barrasse.
Labor and Industry Committee Investigates Workplace Issues
   The House Labor and Industry Committee held four discussions this week to look into several topics addressing workforce issues and enhancing workplace safety.
   Tuesday's hearings focused on House Bill 1141, legislation that proposes to reform the way workers' compensation payments are handled, and House Bills 2130 and 400, proposals to enhance workplace opportunities for adults and working-age youth with disabilities.
   Wednesday's meetings involved a look at House Bill 1082, a measure to protect workplace safety, and Senate Bill 1265, legislation to allow for payroll card accounts. •