A&E, Music in Fishtown
Decibel Magazine Hosts Beer and Metal Festival at the Fillmore
---
Upon entering Decibel Magazine's much-anticipated Beer and Metal Fest at the Fillmore, it took me at least 20 minutes to adjust to the venue, as I had never before seen it. The Fillmore is not accustomed to hosting metal shows (save for King Diamond once, and the band that still calls itself Slayer at least once), and the fact that this was a festival denoted more than just having a larger than usual number of bands.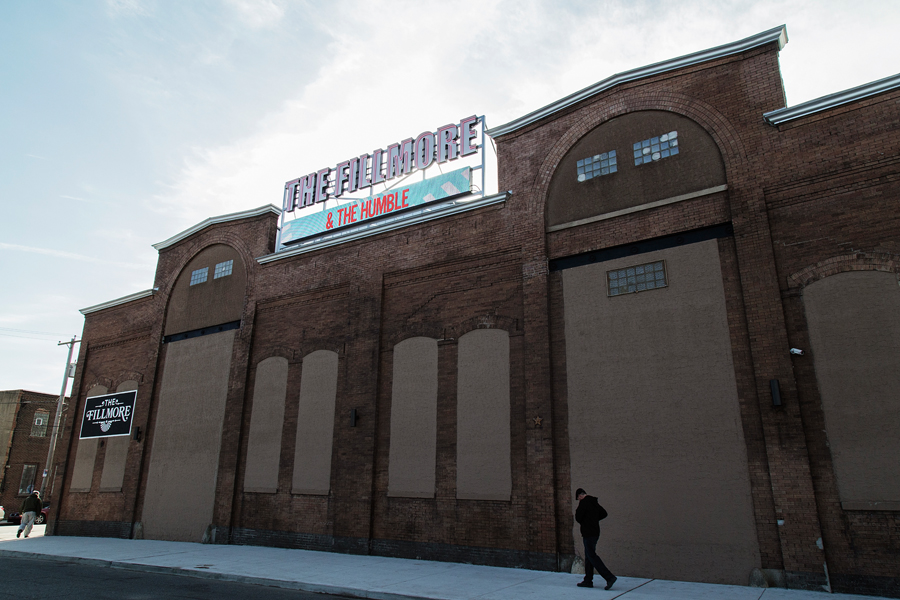 When you walk past the vendors and record label merch booths in the front lobby and hallway, the party really gets started. I'm of course referring to the dozens upon dozens of craft beer vendors who have traveled in from all over the country. One of them mentioned there had been a brewers-only party the night before in which these cats were getting drunk on each other's creations. Good for them. Their moods throughout suggested this was as much a party for them as for anyone else, work though it may be.
I was relieved to find out that the press pass did indeed include the unlimited pours one could opt for. Not long after discovering this, it became appreciable that, with this bracelet, one didn't have to interact with the venue much at all, or handle money, and the festival would operate as its own autonomous zone. The hour between doors opening and bands starting was drawing to a close, and friends and strangers alike were making their way in.
Crypt Sermon, the only Philadelphian band in the festival, made a whole lot of sense as an opener. Their metal comes from a more Judas Priest/Ronnie James Dio place of spooky doom-flavored rock 'n' roll. It's an approach that requires some strong vocal pipes, and their singer had these in surplus.
Up next was Krieg from Somers Point, NJ, whose singer writes a pretty good column for Decibel Magazine. They came to deliver some mean and ugly black metal. By this point, the 2,000+ people in attendance (not counting vendors, brewers, musicians and staff, that is) had all had their good share of small cups of various beers. Depending on the strength, it only takes about three of these to get a solid buzz going (though let's say four, because I'm a skinny fellow).
The room was a well-lubricated one when Panopticon took the stage. These folks are onto something pretty special, playing black metal, but instead of basing it musically in Scandinavian folk music, they take inspiration from the folksong tradition of Kentucky. Instead of projecting their name/logo onto the screen behind them, they prepared a slideshow of nature images, which appropriately accompanied what they were doing. After earning themselves the first pit of the festival, singer/guitarist Austin ended their loud set on a quiet note with an old-fashioned folk song of his creation.
Keeping that energy going next was New York's Immolation, an old-school death metal act who's been at their craft since 1986. Deliver us from art-metal and lead us not into nodding our heads with our arms crossed. It didn't take long for all the slamming around to put cracks in my plastic sample cup. After the set, I went over to a brewer, who had a coffee stout I liked, to ask about this. He didn't have any cups, but ingeniously advised I drink said stout really fast so nothing would spill out through the cracks. It worked.
Upon tossing that, the thrash-kings of Municipal Waste came out swinging. Perfect timing. Their singer Tony greeted the crowd with "What's up, ya beer snobs?" From there on out, it was a beautiful insanity of flying limbs and dense circle pits as the maniacs in the crowd and the maniacs in the band collaborated on an absolute rager of an hour. It struck me as sad how we've caught up to the paranoid science fiction found in so many thrash lyrics, including theirs. It struck me as awesome how well they delivered the songs "Unleash the Bastards" and "Born To Party," among others.
Closing out the first night was Agoraphobic Nosebleed, drum-machine gonzo-freaks of the greater D.C. area. In spite of the fact that they've been making music since 1994, they didn't play their first live set until 2015, and have only played five others since then. As noise and samples played in the darkness, the front of the crowd was full of tension, large pupils and busy jaws.
Opening with the first few songs off of Frozen Corpse Stuffed with Dope, all hell immediately broke loose. In true grindcore fashion, the pit was high-density and high-speed. An errant pinky finger found its way into my skull, just above the right eyeball. In all the shows I've been to, I have never seen the security behind the barricade look so absolutely horrified.
Still reeling, the six-person crew I was kicking it with for the weekend found its way to the taco window by The Saint, then took a longer than usual set of train rides to South Philly for more beer and metal at Chicken Man's house. It seemed miraculous at the time that we were even allowed in public.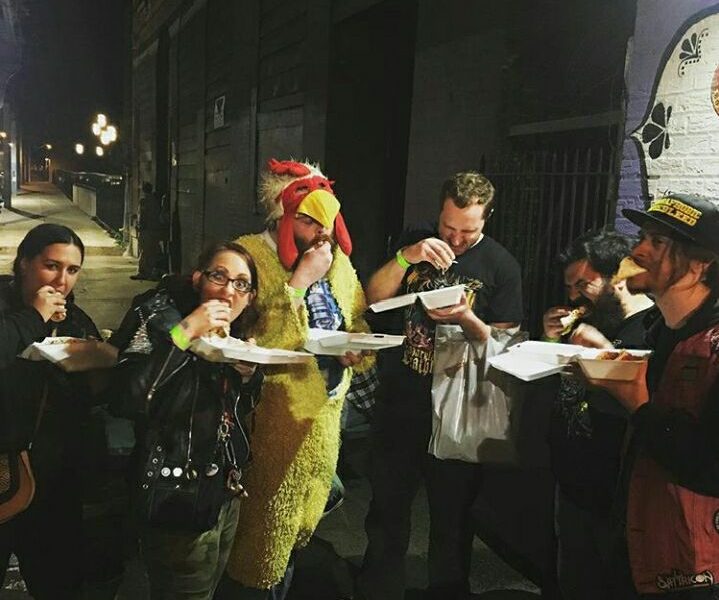 Waking up on couches and air mattresses, we eased our way into the next day with breakfast and death metal before going back out to start all over again. By this time, we had each narrowed down the brew tables to our favorites and ran around for more of what we liked best. We've all got different taste buds, but Hammerheart, Three Floyds, Cigar City and Burial Brewing were the most memorable in my book.
The evening started off with the pissed-off death metal of Cemetery Piss from Baltimore. We were then brought to a more reflective place by Falls of Rauros, an atmospheric, nature-inspired band from Portland, Maine. Bringing more emotion still was Denver, CO's Khemmis, who, incongruently enough, deliver themes of despair and lostness with clean vocals on top of ripping guitar leads. Withered, from Atlanta, GA, continued this trend of an emotive, abstracted approach, but brought a lot more grit and teeth into the equation.
Before Pig Destroyer's set, two friends and I decided to prepare by slamming some tasting cups of Permanent Funeral, the Three Floyds beer made for/in collaboration with the band. The brewer must have intuited that we had exactly the right idea, because he joined us in that pour. Pig Destroyer started playing right as the last bit went bit went down our throats.
While I had seen them a couple of times before, those were both on tour stops. Festivals have a way of bringing out better performances from each band. This fest in particular was as much a party for the bands as it was for the brewers and for those attending, which shone through unmistakably in their performance. Later on that night, I would end up chatting with their bassist, who declared it to be one of the best sets they've ever played. The creepy grindcore they've been doing so well since 1997 was delivered by a more stoked than usual band to a more stoked than usual crowd.
We were reaching the end of the festival proper. There was only one more act left: Sleep. Having seen them when they last came to Union Transfer, I was prepared for my mind to be shattered open, and was right in expecting that. Just as they were coming on stage, though, something felt different, special. We were entering a Sleep-pit.
The Californian stoner-gods delivered their mammoth riffs at glacial speed in front of a projected backdrop of an enormous marijuana field, bathed in sunlight. The crowd, still rowdy and untamable, moved just as slow and heavy as the music did, with all bodily collisions coming full-force and high-impact. The Fillmore's security deserves a shout-out here: they were on guard and alert for anything that might go down, but didn't interfere with the good old time we were having.
Sleep kept their hour-and-a-half set going with no breaks, no chit-chat. They brought searing bliss to a large group of people who were absolutely prepared to receive it. At one point, Chicken Man and I were able to coordinate a Sleep wall-of-death on the fly. At another, I grabbed someone by the shoulders, then leapt onto his back while shouting "Charge the front!" He didn't need any more explanation than this, and, without hesitation, ran forward into about five people before launching me into the air, and onto upraised hands for a crowd-surf. That might sound unprovoked and violent, but this was a time and place where it made perfect sense. I have never been in a pit with more hugging than this one. Sleep closed out their set with the last twenty-ish minutes of Dopesmoker.
Still buzzing and not yet ready for this thing to end, we walked out screaming "KUNG FU NECKTIE" to the folks outside, then headed over there to see members of Agoraphobic Nosebleed, Pig Destroyer, and Misery Index play Sepultura covers. Funny enough, the band with legal rights to use the name Sepultura was in town that night, but given who was in each band, what venues they were playing, and what albums they were performing songs off of, I have no doubt whatsoever that we got the better Sepultura experience of the two.
I write this a few days later with sore muscles and a stomach that hasn't quite settled yet. Fresh in my mind is the knowledge that times like these, and the camaraderie within them, are what make all sorts of death and taxes worthwhile. I have it on good authority that Decibel plans to make this an annual event, and am already looking forward to the next. Let the beers flow and the pits rage, in Fishtown as it is in Valhalla. Amen.