A&E, Features, Food, Local Business
Distillers Row: Are the Riverwards Becoming a Booze Destination? These Six Local Distilleries Think So
---
  Kentucky has her bourbon trail, Napa Valley has her wine and, soon, the narrow streets of the Riverwards will have their very own boozy claim to fame: Distiller's Row.
  There are five distilleries currently in Fishtown and Kensington and a sixth is on the way. They range from boutique operations like Rowhouse Spirits and Red Brick Craft Distillery to more commercially ambitious outfits like New Liberty Distillery and Federal Distilling. Philadelphia Distilling (coming soon to Fishtown) and La Colombe's distillery round out the list.   
  These distilleries are a recent phenomenon: Until 2011, when Pennsylvania created limited distillery licenses, it was nearly impossible to open a distillery. The relaxed laws allow for distilleries to operate as long as they produce fewer than 100,000 gallons of liquor a year. These licenses also allow distilleries to sell their spirits directly to restaurants, bars and individuals.
  Though the distillers are in competition with each other, there is a sense of community and friendliness that recalls friends trying to one-up each across a bar.
  "The fact that we're all here in Kensington helps all of us. It brings people to the neighborhood. I've had a number of customers referred from other places and I've referred customers, too," said Dean Browne, owner of Rowhouse Spirits.
  All of the distillers Spirit News spoke with said that they were excited for the future of craft distilling in the neighborhood. Rob Cassell, founder of Philadelphia Distilling and New Liberty Distillery, said he's looking forward to coming together in the future and promoting the concentration of distilleries in the neighborhood.
  "It'll be great. We can collaborate and set up a Philly spirits trail. The more we all communicate, the better craft distilling will be in Philadelphia," said Cassell.
   Collaborations and celebrations of the community may still be a ways off since many of the distilleries are in their infancy and are working hard to succeed in a cutthroat industry.
  "Dean from Rowhouse really helped us get started and get licensed," Brian Forrest of Red Brick Craft Distillery said. "He had done it before us so he was a huge help. It never felt like we were competing, just working towards opening good businesses in the neighborhood."
  So without further ado, we introduce our readers to "Distillers Row."
Philadelphia Distilling – (25 E. Allen St.)
   Philadelphia Distilling (PD) is the pioneering distillery in Philadelphia. The story goes that when Robert Cassel (now of New Liberty), Andrew Auwerda and Timothy Yarnall set out to open Philadelphia Distilling, the Pennsylvania Liquor Control Board (PLCB) had to draft, from scratch, an application for new distilleries. Currently located near Woodhaven Road and the Roosevelt Boulevard, Philadelphia Distilling plans to open a new distillery within the historic Ajax Metal Building in Fishtown.
  PD's Fishtown location was originally going to open in Spring 2016, but, as of the time of publication, is not yet open. Once it opens, visitors will be able to taste and learn more about Philadelphia Distilling's history and their decision to relocate to Fishtown. The plan for the new distillery also includes a restaurant and an event space for hosting larger parties.
  At the distillery, visitors will have the chance to taste Pennsylvania's first original line of legally produced craft spirits. There, drinkers will be able to sample Bluecoat Gin, an American style gin that is more citrus-forward and less piney than a traditional London Dry Gin. PD also produces a barrel aged version of Bluecoat, which has been mellowed in American oak barrels for at least three months. The oak adds whiskey-like caramel and vanilla flavors that give the gin a whole new life.
  PD also produces two vodkas and an absinthe. Penn 1681 is a vodka made from locally sourced rye as a tribute to Pennsylvania's agricultural history. The Bay, PD's "Chesapeake Bay" seasoned vodka, is made with celery seed, pepper and other spices reminiscent of a crab boil. The Bay makes an extra savory bloody mary or simple way to enjoy an oyster shooter. Vieux Carré, PD's absinthe, is a strong liquor made from neutral spirits infused with wormwood, anise and other fragrant botanicals. The absinthe is herbal and commands attention. Vieux Carré is the first absinthe produced on the East Coast in 100 years.
La Colombe – (1335 Frankford Ave.)
  Though primarily a coffee shop and roaster, La Colombe debuted it's Different Drum Coffee Rum in early 2014. The rum, which according to a PR rep for the company is made at La Colombe's Fishtown location, is an infusion of Panama geisha coffee and rum, lightly aged in oak barrels.
  La Colombe's team calls Different Drum a sipping rum, a spirit smooth and mellow enough to enjoy neat or over ice. The company also offers a few cocktail recommendations, like a dark and stormy.
  According to the website for Different Drum rum, La Colombe's founders decided to distill after noticing that whenever they visited a coffee farm, a distilling or moonshining operation was never very far away.
  La Colombe's PR rep was unable to provide more information about the distillery's place in Fishtown or about its possible future plans.
Federal Distilling – (1700 N Hancock St.)
  Kensington's Federal Distilling brings craft vodka to Philadelphia with Stateside Urbancraft Vodka, which is distilled from corn and is still bottled by hand in the neighborhood. Matt Quigley, the distiller, honed his skills through years of practice and surreptitiously distilling in his parents' basement. Today he runs his business with his brother, Brian.
  "In craft distilling, vodka only covers about 7 percent of craft spirits," Quigley said. "If we open up and make our core focus a super premium local vodka and don't stray from that I think we'll be successful."
  Federal's Stateside vodka is crisp and clean. There's a subtle, unobtrusive sweetness from the corn. The vodka is soft and balanced and would be just as enjoyable on the rocks as it would be as a cocktail spirit. Quigley chose corn, in part, because it's easy to purchase and can be grown sustainably.
  "The access to your raw ingredient is going to be there for days. It's not like trying to source some abstract base that would be subject the environmental conditions," he said. "It gives a lot of bang for your buck. It gives a lot of sweetness. I've used it in the past and I just prefer it."
   Currently Federal Distilling produces roughly 5,000 bottles of Stateside per month. The Quigley brothers distillery is housed in an industrial looking warehouse that gives the ambitious brothers plenty of room to expand. Currently, Federal Distilling occupies 6,000 of the available 15,000 square feet.
  "There are options to expand into different pockets of the building. We know we're going to outpace this space once we build a full on bottling line," Quigley said. "Kensington is like the Brooklyn of Philly. Brian and I both live in South Philly. He is moving to Kensington in the next couple weeks. We liked the expandable area: There's a lot of warehouses here that have a ton of space."
  The brothers are still focused on getting their tasting room open to the public and Quigley says they are looking forward to collaborating with other distillers in the area once their own house is 100 percent up and running. "We're not even open to the public yet and we've been booked 45 times for private events," he said.
 Federal Distilling's tasting room opened on August 11, 2016.
New Liberty Distilling – (1431 N Cadwallader St.)
  When Rob Cassell started New Liberty Distilling/Millstone Spirits, he didn't have much left to prove. As the founding distiller at Philadelphia Distilling and an advocate for craft spirits in Pennsylvania, he has proven to be a man who knows a thing or two about distilling.
  Despite his track record with clear spirits (see Philadelphia Distilling), Cassell was not satisfied. It was time for whiskey. New Liberty Distilling/Millstone Spirits Group (NLD) is a whiskey-focused distillery that holds tradition dear while still reaching for new and innovative products, Cassell said.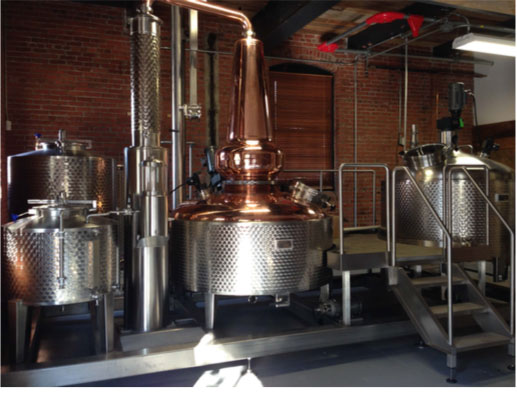 "We want to make great whiskey. I want to remember the classic styles and change some things up. I want to try and make 'weird' whiskey, but I am interested in atypical and heritage grains," Cassell said. "We do a bourbon with Bloody Butcher Corn from Bucks County. It's this crazy purple looking corn. When you distill it through you get this crazy buttered popcorn note."
  Bloody Butcher corn is a heirloom variety that is rarely grown for food or feed because it is too high in fat and inefficient to grow, Cassell said. Those mass market inefficiencies made it a natural choice for one of Cassell's experiments.
  New Liberty Distilling is housed in an early 20th century horse stable originally used by the Crane Plumbing Company. Though the stills and tanks dominate the first floor, upstairs barrels of whiskey rest next to the two remaining stalls. "The whole place was restored ten years ago now," Cassell said. "To me it's very much like what being a Philadelphian is about: You own it, you are what you are and you don't need to fake it."
  Though Cassell's experimental attitude and spirit are on display at the distillery, he's serious about only bottling products that he believes will stand apart from their competition.
  NLD's line of spirits is uniformly well made. Their vodka is soft and clean with a light grain flavor that would mix well and be enjoyable on its own. Their white whiskey is simple and direct: Think a little sweetness and raw grain flavor. NLD's white whiskies and vodka are marketed under their New Liberty brand.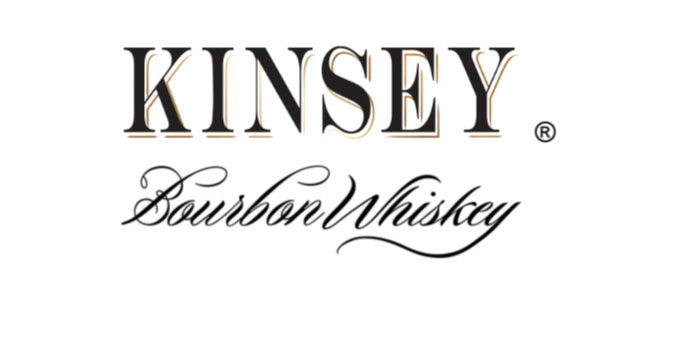 The centerpiece of NLD's portfolio, however, is the Kinsey family of whiskies. Kinsey Rye is spicy without being too assertive. Blended from three distinct mashbills, baking spices and a little grassiness set this apart from other ryes on the market. Kinsey Bourbon is a well-made bourbon that hits the right note: sweet honey and warm vanilla.
  The most interesting whiskey in the Kinsey line is the 7-year-old blended whiskey. The blended whiskey is lighter than a typical bourbon or rye and lets the more delicate flavors shine through. The spirit has some of the caramel and citrus typical of a bourbon but is most prominently a light and floral whiskey.
Rowhouse Spirits – (2440 Frankford Ave.)
  Dean Browne makes his spirits by hand. As the proprietor and distiller at Rowhouse Spirits, he has the final say on what to distill, (perhaps) age and bottle next. Currently, Dean is aging some brandies that he hopes to have ready for the holidays.
  "I don't know which one will be ready first, but I'm confident that I'll have either an apple or grape brandy out by Christmas," Browne said.
  Before operating his own distillery Browne worked at IBM and Philadelphia Brewing Company (which is located right behind his distillery). In 2013 he was laid off from IBM. "Me and my wife cashed in our whole lives to open up Rowhouse," he said. "We opened up and sold our first bottle in August 2014."
  The process of getting off the ground wasn't as difficult as one would expect, though. "The state was pretty responsive," Browne said. "We had our license approved by the state before federal license came in."
  "I was expecting an intense process, but it was all waiting periods," he added, echoing the other community distillers when he talks about the state licensing process.
  Browne's spirits are extremely small batch: around 100 bottles, depending on the spirit's proof. The lower proof liqueurs tend to produce larger batches than his whiskey or rum. Rowhouse releases a mix of common spirits and more unique drinks that aren't as readily available.
  "I'm pretty sure I make the only Aquavit sold in state stores," he said. "It isn't the most popular drink in America, but nothing else tastes like it."
  Aquavit is similar to gin, though often sold at a lower proof. It's made by steeping caraway, dill and other botanicals in neutral spirits. Browne's take on the spirit is smooth well balanced. The herbs blend together and deliver a crisp anise flavor.
  Besides offering strong takes on rum and gin, Browne produces two of his own liqueurs: Le Coeur Noir, a coffee liqueur made with local Reanimator coffee, and Bear Trap, his spin on an herbal aperitif.
  Le Coeur Noir delivers a strong coffee flavor without tipping towards bitterness. Browne's herbal additions add some complexity to the coffee backbone. Bear Trap is more of a mystery. It's dry and herbal but with a lighter mouthfeel than other herbal liqueurs. It's a tasty liqueur that works best on its own. "I start with a flavor in mind and layer things on," Browne said. "I might start with half a dozen botanicals and see what gets me closer."
  Browne has been in the area for nearly 20 years and said he's excited to see what the community that develops around the neighborhood distilleries. "I talk to Brian [Forrest, of Red Brick] and Rob [Cassell, of New Liberty] quite a bit," Browne said. "This seems a lot more cooperative than the craft beer scene as it grew."
Red Brick Distillery  – (2628 Martha St.)
  In the basement of a Kensington warehouse, Red Brick Distillery's Brian Forrest waits for his whiskey to age.
  "It started as a hobby," Forrest said. "Basically the interest kind of piqued the business idea."
  Red Brick's Malt Whiskey is essentially a scotch recipe, Forrest said. As a startup distillery devoted to whiskey, Red Brick has overcome some of the challenges that come with trying to produce an aged spirit. In addition to ensuring that Red Brick is following the letter of both federal and state laws, Forrest has had to maintain working relationships with the malthouse that supplies the distillery. The boutique distillery uses locally malted barley from Deer Creek Malthouse to ensure that their whiskey is all local.
  "We're about a year away from being able to plan for a whole year in advance," Forrest said. "It'll be easier once we can order our grains up front and have a year laid out in front of us. That'll make Deer Creek's [the malthouse's] and our lives easier."
  "Small barrels made whiskey a possibility at a scale smaller than to fill a 55 gallon barrel and wait 12 years," he added. "The volume to surface area ratio [in 5 gallon barrels] made it possible to get essentially '12 years of age' quality in 7 months."
  Red Brick's Single Malt American Whiskey is a pure expression of barley. The grain shines through but is supported by rich chocolate and coffee notes. Both the regular bottling and the barrel strength are smooth and easy to drink, the barrel strength especially so though there is some heat from the additional alcohol.
  Forrest is invested in the neighborhood and the entrepreneurial spirit he sees around him, he said. "We may use other grains someday, but what happened was we fell in love with our own product. We feel like we're making the best product we can with the single malt combined with the first use barrel," he said.
  Despite the ups and downs of starting a whiskey focused distilling from scratch, Forrest and Red Brick have made the best of their opportunity. To keep afloat while his whiskey ages, Forrest created a rum from white sugar and yeast called Simple Shine.
  Its an easy product to distill and works as pliable base for cocktails, Forrest said. He added that a pineapple infused take on Simple Shine was on the way.
  "Since October we've been on the market with our most straightforward product. We're all about creativity and making interesting small batch things. We're very whiskey centered. We are barrel people," Forrest said. "It was difficult. We had to completely change gears and learn to make cocktails. It's funny, I really enjoy it now."
  Red Brick's tasting room is open from 1-6PM on Saturdays and Sundays. Visitors can chat with Forrest and taste his summertime rum concoctions as well as the whiskey he's so rightfully proud of. All of Red Brick's spirits are also available for purchase directly from the tasting room. •