A&E, Features in Spring Garden
Friday Night Laughs: Spring Garden's Performance Garage hosts night of stand-up comedy
---
Last Friday, Starving Artist Prevention hosted a stand-up comedy show at the Performance Garage in Spring Garden featuring local comedians Mike Adams, Chanel Ali, Matt McCusker and Shane Gillis.
Host Mike Adams explored topics such as subtle disrespect, being skinny and the snobbish nature of retired people. Adams began his stand-up career in 2009 at the Comedy Academy at Helium Comedy Club in Philadelphia. He has since performed at various venues throughout the northeastern region of the country, including the Taj Mahal in Atlantic City. Among other achievements, he has won the Laff House Comedy Club Competition and the Philadelphia Comedy Academy Contest.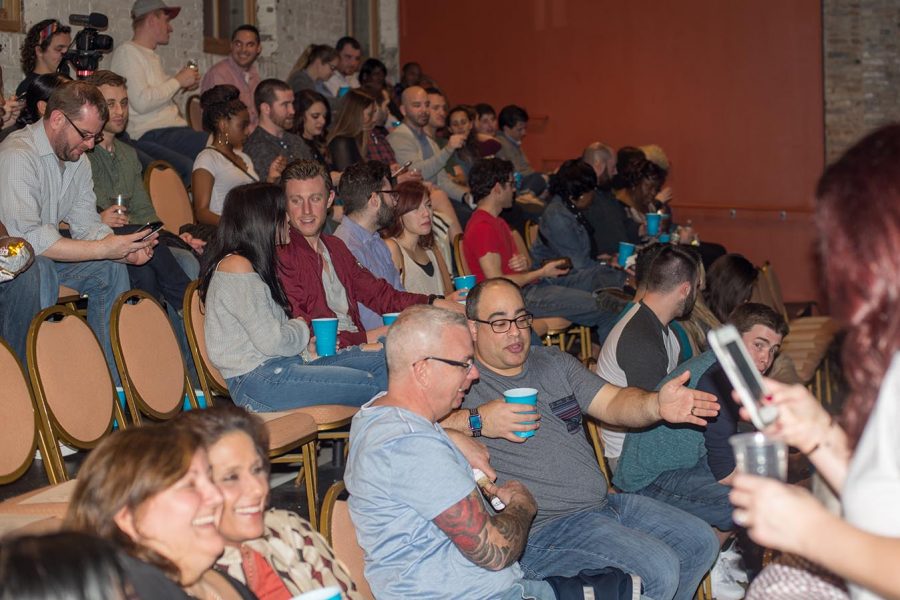 Chanel Ali discussed her faux relationship with Drake, her time living in North Philadelphia and the aggravation of dealing with people who mispronounce her name. She performs regularly in Philadelphia and New York City and has opened for comedians Bill Bellamy, Joe Matarese and Michael Blackson. In 2014, she was a semifinalist in Helium Comedy Club's Philly's Phunniest Competition. She has also been featured in numerous festivals over the last several years.
Delaware County native Matt McCusker offered his take on marriage, engagement pictures, race relations and the magic of Stouffer's prepared meals. He won the Philly's Phunniest Competition in 2014. Last year, he appeared in the pilot episode of a new Comedy Central web series entitled Delco Proper. Currently, he is writing a novel about five people from Roxborough. McCusker has always appreciated the "honesty" of the comedy crowds in Philadelphia.
"I've been to a few cities and seen comics from other cities, and I think in Philly it's harder to get people to really laugh, so it makes people funnier," McCusker said.  "There are a lot more people that are funnier in Philly. It makes funnier comedians than a lot of other cities."
Shane Gillis, the show's headliner, regaled the crowd with stories about his family, his friends and his romantic escapades. Originally from Mechanicsburg, Gillis won the Philly's Phunniest Competition last year. He has performed in New York, Boston, Atlanta and New Orleans among other cities and is slated to make an appearance in Delco Proper sometime soon. Like his friend McCusker, Gillis appreciates Philadelphia's crowds, specifically their good-natured tolerance of certain subject matter.
"You can joke about things [in Philadelphia] that you can't joke about in other places, like New York," Gillis said. "Every once in a while, I'll go to New York and there's a crowd that, if I'm not [politically correct], gets pretty upset. The Philly crowds are fun. They go with it. They let you get away with a lot of stuff, which is perfect for comedy. And I think any comic would tell you that, that Philly crowds are pretty great."