A&E, Features, Music, Photos in Fishtown
Karaoke Memories: A Week of Karaoke in Fishtown
---
It's 8:30PM in the neighborhood on a quiet Sunday night. While many common folk start settling down for a new week, others are just now warming up their vocal chords. For the fallen prodigies and those with a newfound passion: Here's a weekly guide to karaoke in the neighborhood so you can sing your heart out every night of the week.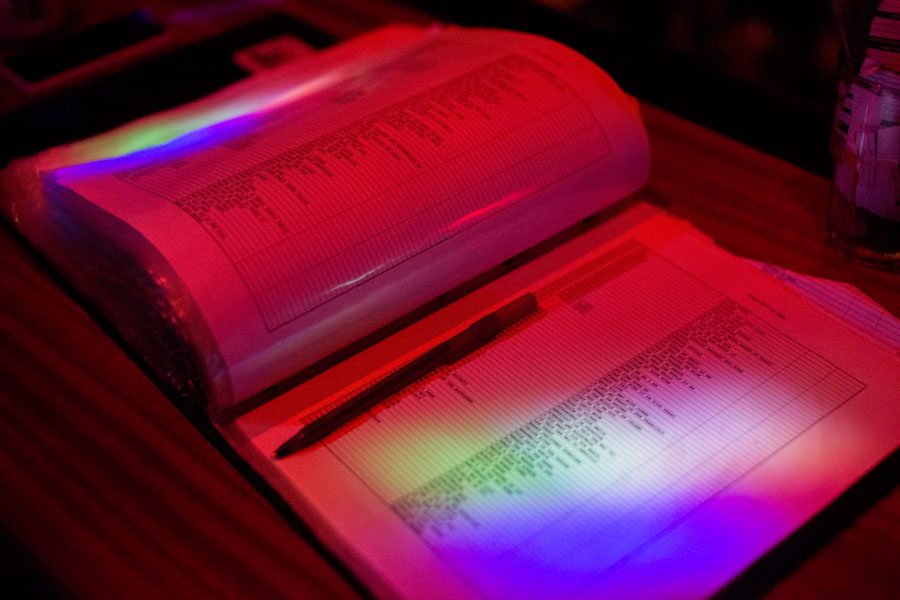 SUNDAY: THE BARBARY (951 Frankford Ave.), 10PM
These lovely locals have hosted Karaoke every Sunday since the Barbary opened 8 years ago. That's a long playlist. Karaoke hosting duties are shared between the multi-tasking Adrian and Steve (while they bartend). It's loud, there's a disco ball, it smells of an empty beer can. And if all of that isn't enough of an incentive… they offer a prize for best singer of the night! What more to say?
Drink Specials: $1 PBR's and $3 well drinks.
Good for: Everyone! It's usually not too crowded and if you get a little stage fright, it's pretty dark.
Top Songs: "Criminal" by Fiona Apple (sang by a dude) and "Kiss Off" by the Violent Femmes
MONDAY: EL BAR (1356 N Front St.), 9PM
   El Bar is a one-stop-shop for Monday night fun: Karaoke, a big backyard, pool and pinball all harmoniously coexisting under one roof. Dr Thunder, aka Alex Spencer, hosts karaoke (See: Friday night). He even serenades the crowd as a background guitar/tambourine player, when necessary.
Drink Specials: $1 Hamm's lager until 11, $4 citywides
Good for: Group songs, themed nights (90s anyone?), a loud crowd.
Top songs: "Crush" by Jennifer Paige and "Oh, Darling" by The Beatles.
TUESDAY: ORTLIEB'S (847 N. 3rd St.) 10:00PM-2:00AM
   Every Tuesday, hosts Mike V and Pat Pharari bring Indie/Punk/Emo Karaoke to NoLibs. Karaoke is held in the lounge where you'll find a brightly lit stage with draped theater curtains for a classic look. Mike V also brings his set of windchimes, which add a special touch to your favorite solos. If you want a bite, Ortlieb's offers dollar tacos until 10pm on Tuesdays, so come early and hungry.
Drink Specials: $3 PBR drafts.
Good For: Singers who want the spotlight.
Top Songs: "F**k it i don't want you back" by Eamon, and "Alone" by Heart.
WEDNESDAY: THE YACHTSMAN (1444 Frankford Ave.) 9:00PM-1:00AM
   A tropical paradise away from your… Fishtown paradise. The Yachtsman's tiki decor and warm, friendly atmosphere is like a mini vacation. Karaoke is hosted by Pat Pharari, who's known to sing a few of his own. There's a smaller vibe here, so you can expect to sing more than one song throughout the night. Singer Eli Snyder-Vidmar notes that this is one of his personal favorite karaoke nights, in comparison to other more crowded venues, where "you can only get one or two songs in."
Drink Specials: $5 Sailor Jerry's mixed drinks or 4$ Sailor Jerry's shots. Sidenote: When at the Yachtsman, it's only proper to get a pina colada, even if it's full price.
Good For: Jimmy Buffett fans… nobody will judge you here!
Top songs: "White Rabbit" by Jefferson Airplane, "Head Over Heels" by Tears for Fears and "Wake Me Up" by Evanesence
THURSDAY: TONY'S WAY (1900 N Front St.) 9:30PM-2:00AM
   If you've ever walked by Tony's Way, you can only imagine what goes on during Karaoke on Thursday nights. This place is an all-out fiesta. Key words: Merengue. Flamenco. Beautiful garlands of white roses falling from the ceiling. Well, maybe not that last part. But the hosts play special instruments to accompany your song of choice, like maracas and cowbell. And you can't miss their recurring motto "Who Cares, What Ever". The crowd here is diverse, and everyone is welcome.
Drink Specials: The notorious $10 for 10 cans of beer take out special.
Good for : The bi-lingual singer, the dancer, and the travelin' type.
Top songs: "Summer Lovin'" from the Grease Soundtrack and "Tell it to my Heart" by Tina Turner
FRIDAY : THE NUT HUT SALOON (1873 Frankford Ave.), 9:30PM- 1:30AM
You want to go where everyone knows your name, right?   Familiar faces and familiar tunes is what this night is all about. Dr. Thunder is back at it again with the local karaoke with partner Dr. Dazzle. Remember to show up before 11, to avoid a long wait to sing. If you do a damn good job, you get an "Officially Awesome" ticket. The ticket is good for use to cut in the karaoke line on another night of karaoke.
Good for: The avid singer, the neighborhood kids.
Drink Specials: $10 Narragansett (tall boy) buckets, $4 Pabst Citywides during karaoke.
Top songs: "Girls Just Wanna Have Fun" by Cyndi Lauper
SATURDAY : LES AND DOREEN'S HAPPY TAP (1301 E. Susquehanna Ave.) 9:00PM – 1:30AM
   We just profiled Les and Doreen's in a recent issue of Spirit News and neglected to mention Happy Tap Karaoke. I perfect mix of old and new, Saturday nights are always a blast at the corner of Susquehanna and Thompson. Sarah hosts "Sing Your Life Karaoke", and she's been in the game for 20 years. (Karaoke Pro-tip, if you're all out of karaoke spots in the neighborhood, you might want to try her karaoke night on Tuesdays at 12 steps down). You can also get tasty little Bahn Mi snacks thanks to "Bao Wow Wow", serving up $4 Chinese Buns, which includes vegan and vegetarian options.
Drink Specials: The prices here are so good, you really can't go wrong.
Good for: Lovers of timeless classics. The budgeted singer. Anyone and everyone.
Top karaoke songs of the night: "Brass in Pocket" by The Pretenders, and "Don't Stop Believing" by Journey
   I know what you're asking yourself, and unfortunately, the answer is "No," I'm not a professional vocal coach. However, the good news is that you can shake off those butterflies, grab the mic, and show 'em you're that shining star your mama always knew you'd be, every single night of the week — Literally. Practice makes perfect, people. And if you conquer all the karaoke nights in Fishtown, you might even be able to make it outside our little neighborhood one day. 
THANKS FOR SUPPORTING SPIRIT NEWS!
Please follow this link to visit Amazon.com through our affiliate portal. It's the same Amazon.com you know and love, but when you shop through this link we receive a small cut at no added cost to you!
By using this link to do your normal Amazon.com shopping, you'll be supporting your local newspaper.