A&E, Community, Music in Northern Liberties
LOCAL EVENTS: Festivals for Fun, Fundraising and Forgetting You're Frozen
---
  Let's face it: winter stinks. Philadelphia's biting cold air keeps you stuck inside for much of the season and the lack of sunlight can be maddening. At work, the flourescent lights in the office don't help one bit. Those 50-count of Dunkin' Donuts munchkins that Todd from HR brought in to cheer everyone up is only half exciting, but even that's taken away when Carol steals the last glazed hole. Dammit, Carol.
  Thankfully, there are a few upcoming local winter festivals to cure the seasonal blues. The annual Winterfest fundraiser for the Northern Liberties Neighborhood Association (NLNA) is being held on February 12th at North Bowl (909 N. 2nd St.). Then, beginning on Valentine's Day, the multi-day Philly Winter Music Fest (formerly the Northern Liberties Winter Music Fest) is going down at Underground Arts (1200 Callowhill St.).
  According to NLNA President Matt Ruben, NLNA's Winterfest started around 15 years ago as a neighborhood equivalent to a holiday office party. Over the years, the event has become a major fundraiser for the civic association and has drawn the attention of sports teams and elected officials, including Mayor Jim Kenney.
  "It's the biggest party in the neighborhood," Ruben said.
  Oron Daskal, owner of North Bowl and a Northern Liberties resident, closes his bowling alley each year to accommodate the NLNA and his neighbors. He's both pleased to provide the space and happy that Winterfest allows him to steal back time with neighbors that the cold took away.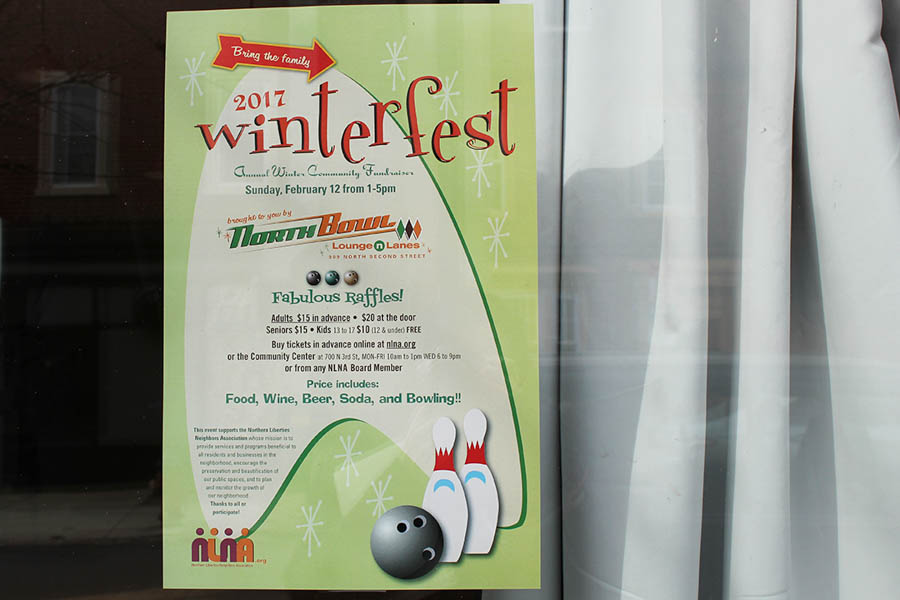 "It's a great event to get people out, support the neighborhood, and bump into people I haven't seen all wintertime," Daskal said.
  So what will go on during this four-hour neighborhood bash? With the purchase of one ticket, attendees can bowl, eat and drink. Food, provided by North Bowl, will include sliders, macaroni and cheese and salad. Beer and wine will be available to those of age, and kids under 12 get in for free. Raffles and an auction will be held as well. The prizes are worth around or over $100 and have been donated by local businesses.
  The funds go to support the operations of the NLNA, but Ruben says the money goes right back to the community.
  "The proceeds go to keeping the lights on at our community center and sustain our services and projects for the neighborhood. Whether it's providing garden food at Liberty Lands…or [cleaning up trash], a chunk of Winterfest is making that possible."
  Michael Coyne, NLNA Vice President and Chairman of Membership and Fundraising, has been partly responsible for gathering local businesses and other fundraising tasks in planning Winterfest. Coyne claims the Winterfest money does more than just serve the community — it aids to the condition of the city.
  "We organize to improve the quality of life for everyone, not just in Northern Liberties but in the city," Coyne said. "We do our small part."
  Ruben claims it'll benefit both the community and the drop of serotonin levels.
  "Winterfest is good for organization, good for the neighborhood, and good for morale during a depressing time of the year," Ruben said.
  If music is something that'll help thaw your soul in the winter, the Philly Winter Music Festival is also coming up. Each year, local booking agent Derek Dorsey gathers some of the best local artists for a seven-day festival. For the past 10 years, the Northern Liberties Winter Music Fest has been held at The Fire (412 W. Girard Ave.). The small club has hosted acts like Dr. Dog, Cold War Kids, Amos Lee and John Stephens, before he was John Legend. Dorsey didn't reach an agreement with The Fire this year, so the location of the concert series has changed to Underground Arts (1200 Callowhill St), just a short way away from Northern Liberties.
  "It's definitely bittersweet because that's where we started the festival, and that's where it's been the last 10 years," Dorsey said. "But we're moving toward a bigger location where we can accommodate more folks to see the music and attend the shows."
  Regardless of the move and slight name change, Dorsey believes this year is dishing out "the strongest lineup we've had." In addition to the quality of the acts, Dorsey has expanded the fest to include another day of music. For opening night on Valentine's Day, Dorsey assembled an array of jazz musicians to give tribute to John Coltrane's A Love Supreme. The week's shows span across genres, going from the indie-pop songs of Mercury Girls to the hip-hop tracks of Chill Moody. Ill-Fated Natives will be back, and so will Hezekiah Jones, which Dorsey is particularly pumped about. "Jones's career has blossomed," Dorsey said. "To have them back as a headliner on Saturday night is really exciting."
  Dorsey claims there's music for everyone at Philly Winter Music Fest. "[Because we have this many artists,] we encourage people to camp out at Underground Arts," Dorsey said.
  Philly Winter Music Fest runs from February 14 – 21. For the full lineup and tickets, visit undergroundarts.org. The NLNA Winterfest will take place from 1-5PM. Tickets are $20 for adults at the door, $10 for seniors, $10 for kids 13-17, and free for kids under 12. Discounted tickets can be purchased in advance at nlna.org. •