Family, Features in Fishtown
MEN CAN: Lutheran Settlement House Hold Rally Against Domestic Violence
---
  On Wednesday, October 5th, in Center City's Board Game Art Park at 15th Street and John F. Kennedy Boulevard, public officials gathered in collaboration with performers and staff for Lutheran Settlement House's 5th annual "MEN CAN" Rally Against Domestic Violence.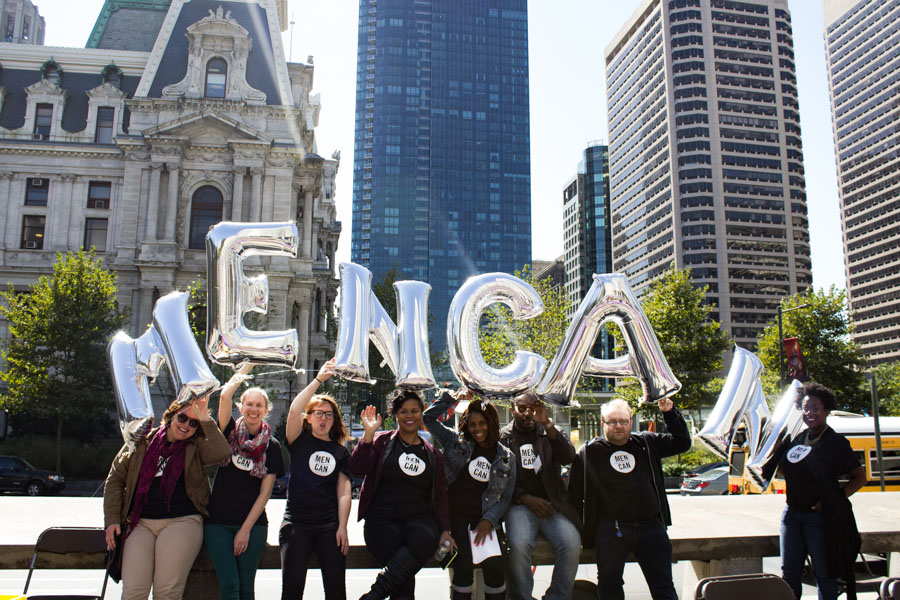 Lutheran Settlement House (1340 Frankford Ave.) is a non-profit, community-based organization committed to serving children, adults, and families living in Philadelphia. They offer a variety of programs aiming to aid the community. One of these programs is the Bilingual Domestic Violence Program.
  Hosted by Good Day Philadelphia's Mike Jerrick, the event took place at the base of the "Government of the People" statue and ran from 11AM-1PM, featuring speeches, performances, food, and information and resources provided by Lutheran Settlement House.
  "The reason I got involved with Lutheran Settlement House, was because I raised two daughters. They're older now but I tried to teach them all along, 'Don't let anybody lay hands on you,'" Jerrick told Spirit News. "We've got to get together as men and say, 'We must get [domestic violence] stopped. We can get it stopped.' And I think we can get it stopped."
  The event opened with opening remarks by Omar Woodward, the leader of Lutheran Settlement House's Men Can Steering Committee. Shortly after, Jerrick presented the CEO of event sponsor La Colombe, Todd Charmichael, with the LSH Advocate Award. Jerrick is a past recipient. Carmichael was "stuck in New York," as Jerrick stated, so his associate Brian Spear accepted the award in his absence.
  Councilman William Greenlee also spoke, expressing in his remarks that the burden of safety falls on the community.
  "It's great that this is called MEN CAN, but I'd add that men should. Men must. It's all of our business," Greenlee said. "It's everyone's business. We will continue to raise awareness where we can. We hope that one day these rallies won't be necessary, but until they aren't, we will keep working hard. When we work together, we get things done."
  Mayor Jim Kenney took the stage at the event, expressing the importance of responsibility and intolerance for abuse.
  "No one has a right, ever, ever," he said in his speech, "to put their hands on someone else. [If] you're that mad? Leave, there's the sidewalk."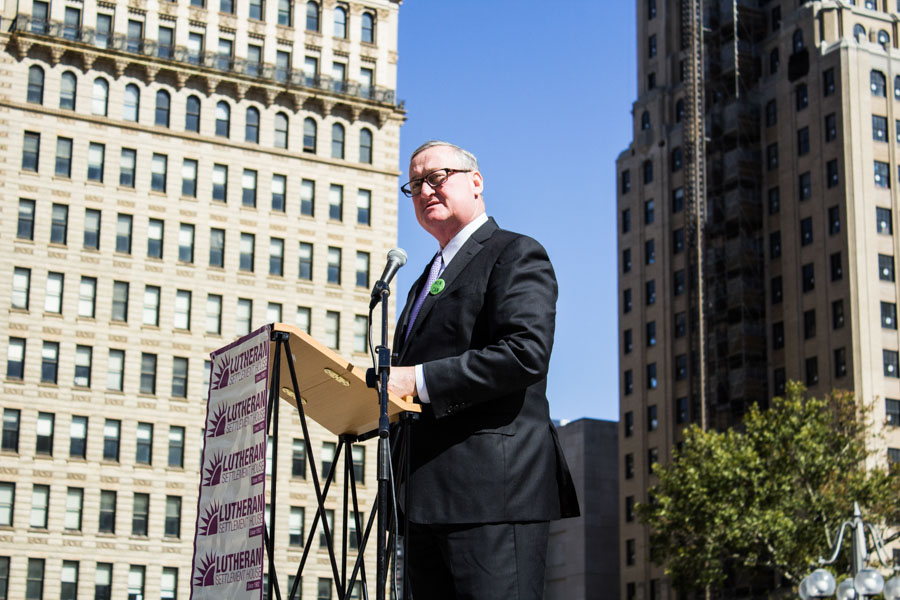 In an interview with Spirit News, Kenney deemed domestic violence "unacceptable," stating that "no one should have to live like that. No one should have to be worried about going home from school, or going home from work and facing that every day of their lives. Women and children are killed [or] living an unproductive life [as a result of domestic violence.]"
  "The real warriors are people you see in those shirts," Kenney said, referencing the volunteers and employees of Lutheran Settlement House donning black "MEN CAN" tee shirts.
  Kenney speaks highly of the efforts by organizations like Lutheran Settlement House.
  "[Service-based organizations like LSH] makes Philadelphia a more livable place. It drives down crime, it drives down dysfunction and addiction, and just general unfulfillment. You're put on this earth by God to fulfill your life and meet your potential, and when you go home to a batterer every day or every night, you can't meet your potential."
  As echoed in the sentiments of many who spoke at and attended the event, domestic violence has not always been at the forefront of public attention or care. In fact, in the past, domestic violence was a misunderstood subject, kept behind closed doors.
  "I think a lot of men treat [domestic violence] as a taboo. It's something that we don't often talk about," said Woodward. "We often talk about domestic violence as something that women should avoid, as opposed to something men should not do," said Woodward, noting also that domestic violence is not always physical and can be emotional, financial, or otherwise.
  "Disproportionately, women are the victims in domestic violence cases. But, men are, too. And we have to remember that there are same sex couples, too. So, we have to be much more holistic and thoughtful in the way we talk about domestic violence issues," he explained.
  Events like the MEN CAN rally have profoundly affected certain survivors of domestic violence, like Madeline Dawson and Michelle Austin, attendees of the event.
  "I am so grateful," says Dawson. "I have been on this bandwagon since 1987. […] What this says to me is that I matter. This lets me know that I am never alone even when I felt like I was alone. To know that people understand it, that they're willing to fight for it, I'm not alone."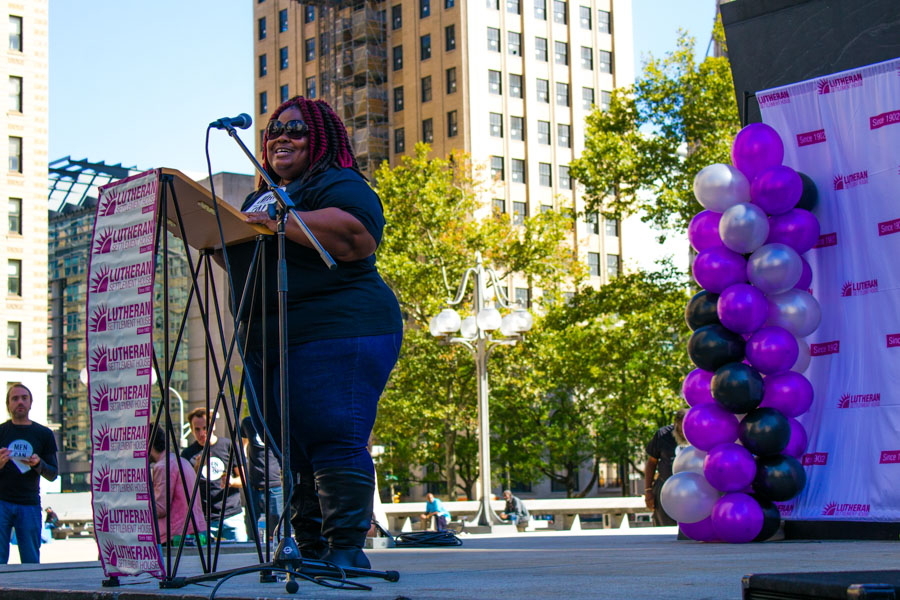 Dawson, a Philadelphia local, says that since the beginning of her involvement, societal strides have been made in the way of domestic violence, even at a local level.
  "Programs and events like this show me that we won't be silent anymore," says Austin, also a Philadelphia native, who is publishing a book about domestic violence. "We have a voice now. This shows me that this is not acceptable behavior."
  Dawson appreciates the name "MEN CAN," explaining that too often the focus is on why women stay rather than why men perpetrate.
  Lutheran Settlement House's President of the Board of Directors and spokesperson, Ralph Wellington, told Spirit News that the meaning behind "MEN CAN" is derived from holding men accountable and empowering them to seek help or stand up against domestic violence.
  "Fundamentally, domestic violence can happen to [anyone], but we know that the vast majority are women or children. And, fundamentally, men have a responsibility in two ways: one, never to do it, and two, never to ignore it."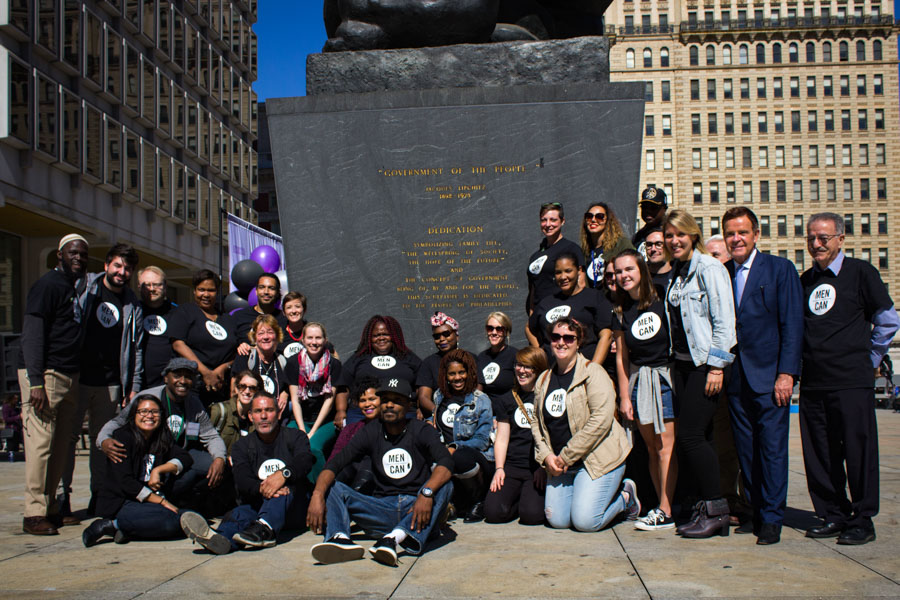 Wellington received an award for his time with Lutheran Settlement House at the event, as he will be cycled out of the board this coming December.
  As the event closed and members began to pack up, music played through the park and the purple balloons shivered in the wind.
  "Now it's no longer under the covers," said Dawson. "It's no longer behind closed doors. The shades are no longer pulled down. There's a voice."
  To get involved with Lutheran Settlement House or to learn about the services they provide, visit www.lutheransettlement.org. 
THANKS FOR SUPPORTING SPIRIT NEWS!
Please follow this link to visit Amazon.com through our affiliate portal. It's the same Amazon.com you know and love, but when you shop through this link we receive a small cut at no added cost to you!
By using this link to do your normal Amazon.com shopping, you'll be supporting your local newspaper.