A&E, Local Business in Spring Garden
Performance Garage: Spring Garden Dance Studio Offers Versatile Space
---
  Throughout the 19th century, 1501 Brandywine Street was the address of a horse stable. In the 20th century, it was renovated and became an auto repair garage.
   Since 2002, it has housed hundreds of artists as the Performance Garage, a 501 (c) (3) non-profit providing affordable practice and performance space for Philadelphia-based artists. Phase One of the space's Capital Project, an ongoing renovation, was completed in November 2016.
   Dance companies, ranging from ballet to jazz and West African style, use the space for rehearsal, auditions and performance. In 2015-16, the garage hosted 63 performances and 85 studio renters for more than 2,700 hours.
   Megan Sauve, Performance Garage's director of marketing and development, said the studio and theater's sprung, Marley floors — surfaces used in professional dance settings that are softer on the joints — allow a versatile group of artists to use the space. It's also open to non-dance performance groups like comedy and theatrical troupes, she added.
   "About 20 percent of what happens here is something other than dance," Sauve said. "Not every theater or every space is able to have something specifically for a dancer's body, so we've focused on that."
  The organization received a $500,000 grant from the city's Cultural Corridors fund in November 2015 that supported the construction of Phase One. Upgrades and repairs for the studio, theater, dressing room and lobby were completed as part of this phase.
   A $1 million grant from the Redevelopment Assistance Capital Program will fund Phase Two of the project and renovations to the building's unfinished upper floors. Sauve said the second and third floor will be rented to businesses with missions "concerning the body," like a yoga or pilates studio, once completed.
   "What's really, really nice about pushing out these two floors is not only would we be offering new services to our neighborhood through the businesses that would be there," Sauve said. "But we'd also have a sustainable way to maintain our operations without having to be so reliant on the fluctuating grants, donors and the economic climate."
   Phase Two does not have an official end date yet, but Sauve said the organization anticipates construction being finished by the fall of 2018.
   There were less artists who used the space in 2016, when construction was being completed, than previous years, Sauve said. But the space's rental and operations manager Judy Williams said she has received more phone calls about touring the space since Phase One's completion, and January marked the month with the highest number of new renters in the space.
   "I think people have heard about it and have been checking us out," she added.
   The Lady Hoofers, the only all-female performance and professional tap ensemble in Philadelphia, has been dancing regularly at the Performance Garage and performed two concerts there since January 2016, with another scheduled there in May.
   Katie Budris, the Lady Hoofers' managing director, said the space was "perfectly adequate" pre-Capital Project, but has been taken to another level since Phase One's completion.
   "This is really the best space that we found that has the room for us, the level of professionalism we're looking for in terms of the stage, the lighting capabilities, the sound capabilities, the staff support and a great, professional and positive experience for our audience," Budris said. "There's no bad seat in the house."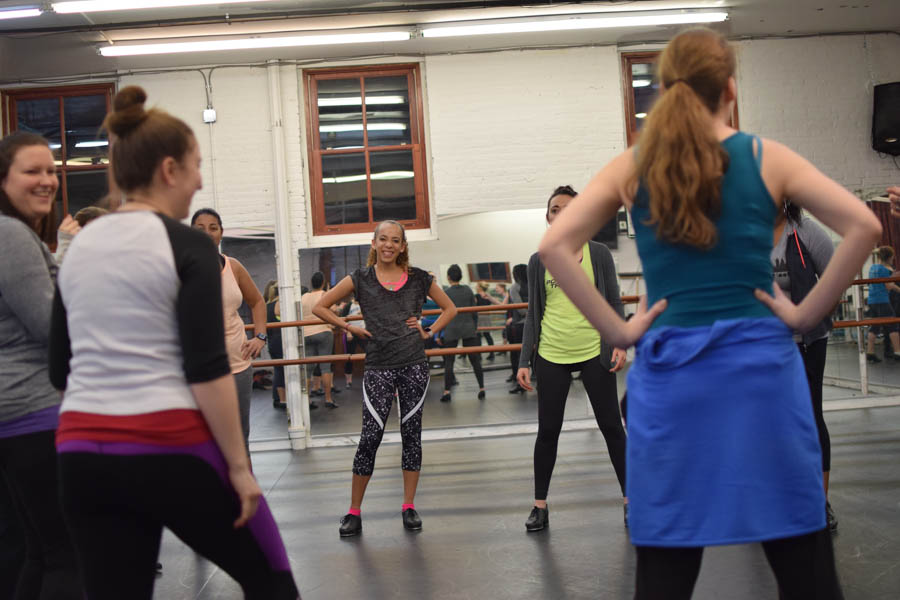 The company practiced in the suburbs before holding a weekly class at the Performance Garage, which is open to the public for a $15 admission fee. Since then, she said there have been drop-in students every week, as opposed to few before.
   "Now, we're more central in Philadelphia," she added. "It's easier for people to get here if they don't have cars or already live in the city."
   Artists can use the Broad Street Line, Regional Rail and bus routes to get to the rehearsal space near Spring Garden and Broad streets, or find parking space on surrounding streets.
   Budris added that the Performance Garage provides not only a much-needed, accessible space for tap, but a sense of community among all performing groups.
   Sauve said artists' nature is to naturally make connections and be sociable, but the Performance Garage is special because it houses emerging artists just out of college, seasoned professionals and "everything in between."
   "It provides a space for people to practice technique, but also to learn new things," Sauve added. "It's just really nice we can provide a space for people to create and do different things." •