A&E, Features, Politics in Kensington
Philadelphia, Goddamn: Conrad Benner's Latest Exhibit Humanizes Politics With Art
---
  Individual expression is Conrad Benner's solution to "take back the public space."
  "By it's definition, we all own [the public space], but we don't all own the messages that we get," Benner added. "It is filled with messages that are given to us generally by advertisers or by the government, so it's all different kinds of propaganda."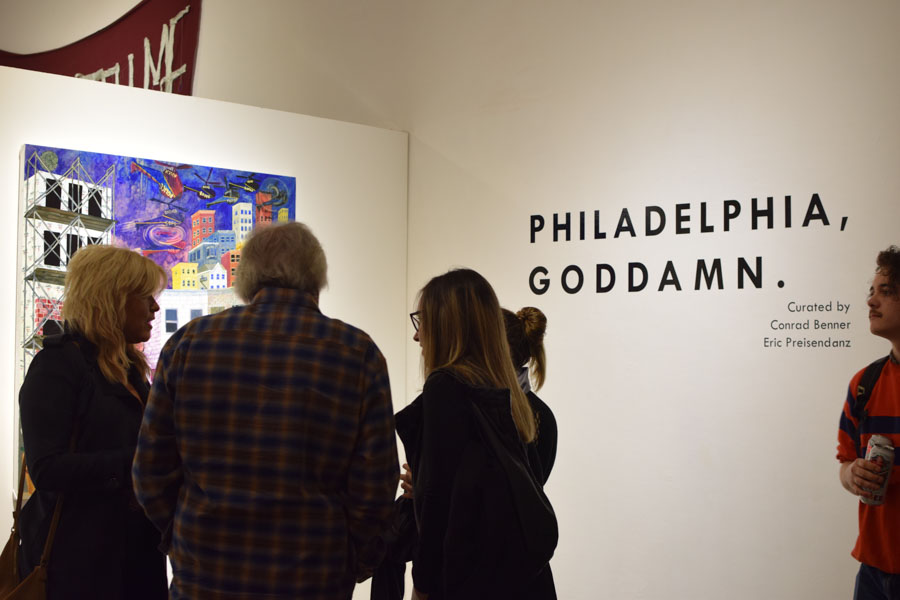 Benner is a Fishtown native and founder of Streets Dept, a photo-blog chronicling street art, graffiti and urban exploration in Philadelphia. He co-curated "Philadelphia, Goddamn", an exhibit being shown at Little Berlin (2430 Coral St.) until Oct. 30.
  The exhibit features 12 street artists who comment on political issues through their work, creating what Benner coined, "art in dissent."
  Participating artists used mediums like paint, silk graffiti and yarnbombing to comment on a breadth of social concerns like LGBTQ rights, the treatment of immigrants and mass incarceration. Eric Preisendanz, co-curator of the exhibit and a member at Little Berlin, said "Philadelphia, Goddamn" emphasizes the humanitarian aspect of politics.
  "Art has the ability to be functional in the way that it can help humanize really sort of big, crazy ideas," Preisendanz said. "Ultimately, it's about the people that are behind the issue. I want to use the gallery as a means to send that message as far as I can."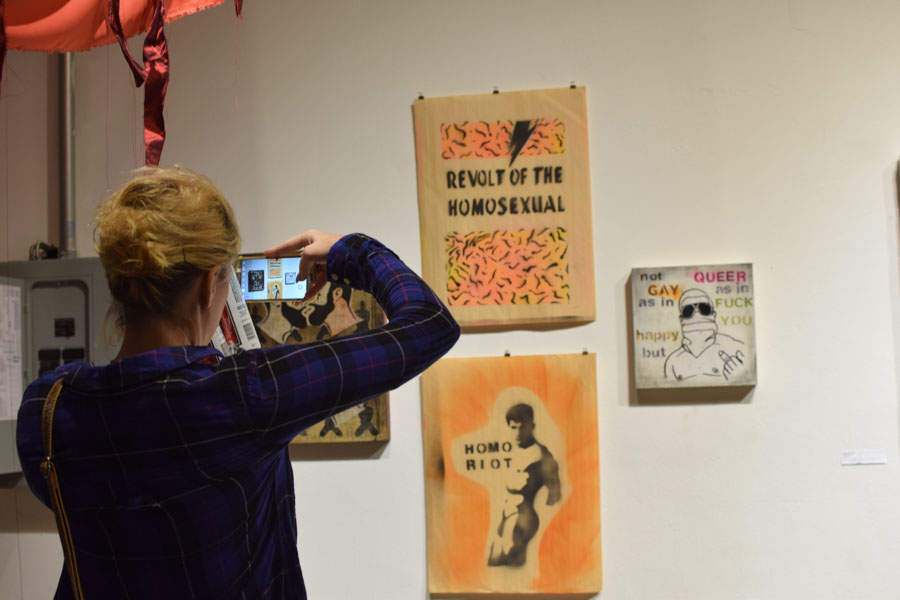 Little Berlin is located in the Viking Mill, a five-building complex in Kensington that has provided affordable working space for artists since 2007. According to its website, the gallery operates by "a collaborative, do-it-yourself ethic." 12 members work together to run the exhibit and rotate the responsibility of curating exhibits on a monthly basis.
  The gallery also has no entry fee, making it as "accessible as it can be," Preisendanz said.
  Sarah Chavez, an artist living in West Philadelphia, visited the exhibit on its opening night. Chavez said art conveys messages in a more synergetic way than regular dialogue.
  "Visuals is, to me, a more open medium to get conversation started," Chavez added. "It's just being collaborative and engaging with others who also appreciate art and care about the topics at hand."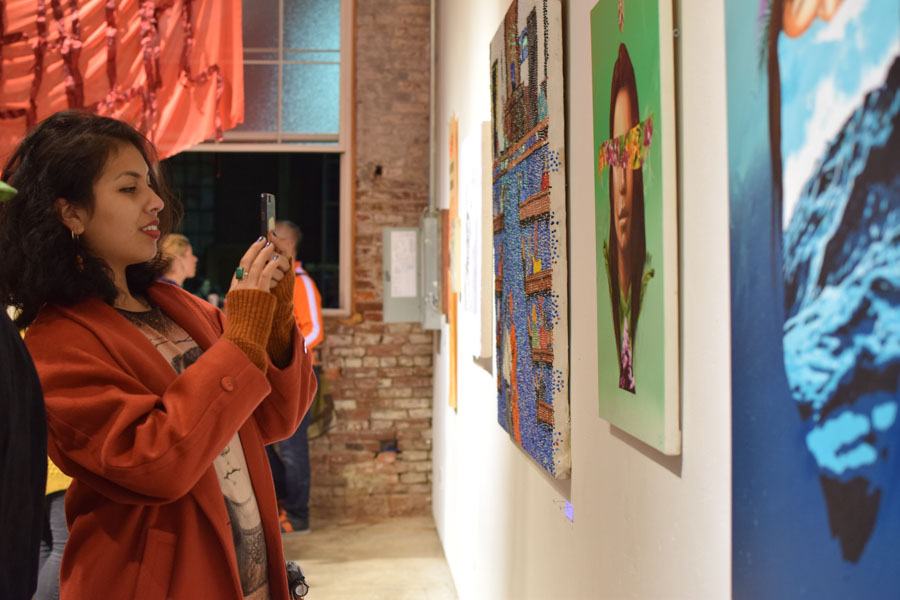 Amber Lynn, also known as Amberella, is a Fishtown-based artist who participated in the exhibit. Lynn revealed the first piece in her new body of work entitled "Make It Reign: In P*ssy We Trust" at the opening reception of the exhibit on Friday night. Lynn is using the series to comment on women's self-worth by replacing figures on the dollar bill with women that inspire her.
  Frida Kahlo was the first woman featured in "Make It Reign: In P*ssy We Trust." Lynn said she feels connected to Kahlo because of the fixation on death and sorrow Kahlo experienced during her lifetime.
  "I am always dabbling in women's empowerment," Lynn said. "My work's really selfish. It's always based on personal experiences or stuff that I've dealt with or gone through."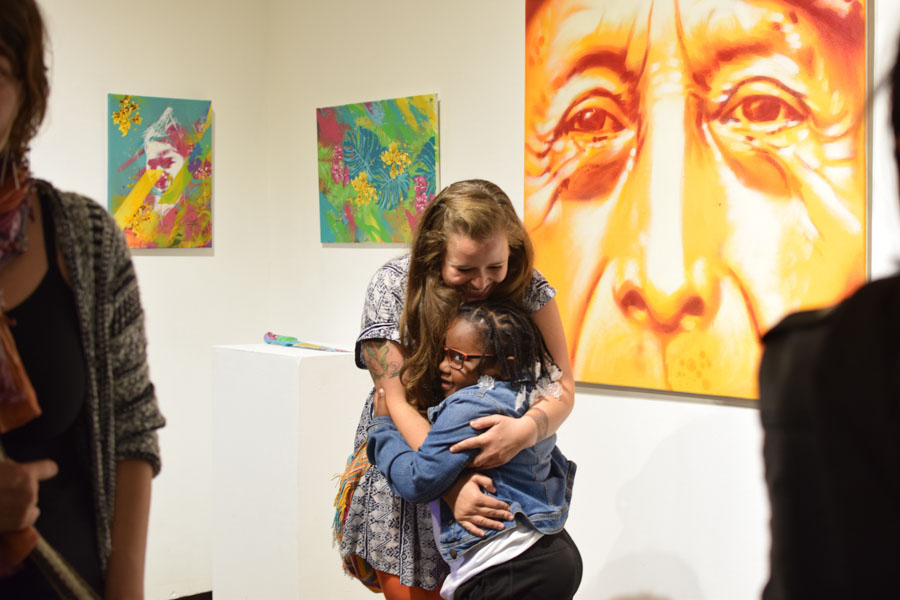 Lynn is one of seven Philadelphia-based artists to participate in the show. Other contributing artists are based out of cities like Los Angeles, Baltimore and Miami, creating a "large geographic footprint," Preisendanz said.
  "There's no reason to be regionally protective," he added. "I think that's a little nearsighted. That sort of means people from other cities can't say what we're saying."
  While some of the artists featured in the exhibit have traditional, studio-centered backgrounds, others have unorthodox beginnings. Jesse Krimes is a prime example, having created artwork while he was incarcerated.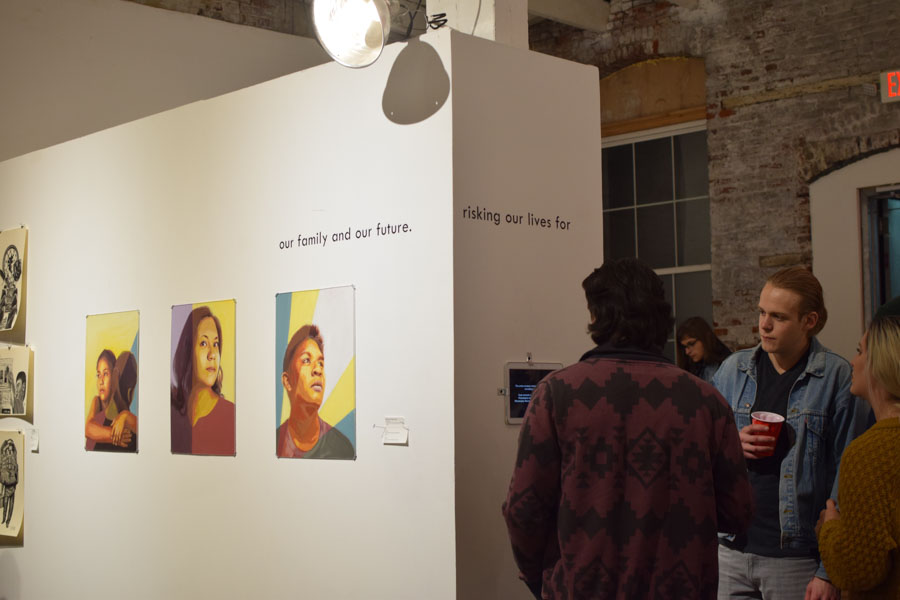 Despite artists' varying backgrounds, Benner said he wants each piece in the exhibit to "engender empathy."
  "It's hard not to see a human being and, for at least a second, walk in their shoes and see the issue from the other side," Benner said. "That's what we are trying to do with this show." •