A&E in Poplar
Poetry & Power: PhilaMOCA Hosts Night of Slam Poetry
---
  People packed into PhilaMOCA on Friday, February 3, to watch as poets battled to win The Pigeon's monthly Philadelphia Poetry Slam. But instead of competitiveness, the room was full of community and camaraderie.
   "What I love most is the community," Jasmine Combs, who co-hosted the event, told Spirit News. "It brings people out, it gets people excited. We get to build community."
   The Pigeon's Philadelphia Poetry Slam is held every first Friday from October through May at PhilaMOCA (531 N 12th St). Poets battle haikus in a preliminary round to see who can participate in the slam. Following the haikus, there are three rounds of slam poetry. In the first, eight poets battle to the next round of four poets. The third, and final, round is between two poets to declare the winner.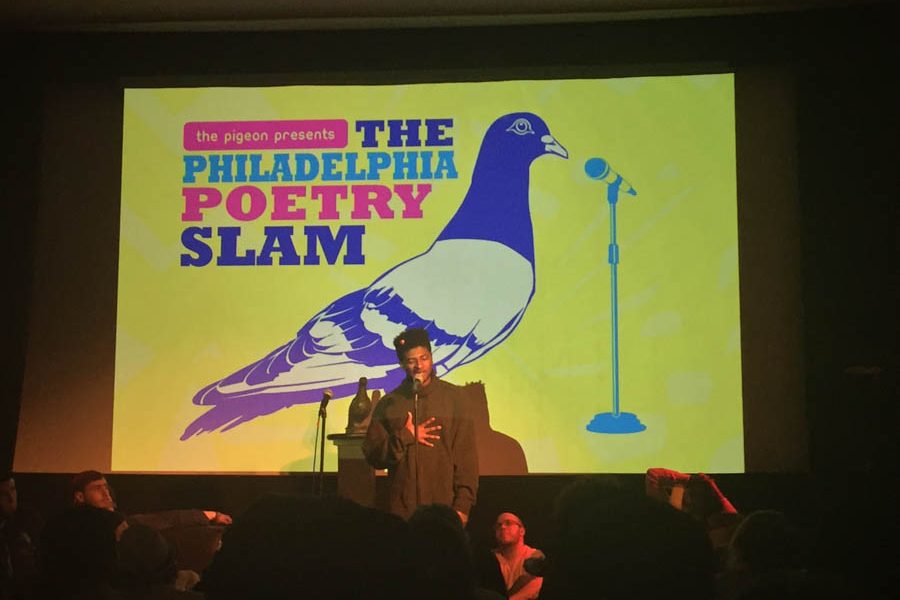 Jamal Parker, 20, was the winner of the slam poetry event. He won the $50 prize, but said the event was more about self expression and allowing yourself to be vulnerable than it was about winning.
   "It's a community as well," Parker said.
   The February slam, co-hosted by Jasmine Combs and Jacob Winterstein, began officially at 9PM.
   "It was a good night, the feature was great and there was a lot of good poetry in the slam," Winterstein said. "The audience was lively and vocal and supportive as usual."
   The relationship between the poets and the audience was a symbiotic one. Witty jokes elicited laughs from the audience, but any stutter or hesitation was simply met with patience and respect. Judges were dispersed throughout the crowd and raised dry-erase boards to score the poets from one to ten. When they gave scores the audience deemed too low, they would cheer for the poet. This happened often, even though no poet received a score below a rare six.
   Devric Butoh, who has performed slam poetry for the past four years, said a drawing factor for slam is it's a venue of support.
   "Everyone gets clapped, someone will engage or connect to your work," Butoh, 25, said. "It's a good place to be, it's a life giving experience."
   When audience members liked a poem, they snapped, made "mmm'ing" noises or even called out, "Yes!"
   This encouraging back-and-forth from the audience can have lasting effects. Lauren Yates, 26, who has been performing slam poetry for eight years, said slam poetry has not only given her a platform for her opinions, but also gave her the confidence to be able to express them.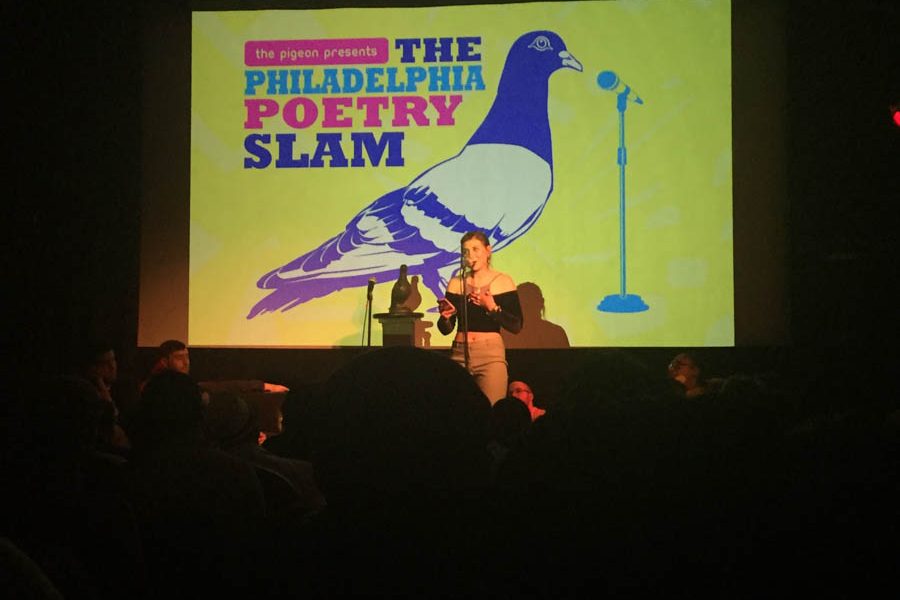 "I used to be really shy and reluctant to share my opinions on things," Yates said. "I got really good feedback and it definitely made me more confident about being able to share my opinions with people."
   The community aspect is important for people who come from marginalized communities. The poems explored feelings behind issues such as racism, sexual assault, being fetishized being non-white, masturbation, mental illness and white privilege, although they were not always delivered in a serious manner. A poet likened the shape of spilled milk to her mother's country, while another described the mistreatment sexual assault victims receive through an advertising pitch.
   "It's a really awesome platform for people who wouldn't normally be heard," Yates said.
   Marvin Hodges II, from Richmond, VA, was the featured poet of the slam. With his hair adorned with flowers, Hodges performed poems that explored the pain of racism, self-harm and losing a loved one.
   "Hello boots, never forget that you're the sky to some creatures," He said in one of his poems.
   "Is black pain a spectator sport?" He said in another. People snapped in agreement.
   Combs said the slam usually attracts a large audience, but the February event was one of the second nights in which they had to turn people away at the door to cap the crowd.
   After a long and tiring election season, some groups been left wondering about their place in today's America.
  "I think that when anything traumatic and bad happens, it usually brings about beautiful art," Combs said. "Events like this are really gonna grow and bring about beautiful art."
   The art was the focus of the poetry slam. Before announcing the winner, Winterstein addressed the crowd, reiterating what everyone was really there for.
   "Poetry won," Winterstein said. "We all got to hear beautiful poetry." •