A&E, Community in Port Richmond
Richmond Library Branch Celebrates Local Creativity with Neighborhood Art Show
---
Residents of Port Richmond and the surrounding area flocked into the Richmond Branch Library (2987 Almond St) on the evening of November 4th as it hosted a unique event that showcased the artwork of three graduates of the Pratt Institute in New York City. Harriet Millman Reed, Martin Varnedoe and Robert Pasternak all came together to exhibit their most recent creations.
  A branch of the Free Library of Philadelphia, the Richmond Library is one of 2,509 Carnegie libraries built between 1883 and 1929. It offers classic architecture, making it a stand out feature in the largely residential area of Port Richmond, providing a perfect setting to exhibit an art show.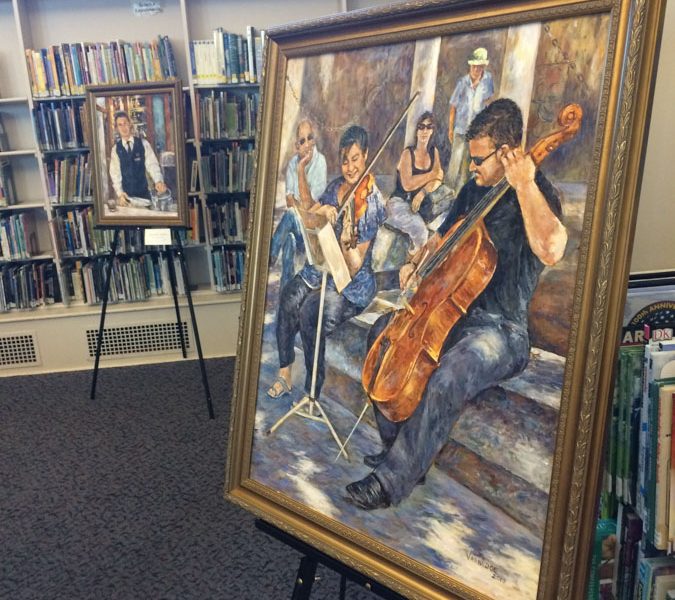 Amy Thatcher, Richmond Branch Library manager, told Spirit News, "I wanted to host an event that might promote the neighborhood as being more than a blue collar, working class enclave and to present it as being the next step in a wave of art…"
  "There's a correlation between visual art and the written word. It's nice to have a display of art in a place where literature lives," Thatcher added.
  The art show was free and ran from 5PM to 9PM. Classical music softly played whilst the viewers were able to observe the work of the three artists, mingle with other art enthusiasts and speak with the artists themselves. Complimentary wine and nibbles were also provided.
  Each artist had their own section in the pop-up gallery at the library in which they displayed a small number of recent pieces.
  One of the artists, Harriet Millman Reed, who has just retired from the world of advertising, has used her career experience to create a particularly unique form of visual collages, also working with fabrics. Her exhibit at the library was called "New Eyes."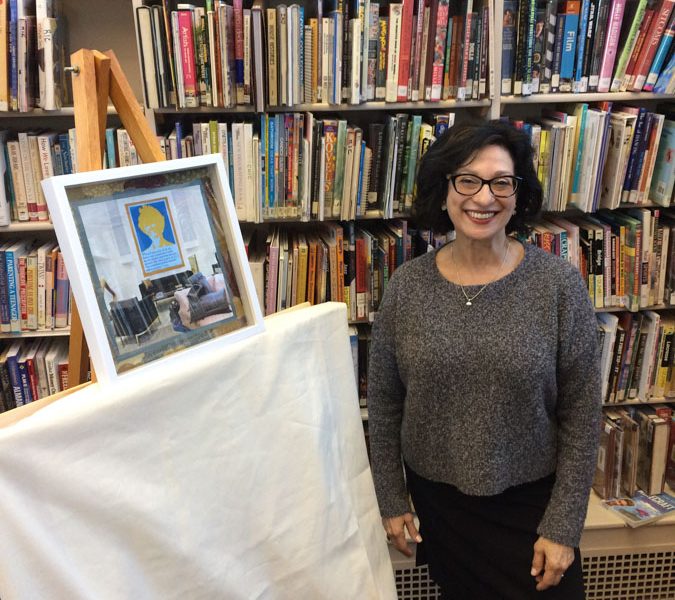 Reed states in her Artist Statement, "As a Graduate of Pratt Institute's School of Fine Arts I've worked in several art forms before extending my collage concepts to fabric and home decor."
  Speaking to Spirit News about this exhibit, Reed explained, "I am a collage artist and I work with fabric. I love to create new possibilities, which is why this show is called 'New Eyes'. I'm honored to be those new eyes and I see the world in terms of colors and in terms of the meaning of going forward."
  The next section of the exhibit displayed the work of Robert Pasternak. Having worked in the digital world of art for a long period of time, recently he has reverted back to old-fashioned pen on paper to present his artwork. Pasternak's artwork encompasses such components as mathematics and geometry.
  Pasternak said, "I'm going back to working by hand just for the meditative quality between the paper and I. My work has a lot about perspective that I've been interested in recently — about depth, space — and some are about meditation."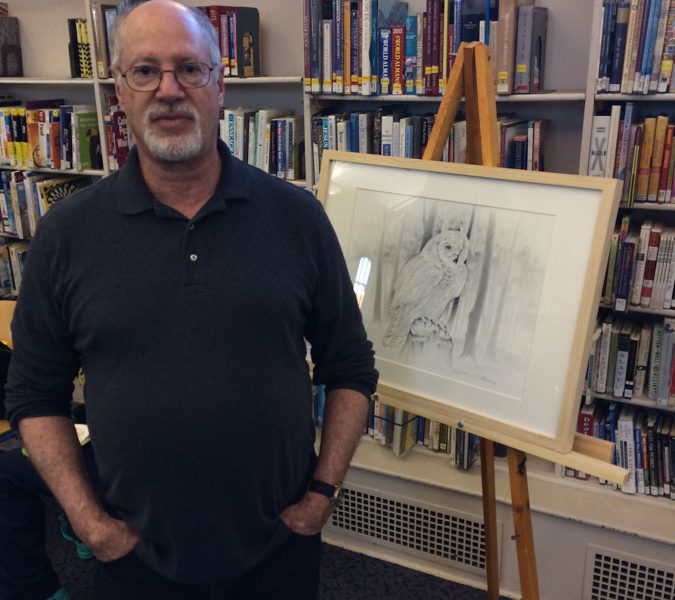 Having previously been involved in science illustration, Pasternak talks about the inspiration behind some of his work.
  "Recently, I've spent time at the Natural History Museum in New York, so I've been doing drawings of dinosaurs, so focusing on the complexity about how some of this stuff is and the geometry of these kinds of things," Pasternak added.
  After areas such as Fishtown and Northern Liberties have seen a recent surge in development, Port Richmond has remained largely a quaint residential area. Events like this art show are helping to cultivate a new image and outlook for the area.
  "It's just a really pleasant thing for the neighbors to enjoy and it brings more people into Port Richmond," said Mary Ann Fordyce, a Port Richmond Resident. "Everyone goes to Fishtown so this is a great thing to do."
  The art show at The Richmond Branch Library provided an opportunity for the art community of Port Richmond to come together to celebrate and indulge in three different forms of artwork whilst also offering residents something a bit different than what they're used to.
  David Soltetz, a Port Richmond resident, said, "a friend of mine told me about it [the art show]. I'm interested in art and I'm interested in things happening in the community. It's a very residential area and there are not a lot of venues, it's not like Fishtown and Northern Liberties that have a lot more entertainment opportunities. Although I think a lot of residents like that this area doesn't have that."
  The last section of the art show featured artwork produced by Martin Varnedoe. Painted in a traditional style, his exhibit displayed landscapes and portraits of rural locations in Spain, seeking to authentically capture their beauty.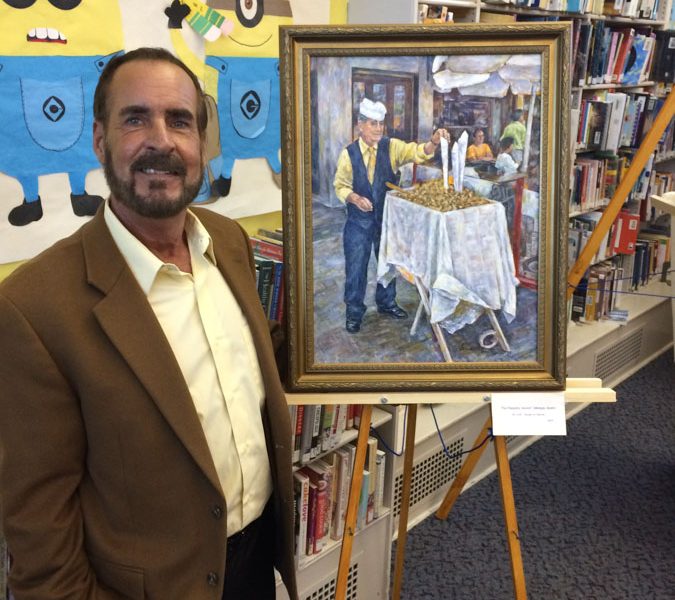 "This is the third show I've had in the Philadelphia area," Varnedoe explained.
   Varnedoe's husband, Robert Colletti, said, "His paintings don't reflect any pretence; they reflect the common spirit of the working woman or the working man in their own natural home."
   After the success of the art show, the community are very much looking forward to seeing what Richmond Branch Library has in store for the future.  •