A&E, Lifestyle in Fishtown
Riot Nerd: Fishtown Bloggers Celebrate Comics, Movies, Geek Culture and Throw Rad Events
---
  Not much more than a decade ago, speculative debates concerning whether Iron Man or Batman would emerge victorious in hypothetical mash-ups were confined to basements, primitive web-forums and isolated cafeteria tables. Between now and then, much has changed due to, among other things, DC and Marvel throwing their weight around Hollywood in unprecedented ways. And thus, we the nerds, have made significant social and cultural advancements. Travel to the year 1994, or even 2004, and tell some 13-year-old Tolkien geek that one day an in-depth knowledge of a fantasy world's political happenings will win them respect around their workplace and make their Tinder dates go more smoothly. First, you'll have to explain what Tinder is, and second, the contrast between how their nerdiness is/will be valued would fry their over-active imagination.
  Reveling in the dork's path to daylight are Kevin and Megan Hawkey, a married couple who, here in Fishtown, coalesced the endless cascades of burning nerdgasm that flow through their spare time into Riot Nerd, a blog started in February 2015 that puts out write-ups of movies, video games, albums, concerts and even stuff as far flung as indie wrestling and burlesque performances.

  In the nearly two-year life of the blog, it's grown and evolved to include around six other regularly contributing writers as well as a segment called "We're All Nerds", in which "celebrities" such as Trevor Strnad of The Black Dahlia Murder (He's a celebrity to us nerds and that's all that matters, OKAY?!) are interviewed not about what they're known for, but the geeky passions that fuel and sustain their imaginations.
  As Kevin puts it, "Something we recently started doing is video interviews. It's worked out pretty well so far. We did Ultramantis and some of the Chikara [wrestling] guys, Skeletonwitch, Tribulation, Black Dahlia Murder, Napalm Death. It's something I'm nervous about until I actually meet the people and start talking to them. The concept for the interview is 'We're All Nerds', the name of the interview series, and I get them to talk about something not-music related that they're interested in and nerdy about. It's worked out really well. Once they're into it, and once they understand it, they're really enthusiastic about it."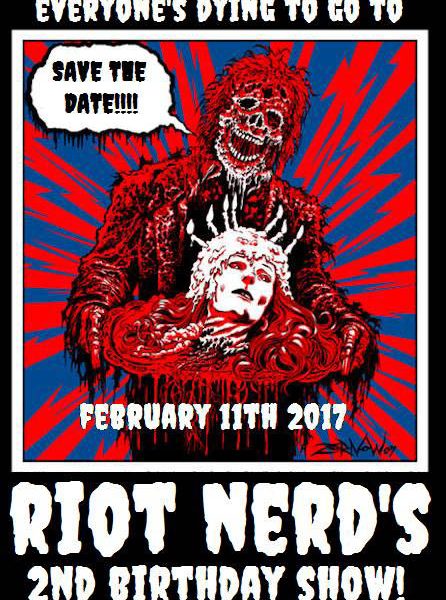 After growing more, the blog reached some tentacles out from the Internet into real life with events that Kevin and Megan (mostly Megan) book, organize, and host. Their first event was a hardcore/extreme metal bill starring Ultramantis Black at Kung Fu Necktie on October 20th. About this side of their operations, Megan explained, "I really wanted to try to get something from every aspect of our website, but that really hasn't worked out quite yet. For the most part we've done music. We've got movies. We're working on some burlesque, events with nerdy burlesque themes."
  Here, Kevin jumps in, saying, "And we've covered that, because we've got a friend that's really into that. She's written about that for us and kind of gotten us an in with the woman Liberty Rose who does it. We're working with them now on kind of a combination burlesque/punk rock show for Trump's inauguration night and it's working out pretty well."
  They've also recently partnered with CineMug to put on a public screening of David Cronenburg's excellently disturbing horror/sci-fi classic "The Brood", and don't seem likely to stop showcasing other great films.
  When I asked what's next, Megan said, "December 15th, a concert at the Barbary. It's two bands from New York: Sharkmuffin and Fruit & Flowers. The opener is Red Queen Lilith, and the woman who fronts that was formerly in Cheerbleeders. I really wanted girl-rock, female-fronted bands, to go a completely different direction from the Ultramantis thing." Megan goes on to say that the plan is to keep these events in Fishtown from here on out.
  Much of our interview/chat from there on out was, appropriately enough, us being breathlessly excited in nerdiness with each other on subjects including, but not limited to, metal, moshing, gothic dance parties, vegetarianism and the logistical headaches of booking shows.
  Care to dive deeper into the collective nerd-conscious? Want to get more details on the aforementioned events and other ones? Recently read, seen, or played something cool and wanna write about it?  Find out what's happening at www.Riot-nerd.com, get in touch via Twitter/Instagram @riotnerdblog (same handle for both), or on Facebook. •