Family, News in Olde Richmond
Thank You, 26th Police District!
---
  Anjelica Murat's son, Brayden, 4, was having a bad day. After feeling sick the night before, Brayden had to be up early for school. His mother says that Brayden is "not a morning person."
   But while Brayden hates mornings, he loves police officers. He has his own police officer uniform and has dressed as a cop for the past three Halloweens. And you can all guess what he'll be dressed as come this Halloween.
   In the Wawa parking lot before going to school, Brayden saw a police squad car in the parking lot. The little boy, who wants to be a cop when he grows up, said hello to Officers Dyrda and Saunders of the 26th District. The officers responded in such a way that it  made Brayden's rough day a whole lot brighter.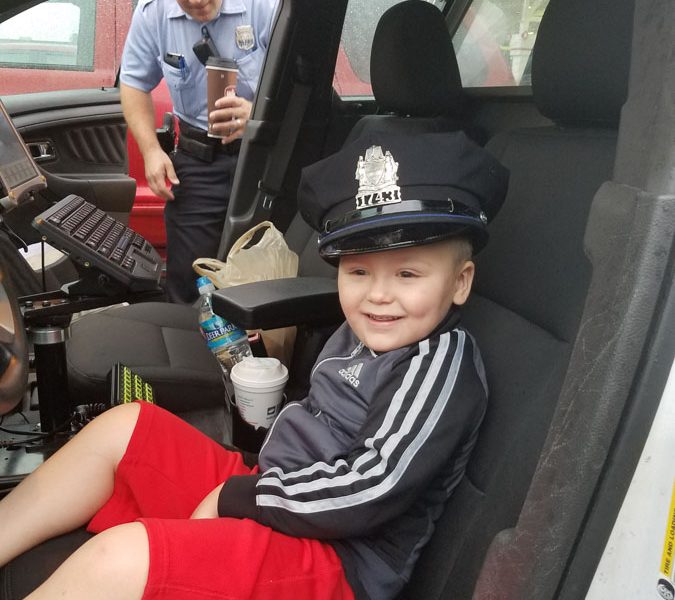 The officer came up to Brayden and put on his police hat on the little boy's head. He even let Brayden sit in the driver's seat of the car and play with the lights.
   Thanks to the officers of the 26th who helped put a smile on one little boy, and who keep our community safe day-in, day-out. 
THANKS FOR SUPPORTING SPIRIT NEWS!
Please follow this link to visit Amazon.com through our affiliate portal. It's the same Amazon.com you know and love, but when you shop through this link we receive a small cut at no added cost to you!
By using this link to do your normal Amazon.com shopping, you'll be supporting your local newspaper.