Features, News, Weather
Accu-Reggie 7 Day Forecast (February 22 – March 1)
---
What the heck! You call this winter?! This is a joke and a disgrace to anything associated with "winter." Yeah, that's how I really feel.
 This week will be nothing short of what we saw last week; crazy warmth for the first half and then cooler for the second half. The weekend is when the transition to cooler weather will occur. While we will probably see more snow before winter is officially over in March, the chances of a good storm are quickly fading away.  
 Is this warmth because of Global Warming? Well, kind of. While it's hard to paint discrete events at the result of global warming, the macro warming trends are pretty clear. What do I mean? The average temperature in February is warmer in Philadelphia than it was, say, 100 years ago. So while 70 degree warmth in February is nothing new, the warmth is more warm now and the cold is less cold. When averaged out this bumps the average temperature up for a given time period. Example: If we had a the same pattern 100 years ago, the temperature would've still been warm, but maybe only to 68 on Sunday. Since the earth is warmer now, the temperature will make it to 70. In short, it's not the fact that it got warm, but that it got warmer when it got warm.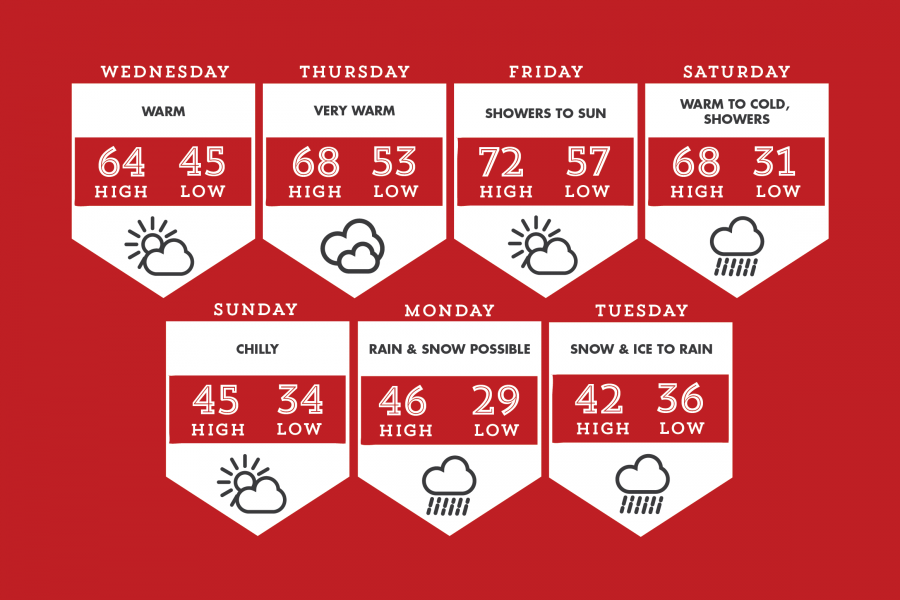 Wednesday and Thursday are warm, spring-like days. Temps will be in the 60s and near 70 in some places.
 Friday is the warmest day of the week as temperatures scream past 70. We could see a early morning sprinkle in places.
 Saturday starts off very warm before thunderstorms arrive in the afternoon. Things could get windy and cold!
 Sunday is a chilly day as seasonal temperatures return. It will feel much colder because we are used to extreme winter warmth. We could see some light snow and rain on Monday, followed up by a bigger storm on Tuesday that would start as snow and ice before changing to rain. Yes, winter is going to make a comeback!