Community, Features in Fishtown
Could Proposed PWD Project Disturb the Dead? Neighbors of Palmer Burial Grounds Think So
---
Are there dead bodies under the sidewalk along the Palmer Street side of the Palmer Burial Grounds?
That is the million dollar question that no one is sure of. When the Philadelphia Water Department contacted Jim Kingsmill, President of the Trustees of Palmer Cemetery, two weeks ago about tearing up the sidewalk along Palmer Street, digging and installing tree trenches, red flags went off in his head
Tree trenches are designed to capture stormwater runoff, and provide water for trees that are rooted in the trench. Since there is an abundance of water collected, the trees are able to have a steady supply of water, and stormwater is diverted away from Philadelphia's antiquated sewer system.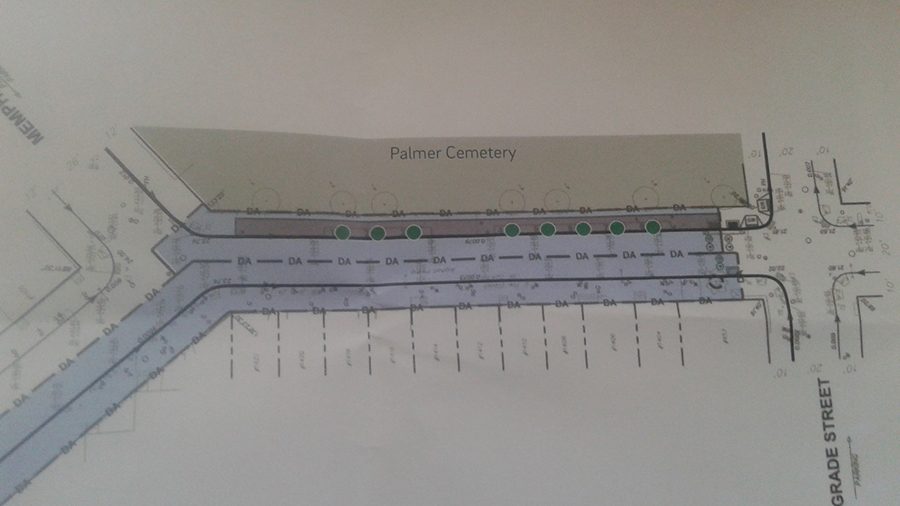 Philadelphia has two kinds of sewer systems: combined and separate. Neighborhoods away from the city center often use a separate sewer system, depending on when the area was developed. According to the water department, more than half the city, including Fishtown, runs on a combined and antiquated system that relies on the Delaware and Schuylkill rivers, along with the Tacony and Cobbs creeks, to handle excess amounts of water during storms and flood events.
On paper, less storm water and 8 more trees sounds like a win for everyone. However questions among the neighbors and trustees of the cemetery had many people wondering if this was a good idea for Palmer Street and the Burial Grounds.
Last evening, representatives from PWD, trustees of the Palmer Cemetery and concerned neighbors gathered at the cemetery for a presentation, and a chance to ask the Water Department about the scope of the tree trench project.
Tiffany Ledesma, public engagement team manager, and Maggie Dunn, community planner, spoke to a crowd of about 20 people as the sun set behind them. The two women delivered a compelling and thorough case for why the city is installing these tree trenches. According to PDW reps, the project titled "Green City, Clean Waters" is in compliance with federal mandates to reduce water pollution, and is being implemented across the city.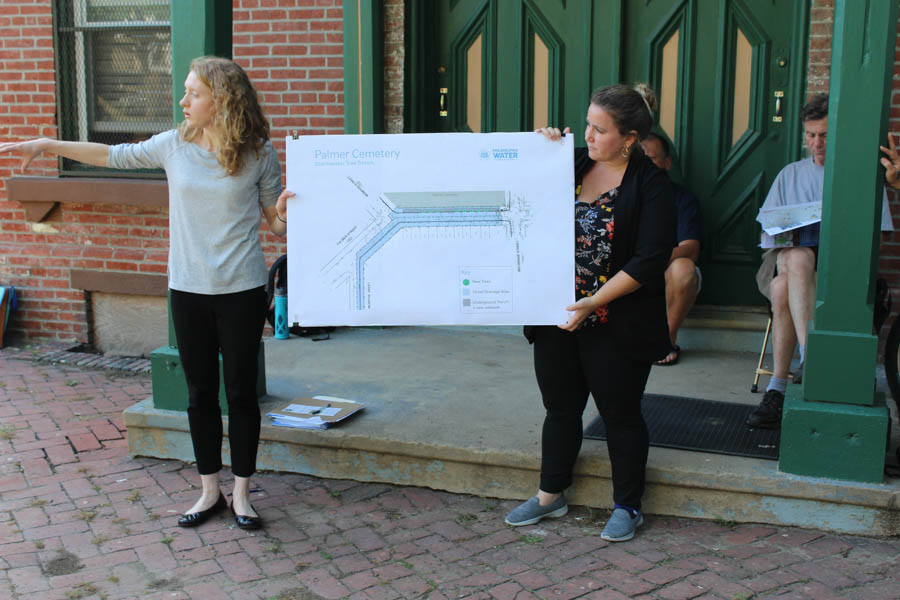 The two women took turns speaking to the crowd of cross-armed and stern faced neighbors. Heads shook, and one person turned away as they described a four to six foot excavation of the sidewalk. The presentation did not address many of the concerns brought up later by the neighbors, and as the two women continued to talk, the neighbors became anxious.
As the two women finished speaking, Jim Kingsmill, president of the Trustees of Palmer Cemetery, began to speak on behalf of the cemetery. According to him, no one reached out to the trustees until about two weeks ago, despite the PWD having this on a list of future projects for two years.
"You've had this on a list for two years, yet you've told us two weeks ago about this project about this project," Kingsmill said.
According to Ledesma, the project was presented at an FNA meeting in February, but she did acknowledge that PWD had not reached out to the trustees until two weeks ago.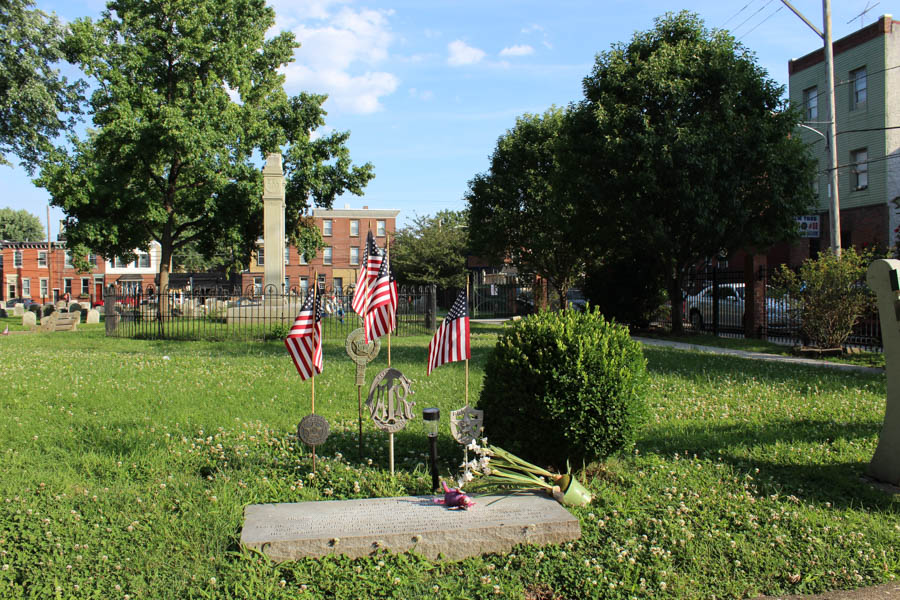 "We reached out initially to the Archdiocese of Philadelphia, which is not related…," Dunn added.
"Not many Catholics in here," Kingsmill said referring to the large amount of German Protestants buried in the Palmer Burial Grounds.
Throughout the discussion, neighbors voiced their concerns about maintenance to the trees, and litter that may occur. Some neighbors pointed to the corner of Thompson and Columbia where PWD installed similar green spaces to collect water. Those are low lying boxes in the sidewalk that have small plants in them. The neighbors complained that they become filled with trash, and that PWD does not stay on top of keeping them clean.
Kingsmill also pointed out that the cemetery itself captures a lot of stormwater. According to www.draftlogic.com, the cemetery is just under four acres. It's not paved and, according to Kingsmill, does experience minor flooding during storms, indicating that it does capture runoff during storms. "Cemeteries were never built on the lower points of the neighborhood. They were always built on something a little higher because they didn't want that problem of washouts," Kingsmill said.
"Why would you come to a place that's 300 years old? It's the original ground that Kensington was founded on," He added. "This property hasn't been built on in 300 years, and you're coming in here telling us that what you have on this side of the fence isn't doing a good enough job, so (PWD) wants to take it on this side of the fence."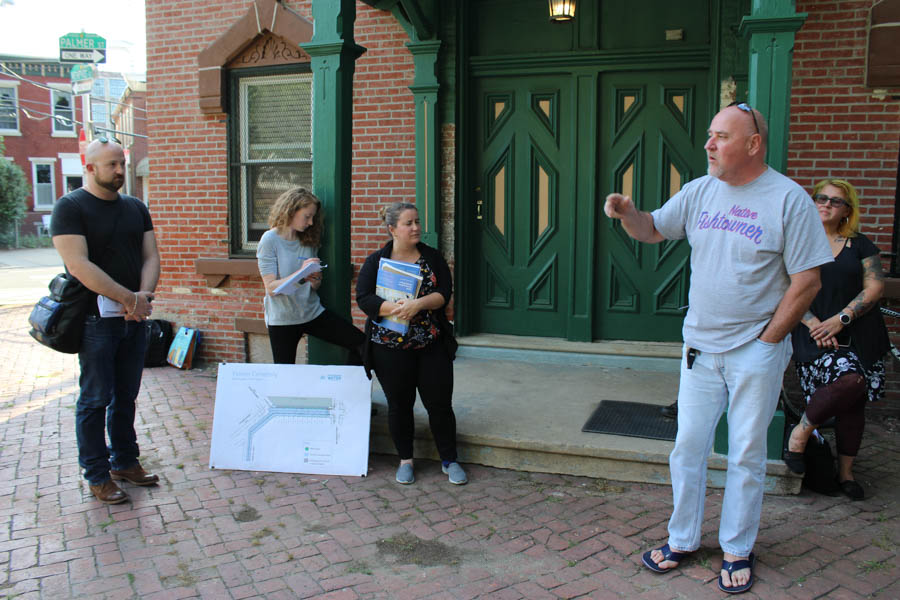 The topic of neighborhood construction came up, and some people wondered why some larger new construction projects aren't made to have green sidewalks included in their design. "You ought to look into these places where they're putting in 72 units, you ought to have it all mapped out that their sidewalks are green," Kingsmill said.
Other issues like parking, dust from the construction, and pet waste were all discussed, however these issues can be remediated. But disturbing the sanctity of someone's eternal resting place is another story. According to Kingsmill, nobody, including the trustees, can guarantee that excavation in that area won't do exactly that.
"The cemetery has been here for [almost] 300 years. During that time the size of the cemetery has grown and contracted based on whether the city came through here and wanted to put a street in or do whatever," Kingsmill said.  "Sidewalks were put in the cemetery in the 1850s. Those sidewalks went over graves in some instances. We don't know where those graves are because we don't have records prior to 1859."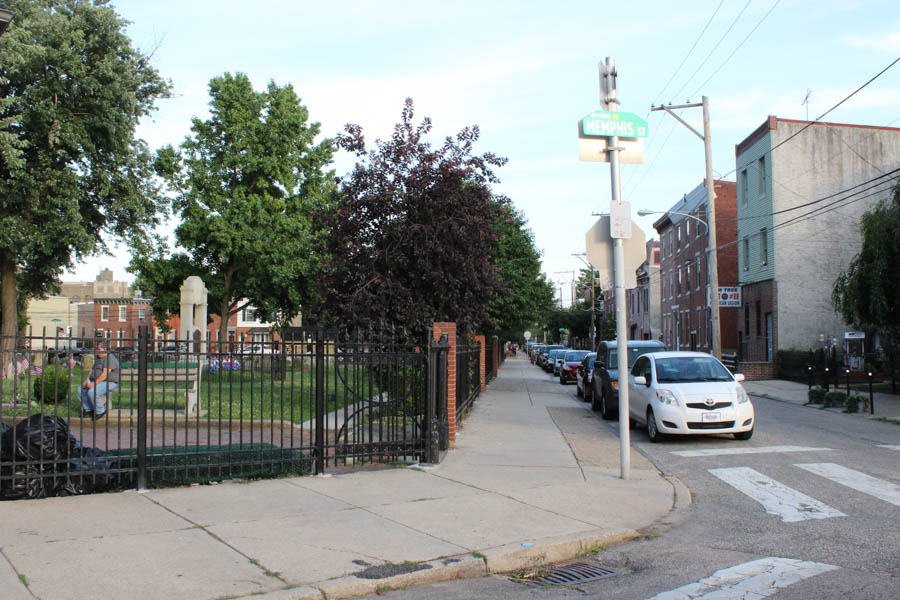 Ken Milano, an author and local historian, was also at the meeting. Milano briefly spoke about the cemetery's history. He then introduced Doug Mooney, professional architect and president of the Philadelphia Archaeological Forum. Both men spoke about the strong possibility that there are people buried under the sidewalks.  
"Any cemetery in the city that was established prior to the installation of public sidewalks, I can almost guarantee you that cemetery extends to the curbline, and there are multiple examples that can be found in Philadelphia to verify that," Mooney said. "Any excavation in that area is likely to impact graves. In this particular instance I would be exceedingly cautious."
The meeting concluded with the PWD reps verbally agreeing to hold off on the project for at least two years, which was what Kingsmill asked for initially, to perform more studies on the benefits and impact the project could have on the burial grounds. While the PWD seemed to agree with the neighborhood meeting, nothing has officially stated that the project will be halted.
Spirit News will continue to follow this story, and provide updates as soon as we have them.