Food
Clean Plate: Confetti Cookies
---
Recently, I had the pleasure of joining the fifth and sixth grade classes at St. George School in Port Richmond. My cousin, Jaime – also known as Miss Cheafsky – teaches the latter of the two and was introducing a project to her students that combines recipes and creative writing.
The students were warm and welcoming, and the first segment of the class was filled with their curiosity about my favorite things to make, the easiest thing to cook, and even stories about kitchen disasters. They were just as eager to hear my stories as I was excited to share them, and I could have talked with the students all day about food. But then, they wanted to get down to business.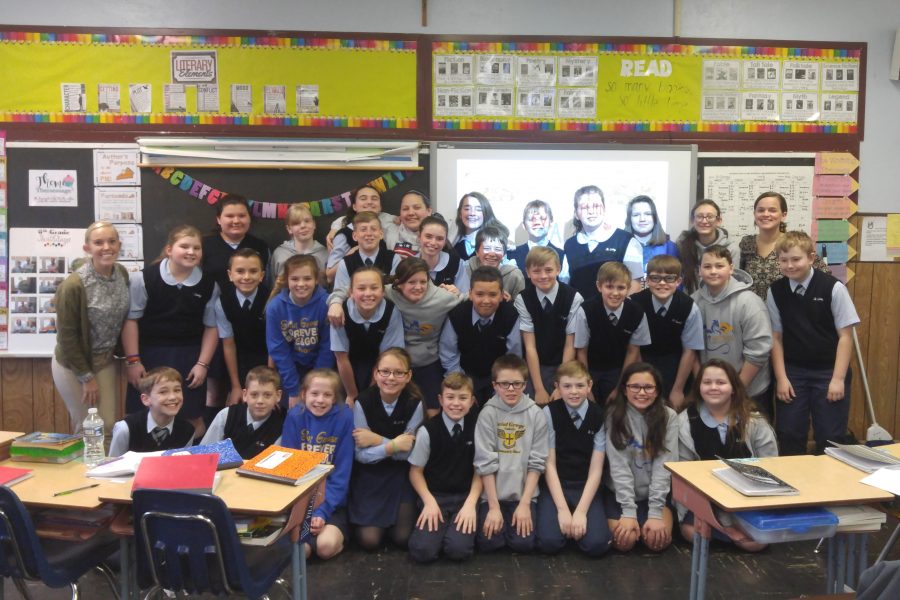 A student in the front asked, "What's your process?" and another followed with a question about what inspires my writing. And just like that, Ms. Cheafsky followed her students cues, fired up her smart board, and smoothly transitioned to a brainstorming session. We passed around cookies I had brought with me and the students resisted the urge to taste them so that we could first use our other four senses to create a list of words that describe the sweets.
When I first laid eyes on the recipe for these sugar cookies smothered in jimmies (or sprinkles – there was a conversation about that, too) I was sold. Thanks to my fifth and sixth grade friends, I can now convince you to bake them: They're "as colorful as a box of crayons," are "sweet" and "buttery" and "taste like vanilla cake." And best of all – and probably the highest compliment any baked good can receive – they "smell like Stock's Bakery."
Confetti Cookies
From Smitten Kitchen
3 cups all-purpose flour
1 teaspoon baking powder
¼ teaspoon baking soda
¾ teaspoon kosher salt
1 cup unsalted butter
¼ cup cream cheese
1 ¼ cups granulated sugar
1 large egg
2 teaspoons vanilla extract
¼ teaspoon almond extract
1 cup rainbow jimmies and/or sprinkles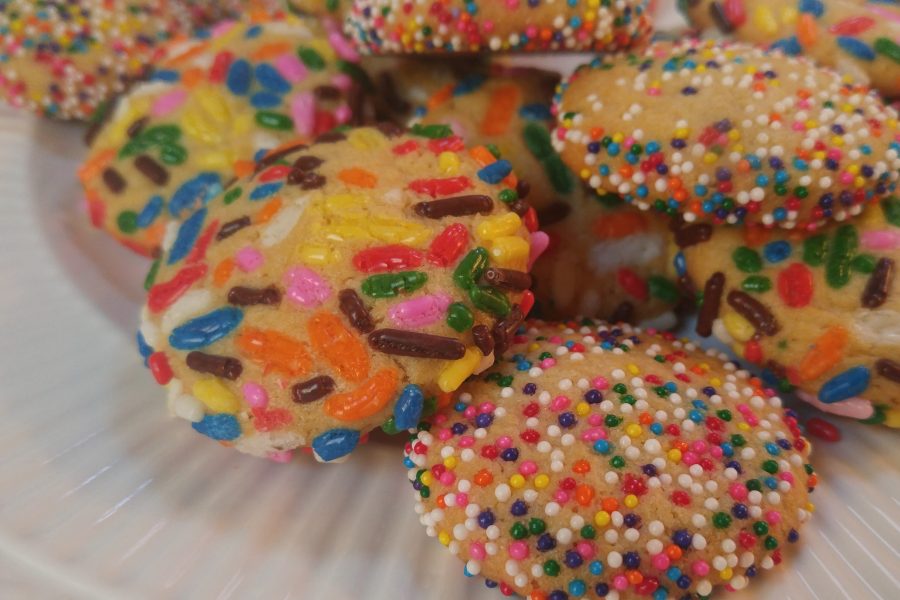 Heat oven to 375 degrees. Line two baking large sheets with parchment paper or a silicone baking pad. Place flour, baking powder, baking soda and salt in the work bowl of a food processor and pulse a few times to blend. Add butter and cream cheese, in large chunks, and sugar and blend until mixture is powdery. Add egg, vanilla and almond extracts and run machine until the dough balls together. Scrape down the sides of the work bowl in between steps to make sure ingredients are incorporated. Scoop tablespoon sized balls of dough and roll them briefly in the palms of your hands before dropping them in a bowl of rainbow sprinkles and gently rolling to coat them evenly. Transfer balls dough to baking sheets at least two inches apart. Using the bottom of a drinking glass, press down on the cookies until they are about ½" tall. Bake for 9 to 10 minutes until the cookies just golden. Allow to cool for several minutes on a baking sheet before transferring cookies to a cooling rack.