Food, Local Business in Kensington
Welcome to the Home of the One Pound Cheesesteak
---
 The intersection of Kensington and Lehigh Avenues is a massive confluence of surface streets, train tracks and the El train rising high above everything as it bangs and creaks overhead. It also serves as a crossroads of neighborhoods and cultures. Standing there, you are minutes from Latin American, Polish and other diverse communities.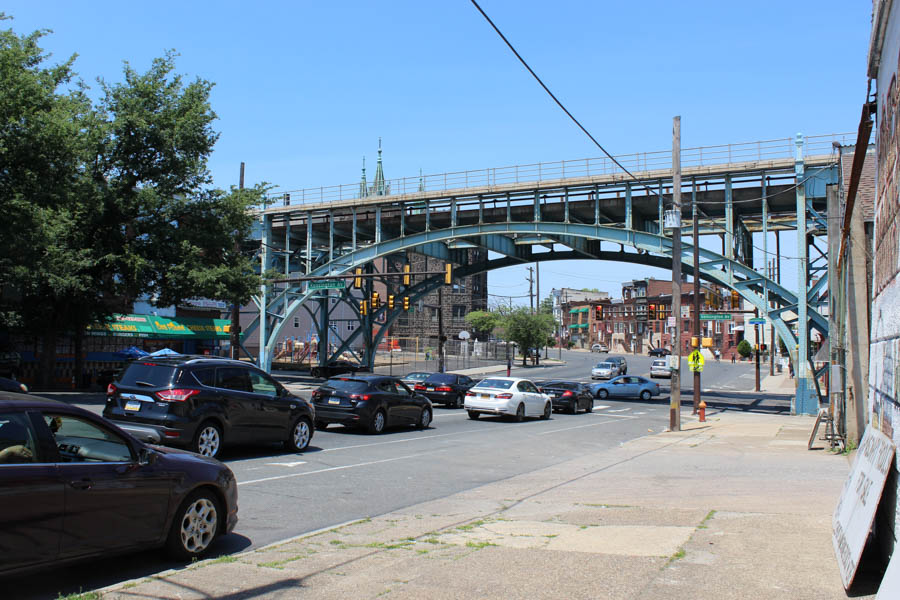 Sadly, the opiate crisis is having a palpable effect on the neighborhoods surrounding Kensington and Lehigh. Depsite the negative media attention, One Pound Cheesesteaks remains in operation despite the open-air heroin market that is surrounding the small walk-up cheesesteak joint. Owner Jimmy Resuli is living out his American Dream by serving a uniquely large take on the classic Philly sandwich.
 According to Resuli, One Pound Cheesesteaks has been in operation for about the past 25 years. He told Spirit News that prior to that, it was an Irish bar, and pointed to a large four-leaf clover wall clock hanging on the wall. He also said there was an ice cream shop attached to it on the Kensington Avenue side.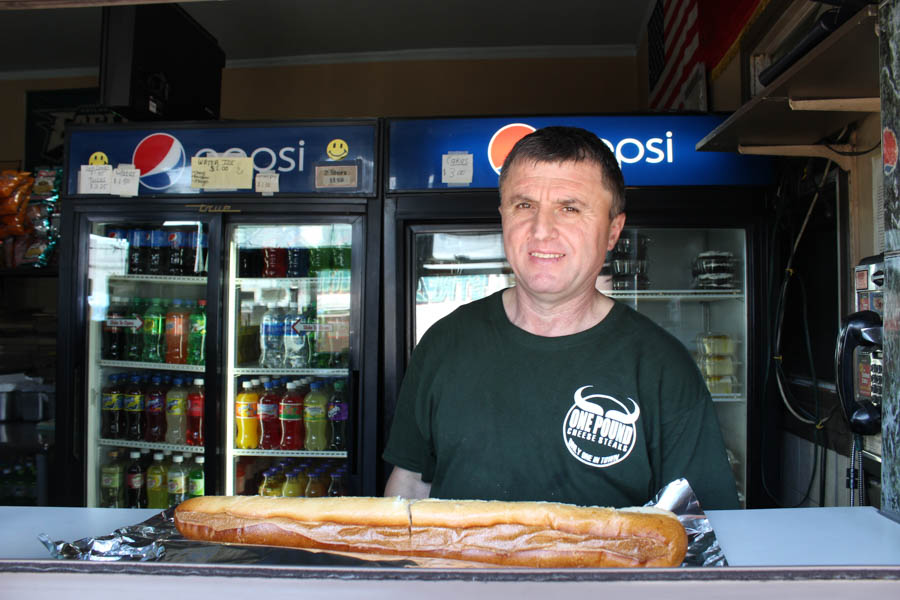 Resuli is originally from Albania. When he first came to the United States he found work at One Pound Cheesesteaks, then known as Lucky's, until 2003.
 According to Resuli, he had no prior restaurant experience before learning his way around the grill at Lucky's. "I never knew anything about cooking," Resuli said. "My job was a truck driver in Albania." A fellow Albanian friend who had been working there helped him get a job, and Resuli's pursuit of the American Dream began.
 Resuli was living in Kensington on Cumberland Street when he became a grill cook in 2000, but in 2003 he left the steak shop to pursue other ventures. However, in 2008 Resuli purchased the corner walk-up and put around $15,000 into renovating the interior and exterior.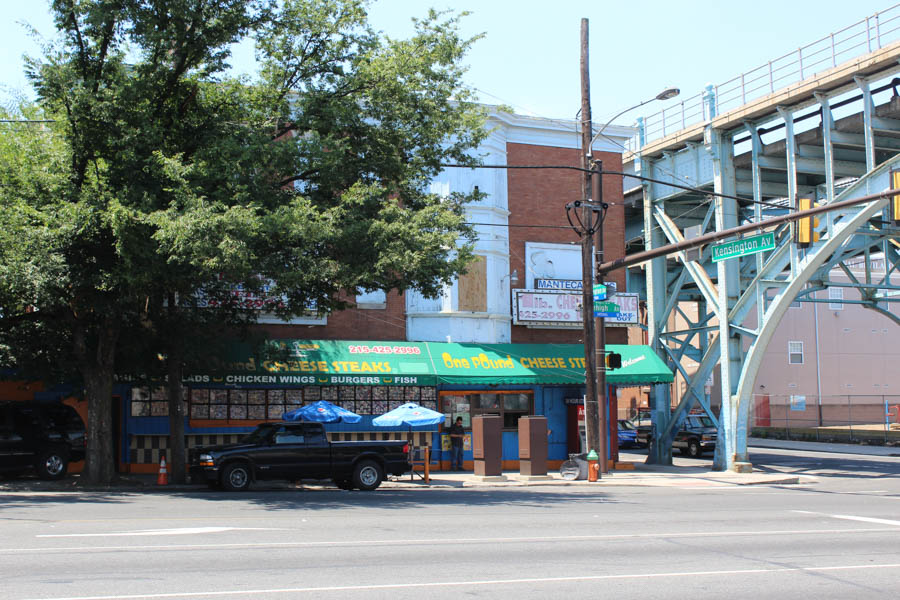 Lucky's was the originator of the monstrous steak sandwich, hosting a sign that read "Home of the one pound cheesesteak." Resuli decided to change the name of the shop to "One Pound Cheesesteaks," and added more selections to the menu while continuing to produce mammoth-sized steaks.
 The steak shop has been able to achieve a cult following through word of mouth and social media. According to Resuli, people of all different races and creeds come to his spot to enjoy a tasty hoagie or steak. He added that he gets people who haven't lived in the neighborhood for years stopping in as well. "I have some customers that used to live here, like, twenty years ago," Resuli said. "When they come back they're like, 'Wow.'"
 In many ways, immigrating to this country to find work and then later purchasing the same place that gave you your first job on U.S. soil is the epitome of the American Dream. Resuli is very humble — especially for a man who makes a giant cheesesteak — and when you speak to him, you can tell that he loves to see both familiar and new faces at the walk-up window.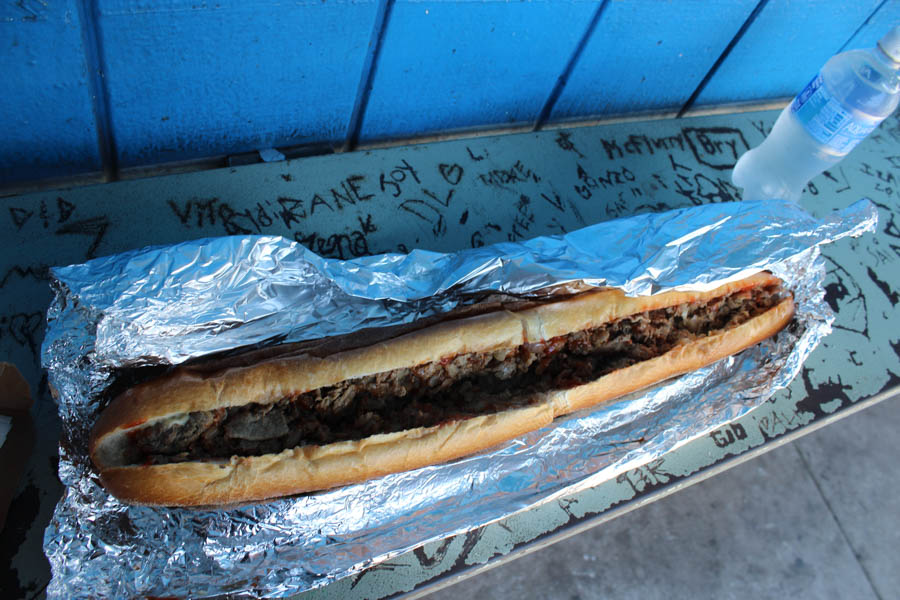 I returned to One Pound Cheesesteaks shortly after it opened on a sunny Saturday afternoon. Lehigh slopes down toward Kensington as you approach the intersection. As I came over top of the small hill on foot and started toward the take-out window, I heard the familiar sound of metal clacking against the grill as someone's cheesesteak meat was being cleaved to perfection.
 It was a nice change of pace to be able to sit at the long counter and unroll my beast of a cheesesteak right in front of me. They also keep late-night hours, staying open until 3AM on the weekends. This means that visits to One Pound Cheesesteaks usually come after I've been indulging in some of the local spirits. Usually, I find the smaller version to be a satisfactory booze mop in the early-morning hours when I need it the most. It's about half the size of the large, but it's still essentially a full cheesesteak.
 This time I decided to go for the full two-foot one-pound cheesesteak experience. I ordered mine the same I always do: with mayo, fried onions, salt, pepper and ketchup. If you come in there early enough most days, Resuli will be the one to make your sandwich.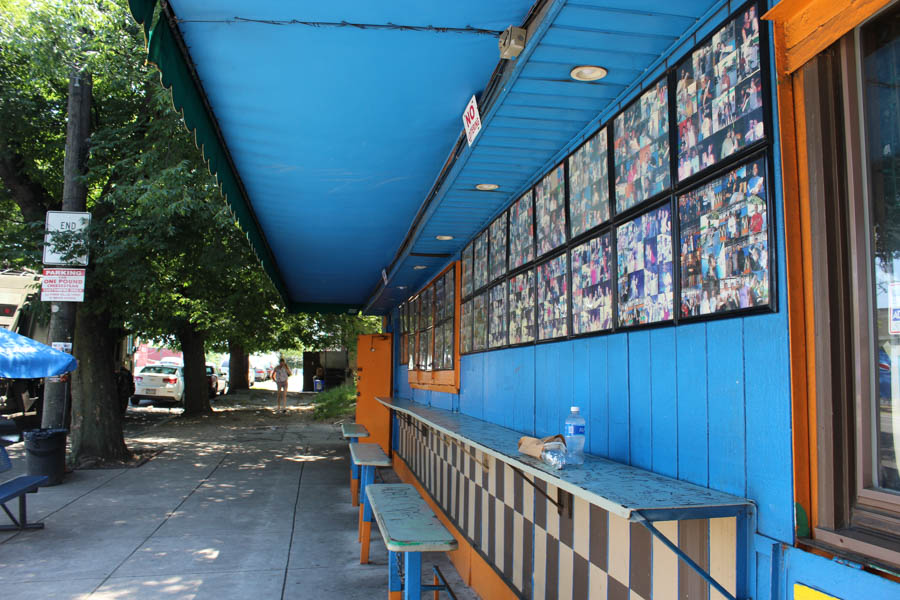 He starts with a pound of sirloin and then adds a generous amount of onions to the mix. Once it's been worked through a few times with the edge of a metal spatula, Resuli melts the cheese over the mixture and serves it on a legit two-foot Italian roll. This is a true two-foot cheesesteak, so don't be shocked when he rolls your monstrosity up. You'll have to choose between saving half for later — the responsible and safe choice — or devouring the whole thing without shame or prejudice in one shot.
 As I sat at the counter looking at the pictures of countless happy customers hanging from the wall, I found myself in that exact predicament. I was starving, so unrolling the sandwich put a smile on my face. I chowed down on the first half and loved the taste of the sirloin. The taste is a little closer to what you might find on a hot roast beef sandwich.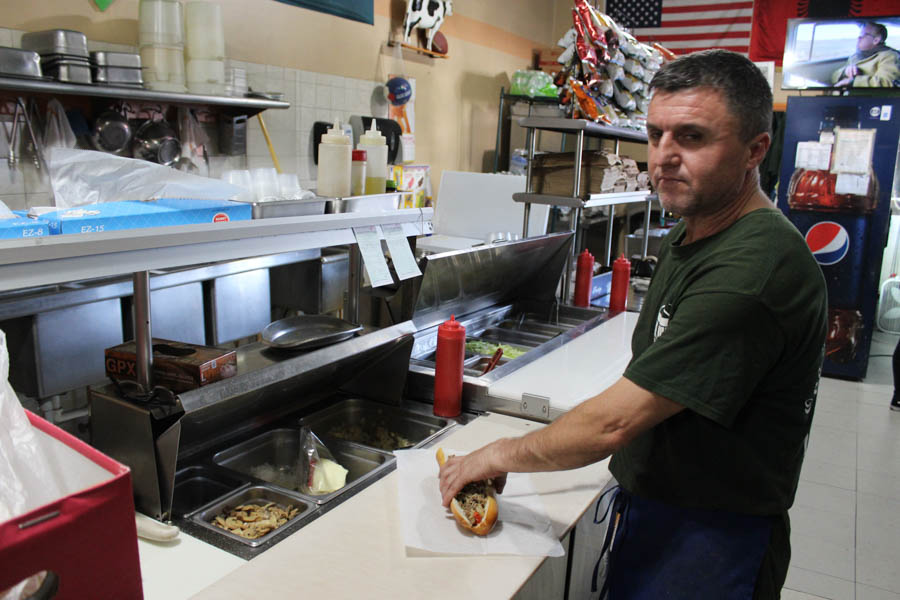 Most steak joints use sliced ribeye, and if you eat a lot of steaks, you might notice the difference, but I find the sirloin to be just as delicious. The roll is soft and doesn't become soggy like other steaks. It absorbs the delectable juices and holds them tight, keeping your meat juicy and tender.
 When you dress it up the way you want, it's a world-class cheesesteak no matter what's on it.
I chose to only eat half of my sandwich, though I definitely could have finished it on the spot. There were families present and I wanted to spare the kids the horrific sight of a grown man indulging his gluttonous side.
 One Pound Cheesesteaks is located on 2661 Kensington Ave. They are open Monday-Thursday from 12PM-3AM, and Friday and Saturday from 12PM-5AM.