Food
Clean Plate: Recipe for Chocolate Pound Cake
---
  If you have a traditional, nine-to-five office job, the majority of your time is spent with coworkers. It's one thing to have a cordial working relationship with your officemates, but if you consider them close friends you probably look forward to the daily grind and you might find your week seems to fly by.
  My friends at work and I have a wonderful dynamic. When tasks pile up or it's a particularly stressful time of year, we can rely on one another for help with a to-do list or, at the very least, a positive perspective on handling the stress. We love recapping the weekend come Monday,  morning, brag — or vent — about our kids to each other and even spend time together outside of the 40-hour workweek when we can.
  Like most offices, we welcome any opportunity to celebrate. Our dear friend Ro typically leads the festivities with her signature homemade poundcakes. Honestly, I've never looked forward to someone else's birthday more than when I know Ro has made the person of honor a fresh-baked pound cake.
  Sadly, Ro is retiring in September. And while she's irreplaceable for hundreds of reasons, it's fairly obvious a woman who makes baked goods in her spare time for any office celebration is selfless, genuine and caring. We honored her with a party last week and, in her likeness, each made a poundcake. Though none of them were as delicious or loaded with as much TLC as Ro's original recipe, it's safe to say there are a few contenders for "resident baker" come fall.
Chocolate Pound Cake
Adapted from Joy the Baker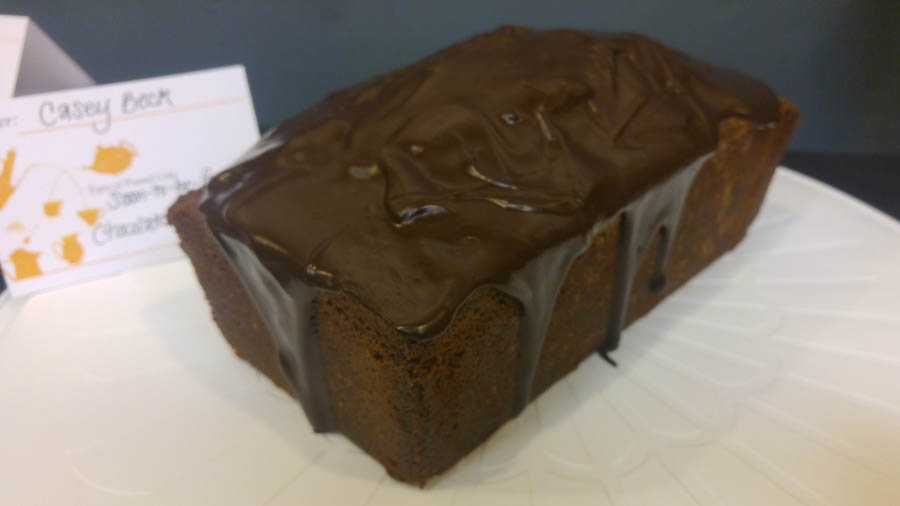 Cake
¼

 

cup unsweetened cocoa powder
¼ cup boiling hot water
1 ½

 

cups flour
1 teaspoon baking powder
½ teaspoon salt
1 cup unsalted butter, at room temperature
1 ¼ cups granulated sugar
1 ½ teaspoons vanilla extract
4 eggs, at room temperature
2 tablespoons milk, at room temperature
   Preheat oven to 350 degrees and place the oven rack in the center of the oven. Butter 9" x 5" inch loaf pan. Line the bottom of the pan with a piece of parchment paper.
   In a small bowl mix the cocoa powder into the boiling water until the cocoa powder has dissolved and is smooth. Let cool to room temperature. In a separate bowl, sift the flour and baking soda together with the baking powder and salt. In the bowl of an electric mixer, fitted with the paddle attachment – or with a hand mixer – beat the butter until smooth. Add the sugar and vanilla extract and beat, on medium high speed, until light and fluffy, about 5 minutes. Add the eggs, one at a time, beating well after each addition. Scrape down the sides and bottom of your bowl as needed. Beat in the cooled cocoa mixture. With the mixer on low speed, add the flour mixture in two additions and then add the milk and mix only until just combined. Scrape the batter into the prepared pan and smooth the top with a spatula. Bake for 60 to 65 minutes or until a toothpick inserted into the center of the cake just comes out clean.Remove the cake from the oven and place on a wire rack to cool for about 15-20 minutes. Run a spatula or knife around the inside of the pan and then remove the cake from the pan and cool completely on a wire rack.
Chocolate Glaze
3 ounces dark chocolate chips
2 tablespoons butter, diced
1 tablespoon honey
  Melt all ingredients in double boiler. Remove from heat and let cool until mixture thickens to pouring consistency. Pour the glaze over the top of the cooled cake, and allow the glaze drip down the sides.  •