Community, Features, Local Business in Brewerytown
Sarah's Place: In Defiance of the Finer Things
---
Neighborhood bars are dropping like sloshed barflies at last call, at least according to recent statistics. A Nielsen Consumer Report from October 2015 states that an average of one in six local bars have closed between 2004 and 2014.
The report goes on to explain that, despite the closings, around 334 new drinking establishments are opening each month around the country. The assumption made in this report is that Americans are looking for something more from their drinking experience. If these trends continue — and a death knell for neighborhood bars has been rung — it could dramatically change the landscapes of cities from coast to coast. Data aside, there are certain establishments in Philadelphia that easily illustrate the importance of the neighborhood bar.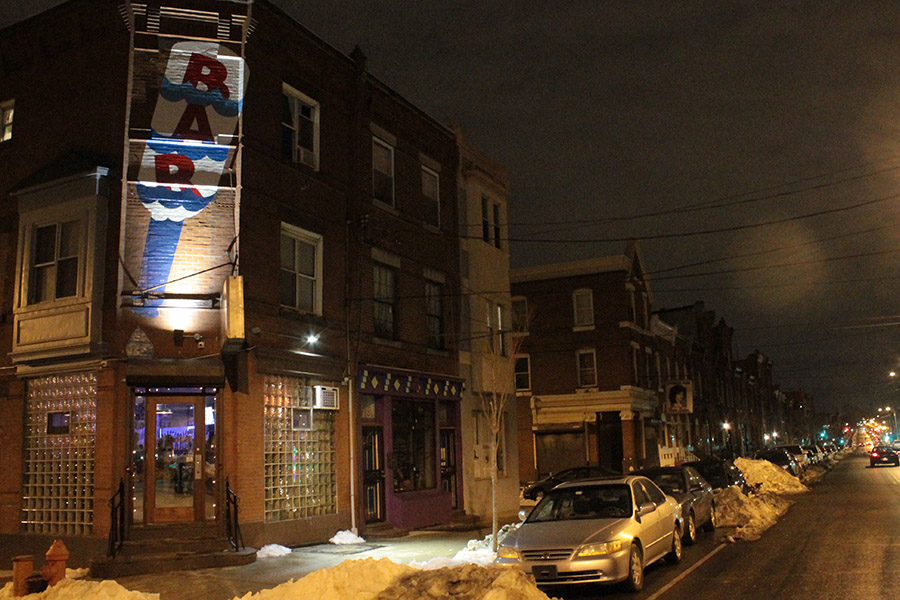 With gigantic letters spelling out the word "BAR" in bright red paint, it is hard to miss Sarah's Place (1216 North 29th St.). Located in Brewerytown, Sarah's Place has been around, in some form or another, since the 1930s. Since then, both the bar and the previous owner, Sarah Barlow, became familiar fixtures in the landscape of the area. When MMPartners, a property management company that has been involved in many projects in Brewerytown, purchased Sarah's Place from Barlow, it was done with the neighborhood's interest in mind.
Jacob Roller and Aaron Smith of MMPartners are the current owners of Sarah's Place. They have said in the past that they had no interest in completely changing the bar or its appeal when they took over the local watering hole. Recognizing the importance of the bar to locals, deliberate actions were taken. The bar remained intact, albeit with a slightly updated interior. The idea was to keep things as they were allowing those who have lived in the neighborhood their whole lives to feel comfortable, while simultaneously welcoming the influx of new residents to the area. The bar reopened in October 2014 and has been steadily fulfilling its mission of bringing new patrons into the fold.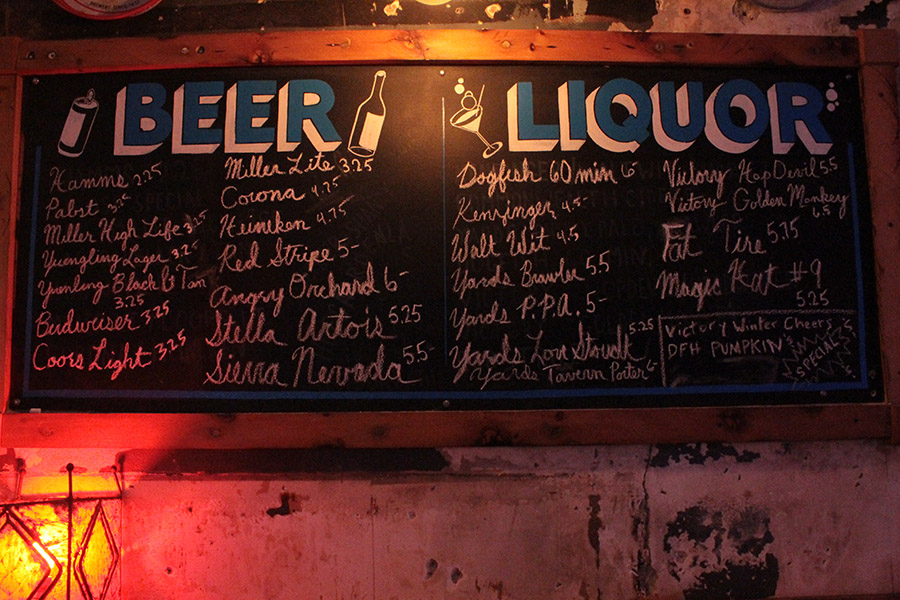 It is an oft-repeated fact that the bar scene can be ruthless, nowadays more than ever. According to the Nielsen Consumer Report, nightlife denizens want more than just a drink from their bar experience. At Sarah's Place you can get a homemade meatball sandwich and a bag of chips, but that's about it. It might seem like going against the grain could prove a risky move, but this is not the kind of establishment where you go for a meal. Food can be found alongside liquor at a number of other Brewerytown spots ranging from the sandwiches and bottles at RyBrew (2816 W. Girard Ave.), to the handcrafted concoctions at Crime & Punishment Brewing Co. (2711 W. Girard Ave.) to the authentic Ethiopian dishes at Era (2741 Poplar Ave.). Locals can indulge in hearty meals all across the neighborhood, so having a spot to go just for drinks can be refreshing.
What Sarah's lacks in food it more than makes up for in terms of entertainment. One reason that Sarah's Place has been able to draw new patrons since reopening its doors is due to the weekly events held at the bar. Live music happens every week and talented DJs keep the bar hopping with a unique sound. The tunes tend to cover the full spectrum of genres, with a specific focus on funk and soul. Steven Ferrell, current bar manager at Sarah's and local vinyl record enthusiast, believes the music is a huge part of the atmosphere at the bar.
"Certain social interactions need the right soundtrack," Ferrell explains, "Jazz music, lounge music, it has a way of creating a comfortable atmosphere for people."
The first floor of Sarah's is dimly lit with twinkling lights in an array of colors that create an alluring environment for patrons to chat. Upstairs, where most events are held, feels a lot like walking into the recreational room of a church. The second floor decor is minimalist and old school, just a few tables and a handful of folding chairs, but the crowd is not there to admire the cozy, though outdated, room. Instead, patrons flock to the upstairs on Monday nights for The Brew Sessions.
Hosted by Daniel Kaplowitz, The Brew Sessions is a weekly event with artists, musicians and appreciators in the neighborhood coming together for a live jam session. The music incorporates hip-hop, soul, jazz and whatever other sounds emerge and fuse together.
On Thursday nights, the second floor is home to Sing Your Life Karaoke hosted by Sara Sherr, who is ubiquitous in the karaoke scene around Philadelphia. Wednesday nights also serve as a night to "Drink and Draw." Hosted by Sam Heimer, one of the bartenders at Sarah's. Here, patrons have the chance to test their artistic abilities while downing their favorite drinks.
Downstairs, events center around DJs. On Saturdays, DJ Blaak The 9th Man hosts Soul On Tha Rocks. The neighborhood pours in through the doors at Sarah's for this weekly party, with crowds getting down to the slick and funky sounds being spun on vinyl. Ferrell also plays records on Wednesday nights, gravitating towards similar funk and soul themes. The music played by Ferrell and Blaak The 9th Man is a large part of why so many locals come to Sarah's for a drink.
"The music played at Sarah's is the soundtrack of the neighborhood," Ferrell said. "It has a social consciousness about it, there are real feelings behind the sounds. It isn't the same music you hear at other spots."
And patrons take notice of the unique feeling being cultivated within the bar itself. Paige Hanserd, a graphic designer at the Philadelphia Museum of Art, attributes her love of the neighborhood to Sarah's Place. Originally from Atlanta, Hanserd had lived in other parts of Philadelphia before finally moving to Brewerytown at the tail end of the summer of 2015. She believes that grabbing drinks at Sarah's is the reason for her involvement in the neighborhood.
"Sarah's honestly played a huge part in why I have such a nice, close group of friends in Philly," Hanserd says, "It's a bar I trust, I know what I'm going to get when I go there.I know I'll see familiar faces, I know that it'll feel like my family. It doesn't feel like a bar, it feels like your friend's place that is always open."
There is good reason for why Sarah's Place feels so welcoming. The bartender knows your drinks before you even sit down and she will not think twice about telling you to back away from the jukebox while the DJ is spinning. Patrons know your birthday and, what's more, want to celebrate alongside you. A recent Thursday night saw a young man celebrating his birthday during the karaoke event. When he began to belt out "Love Train" by The O'Jays, the entirety of the room got up and formed a conga line, or love train, to show their appreciation. These small actions, the overwhelming sense of camaraderie, are why people go to a neighborhood bar in the first place.
While statistics might be singing a requiem for neighborhood spots, there are plenty of people out there who would rather forgo the latest drinking and dining craze and get down to classic funk in a room of familiar faces. And they are always welcome at Sarah's Place.