Community, Features in Kensington
A Greener Gateway: NKCDC Launches Revitalization Plan to Create a 'Vibrant Entrance' to 19134
---
Junior Rodriguez has lived on Coral Street in Kensington since 1991. But within just the last few years, he said he's witnessed the most positive change he's seen yet.
"In two years, they did a lot," said Rodriguez, a member of the Somerset Neighbors for Better Living civic organization. "Hopefully, it continues like that for another 20 years."
In 2013, after several years of studies and community meetings, the New Kensington Community Development Corporation (NKCDC) launched its North of Lehigh Revitalization Plan, a multi-year project focused on improving the quality of life for Kensington residents living north of the Lehigh Viaduct, a large railroad trestle located by Lehigh Avenue.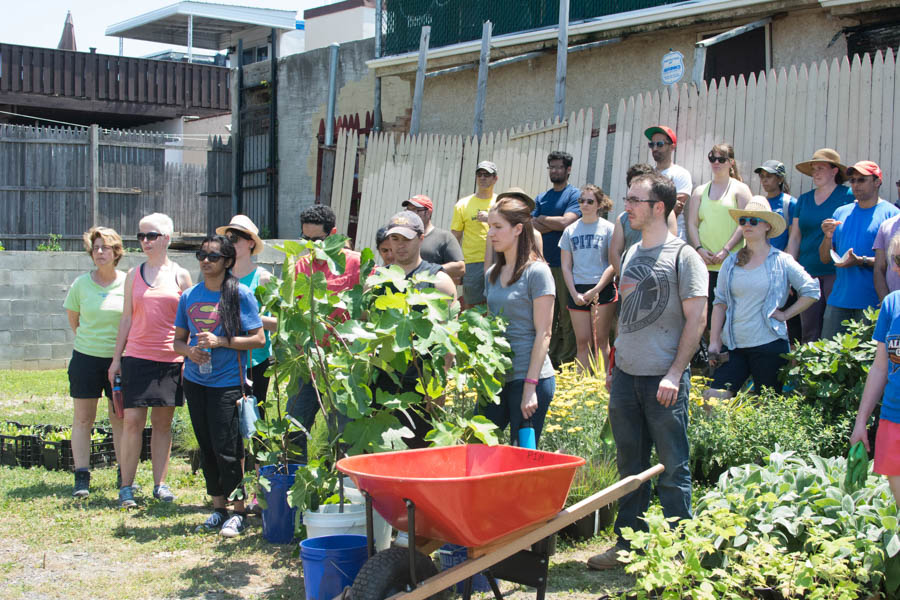 Last Saturday, Rodriguez joined more than 40 other volunteers to "green" three vacant lots along Frankford Avenue near Sterner Street, an underdeveloped area one block north of the Lehigh Viaduct known as the Frankford Gateway. The NKCDC partnered with the Delaware Valley Green Building Council and Apiary Studio, a Philadelphia-based landscape architecture firm, to design and execute the project. Residents and businesses raised over $13,000 in funding, according to an NKCDC press release.
During the build day, Rodriguez supervised the construction of raspberry trellises and fig tree plantings on a thin lot stretching between Frankford and Coral Streets. On the opposite side of Frankford, a group of volunteers planted cherry and apricot trees. Others, armed with large buckets, paced across an expanse of grass spreading wildflower seeds and fertilizer.
Andrew Goodman, the community engagement director at the NKCDC, said these greening projects work to address a "gap in the urban fabric" created by years of commercial divestment in Kensington.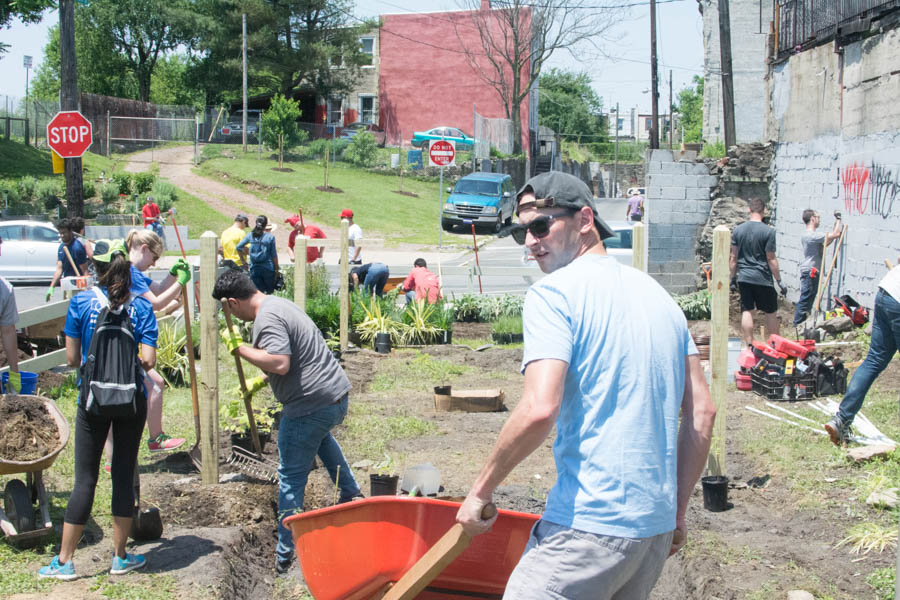 "It's much more significant than just looking pretty," Goodman said. "When greening in this section of Kensington, it improves individual health, it mitigates environmental injustices, it reduces crime. It has so many different impacts than just that beautification."
John Tracy, the NKCDC's land use and sustainability coordinator, said the improvements to the Frankford Gateway lessen the Lehigh Viaduct's divisive effect. Located at the intersection of two Kensington zip codes, the Viaduct currently serves as an obstacle to the bustling redevelopment that has transformed lower Kensington and Fishtown.
"The Viaduct creates a barrier between 19125 and 19134, and it's a massive structure," Tracy said. "The neighbors really wanted to make the Frankford Gateway a welcoming and vibrant entrance [to] the 19134 area."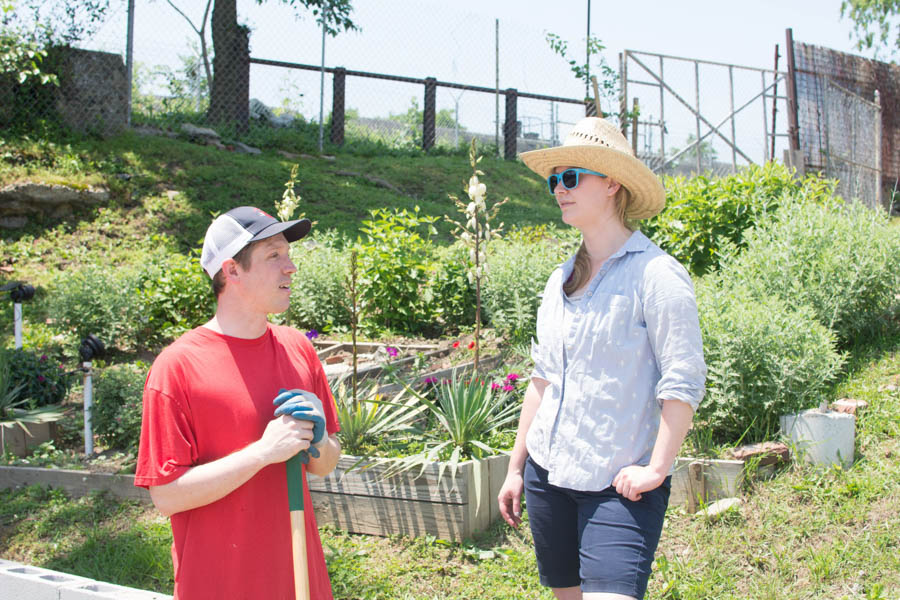 Goodman added that Saturday's landscape work represented one step in a five-year-long progression of projects targeting the Frankford Gateway. The NKCDC has previously conducted community cleanup days, installed LED lighting underneath the Viaduct and sealed off access to a quarter mile of the railroad to deter criminal activity.
"There is never [just] one phase for anything we do," Goodman said. "We'd rather take our time to get it right so it can be what neighbors always envisioned."
In conjunction with their "clean and green" projects, the NKCDC is planning to move their offices from their original location south of Lehigh Avenue to the Orinoka Civic House, another NKCDC project that turned a former textile mill into a 51-unit affordable housing development. While the NKCDC continues to provide baseline services to all Riverwards residents, Goodman said the move reflects their increased focus on underserved parts of Kensington.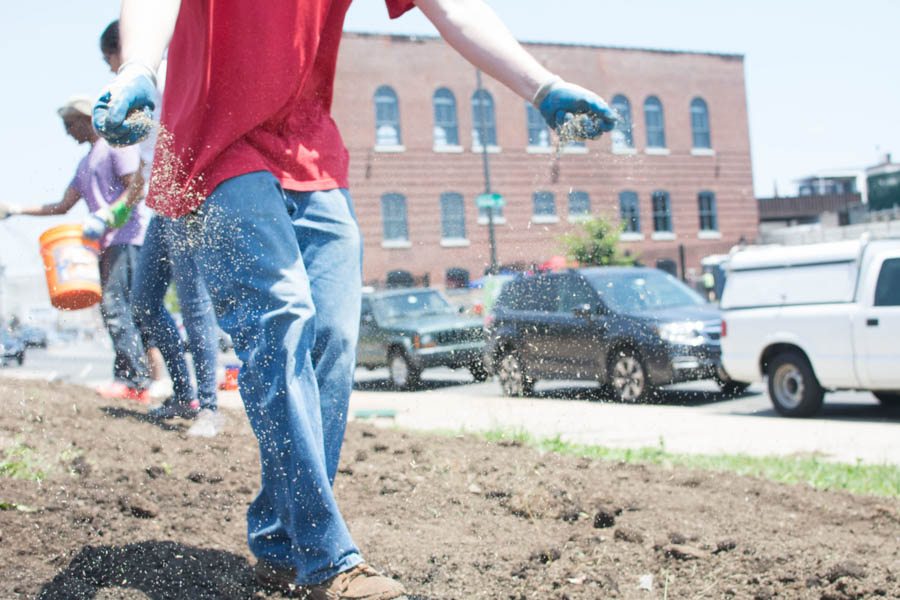 Beyond the work completed on Saturday, several community residents have volunteered to continue maintaining the new gardens and green spaces in the coming months. Additionally, AKRF Inc., an environmental consulting firm, offered to pay irrigation costs for the remainder of the year.
Marco Lopez, who volunteered during the build day, lives on Sterner Street adjacent to the newly planted orchard. Goodman said Lopez is going to help take care of the space in the future.
For Lopez, the Frankford Gateway project has been a way to bring together the neighborhood. With Rodriguez acting as his translator, he told Spirit News, "The project reunites, with the people coming together."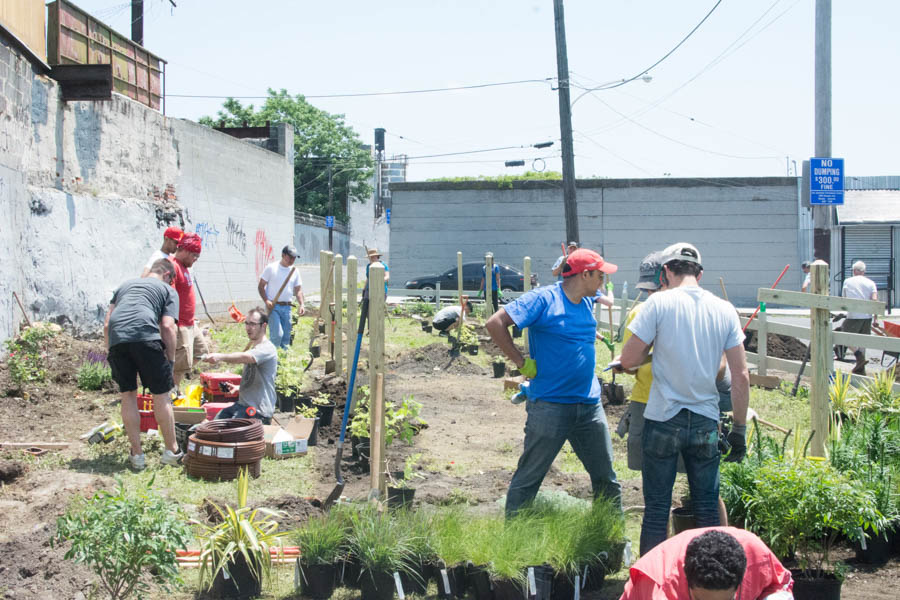 "If you help out each other, you never got problems with anything," he added.