Community, Education, Features in Strawberry Mansion
A Young Student's Haven, Strawberry Mansion Learning Center
---
A handful of young students milled about the table in the front room of a small building in Strawberry Mansion. Some socialized and chatted about schoolwork while others scanned the titles of books in the small library in the corner. Another worked at one of the computers that line the side walls.
From the rear of the room, Kevin Upshur watched them, waiting to see where his help may be needed. Upshur is the founder and chairman of the Strawberry Mansion Learning Center (2946 W Dauphin St), a haven for school kids on the corner of 30th and Dauphin Sts.
Upshur founded the Center in 2008 after his mother, who operated a bar in the same building, passed away. When he inherited it, his first thought was to rent the property, but he said he was inspired to serve the youth of the community by the memory of his mother. She was herself an advocate for the community. He said she held an annual block party in the streets outside the bar and gave advice to young mothers.
Initially, to serve the community, Upshur said he turned the site into a book store. No libraries were close by and he thought residents needed access to books. Upshur said he then turned the site into a safe house for kids to give them a retreat from the streets and a place to work on school assignments.
Soon, a mentoring program was added and Upshur himself along with other regular community volunteers and student volunteers from area colleges and Universities began tutoring the students and helping them with schoolwork. Around this time, trips were organized to take the children on outings to New York City and to Washington, DC and Harrisburg to see government in action.
Ten-year-old Jalisa Branch said she has been coming to the center for a year and likes reading books from the Learning Center's library. A favorite of hers is poet Maya Angelou. But she said her favorite subject is math and she appreciates all the tutoring she gets in that area. "But they teach you other things, [and] give personal attention," she said.
Elaina Hunter, 13, also a fan of math. She has been tutoring younger students for two of the more than five years she has been coming to the center. She said she enjoys volunteering and sees herself continuing to do so after she graduates from high school. At the center, she said she enjoys the African American history lessons, both books that are available and the teaching. "Sometimes we have African American projects [at school] and it would be a problem if we didn't have [the learning center]."
The center's mentoring effect on children extends beyond academics. Robert F Thompson, Jr. said his daughter Danesha, 9, has developed a more positive attitude toward life since using the Learning Center.
"Her homework has improved, her self-motivation has improved. She even helps her brother, a special education child. She even helps out with her one-year-old [baby brothers]. She's changed a lot."
The center's 15 computers were donated in 2012, by a friend of Upshur's. The friend, a school teacher, had been using them in a pilot program introducing African American boys to the technology. When that program ended, he donated them to the Learning Center, Upshur said.
He felt computers were needed because many neighborhood kids didn't have access at home and computer use at city libraries is restricted to an hour a day. Others just prefer the atmosphere of the Learning Center, where they can be with their peers, he added.
And at the Learning Center, kids can stay on the computers as long as they like, as long as they are doing homework.
Beyond the focus on school work, the Learning Center has other lessons. "We teach black history every day at the Strawberry Mansion Learning Center. We don't just wait for February," said Upshur.
In one corner of the room, book shelves behind glass-paned doors hold the Center's African American History Library, including rare books by the likes of Frederick Douglass. Other titles, like "Pre-Colonial Black Africa" and "12 Years as a Slave," would be hard to find elsewhere. The Library also includes biographies of historic African Americans such as Barack Obama and Malcolm X. Upshur said the library is used by kids every day.
Upshur said he also reads to the kids every day, since some of the books are too advanced for the young reader. He encourages and the kids at the Learning Center to build their libraries at home because books are a such solid reference.
Craig Smith, a member of the center's board of directors, often comes to the site to help. On a recent visit he lamented internet use eclipsing the tradition of hard-copy reading among today's youth.
"Kids don't read books today," he said. "They're afraid to go to the books. They Google it. I tell them, 'go to the books.'" Trying to pass on his appreciation for the sensory appeal of books versus the cold display of the internet, he holds a volume directly in front of a young student's nose and rifles through the pages. "Smell that!"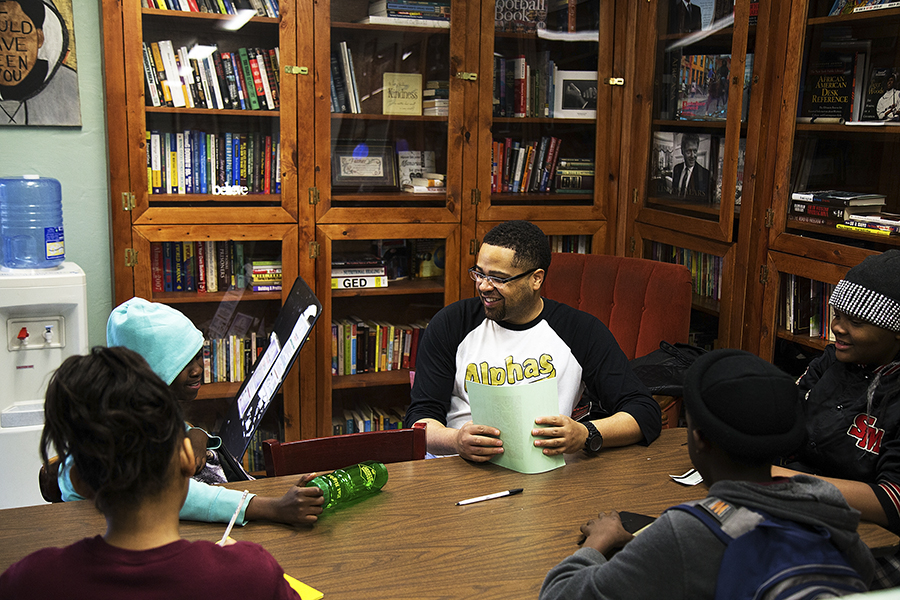 Although there is a strong African American focus to the library, Upshur said he teaches the students about other ethnic groups and cultures so that students are able to see there are differences among people, and that despite those differences, "It is important to respect everyone. It is important to learn from everyone."
To serve more of the community, for the last two years the Learning Center has served over 50 free meals every month on the third Saturday. The food is prepared and donated by Muslims for Hunger relief and served at the center.
Upshur said he would like to build a closer connection with the parents of the kids who use the Learning Center and increase the level of their engagement in their children's schooling at home. "It's important to see what the kids are doing with their homework."
In an effort to build that connection and to increase its resources, the Learning Center will hold a fundraiser breakfast March 12 at the Hilton Hotel on City Line Avenue from 9 am until 12 pm. For more information call the Learning Center at 267-639-4613.
In the best of possible futures, Upshur would like to "provide duplicate Learning Centers throughout the city with proper staffing and resources to inspire kids to reach the dream…and help kids understand who they are."
But for now, Upshur said he has accepted that he doesn't have to save every child in Strawberry Mansion to feel that he has succeeded; that if he saves one he has made an impression. Besides, he knows the task is too monumental for one person to put to rest. "I won't ever complete it. You get other people to replace [you]. It's not personal, it's a cause." he said.
The learning center is open from 3:30- 6:00 pm Monday through Thursday and serves 10 to 15 students per day.