Features, Weather
Accu-Reggie 7 Day Weather Forecast (March 8 – March 14)
---
Winter is not over, folks. It may be dying, but it is not dead. This week will be a roller coaster, not unlike every March weather experience in the City of Brotherly Love. Right now, we are stuck in a whacky pattern of inconsistent weather that shifts and changes by the day. This past weekend was brutally cold, then it dramatically warmed up. This week will trend cold again. March is running colder than February, but there is nothing strange about that!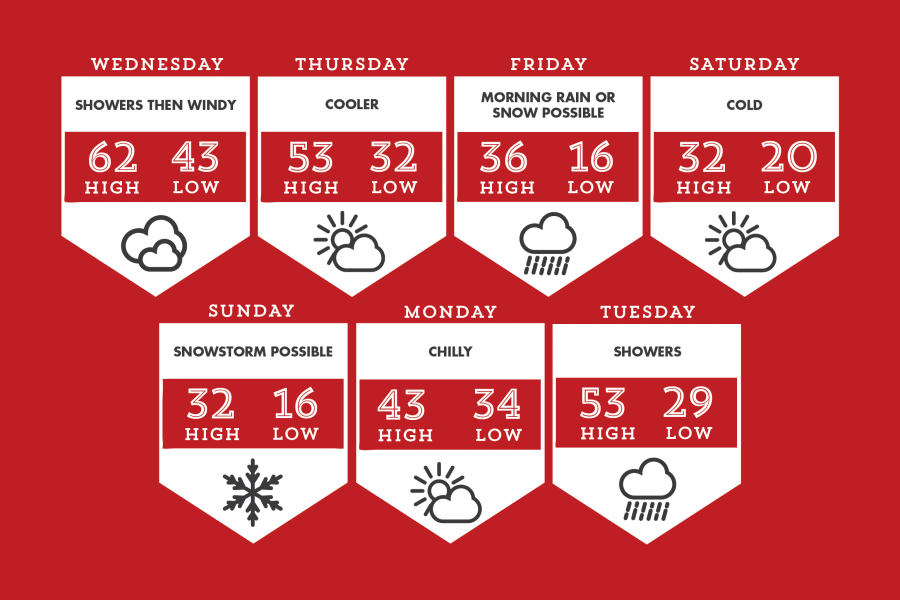 Anyhow, the main thing we need to discuss this week are storms that may come in on Friday and Sunday. Friday features a slider-type storm that, if it tracks close enough, can bring us 1-3 inches of slushy snow that would accumulate on the grass and car tops. Sunday could feature a much bigger storm that could bring a period of heavy snow and significant accumulation (4"+) to the area… or it could completely miss us to the south. Stay tuned for the details — this could be a nice storm! The thing about snow this time of year is that the sun now easily melts the snow after it lands, so it has got to come down hard to stick during daylight hours. If the snow is light, it can literally snow all day and not accumulate at all.
 Like many days this winter, Wednesday will be the "transition" day of the week. The cold front comes through in the morning with showers and we are windy in the afternoon with cooler temperatures.
Thursday will be cool and windy, but the sunshine will make it feel better
Friday will be cold with light snow early in the morning that continues into the afternoon. An inch is possible, but this storm shouldn't be a big deal. Once again, the weekend is going to be very cold.
Saturday will be brutally cold for this time of year as the Polar Vortex hovers above us in Canada.
On Sunday we look to the west for a storm that could bring in some moderate or heavy snow depending on the track. This could be anywhere from flurries to a foot, but 2-4 inches is a good call for now. Follow us on social media for more updates.
Monday is slightly warmer as temperatures rebound in the 40s.
We will see some showers on Tuesday and temperatures jump to the 50s.