Community, News, Politics
Bullock, Local Politicians Lead Discussion on Stop-and-go Beer Stores
---
Bonita Cummings knows the negative impact stop-and-go businesses can have. There's one right down the street from her house on the northeast corner of 31st and Cumberland streets. She's been fighting these corner stores that sell alcohol for years — but a lack of enforcement, old state laws and other problems have allowed them to continue to negatively impact her and other impoverished communities, she said.
"You have to hear my complaint," said Cummings, 57, who is first chair of the City's 28th Ward. "If you don't hear my complaint, and try to be a true quality business owner, then what are we talking about?"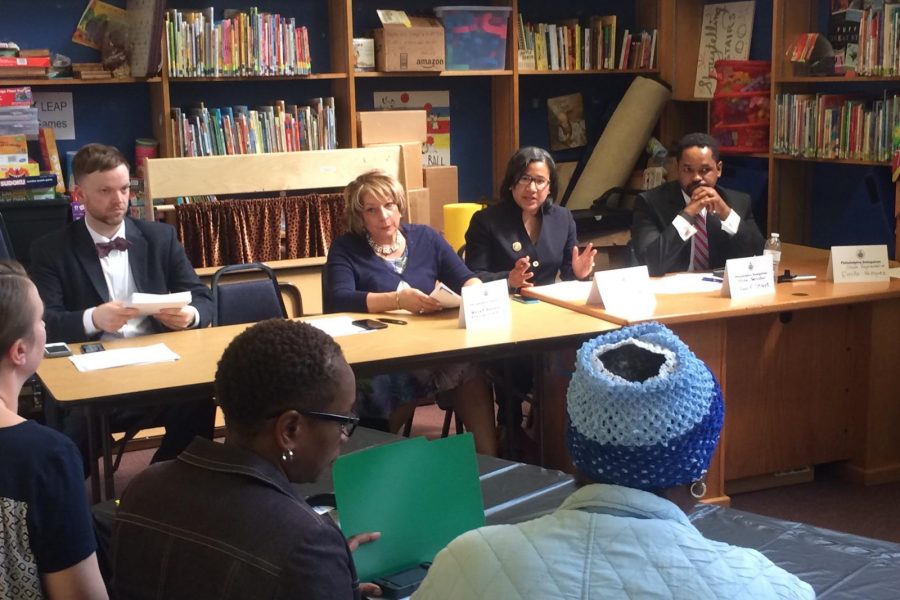 Last Thursday, state legislators, city officials and community leaders met in a backroom in the Cecil B. Moore Library near the intersection of 23rd Street and Cecil B. Moore and Ridge avenues. They discussed these stop-and-go businesses, and the nuisance they pose to residents in impoverished neighborhoods throughout Philadelphia.
Donna Bullock, who represents the state's 195th district, lives in Strawberry Mansion, where many of these "nuisance businesses" exist. She said she passes by the Cecil, 23rd and Ridge intersection every day when she drives her kids to school and consistently sees intoxicated people on the sidewalk as early as 7:30AM.
She acknowledged that stop-and-go businesses are not the only problem in these neighborhoods, but added they are not a positive influence. "It's a symptom of a larger problem in our community and what I think has happened is businesses have taken advantage of that larger problem," Bullock told Spirit News. "When you have this larger problem of poverty, you have this larger problem of schools that are underperforming, that makes the community vulnerable to bad businesses."
Bullock led the discussion with Rep. Curtis Thomas, who represents the state's 181st district. During testimony, Sgt. Chris Clark of the state's Bureau of Liquor Control Enforcement revealed that 23 officers patrol and respond to complaints about liquor violations in Chester, Delaware and Philadelphia counties.That's a problem, according to Bullock.
"There's not enough resources for them to get to every establishment in a timely manner," she told Spirit News.
Stop-and-go stores in Philadelphia have been cited in the past for serving minors, not having enough seating as a restaurant and not enough space to even function as a restaurant.
A problem that often occurs, however, is how to properly enforce these citations and laws. Sen. Sharif Street, who serves the state's third district, questioned Bureau members about why Philadelphia Police can't cite these types of issues.
"Why does the board have to observe what Philly police officers have observed?" he asked.
Clark and others said they would be open to changes in the power of police in these situations.
Rep. Thomas said that although state codes and the difficulty of multiple agencies can muddle the process, shutting down these businesses is possible. He said near the beginning of his tenure, he shut down 20 such places in his district.
The key, Thomas said, was involving community residents, who pressured him and other public officials to shut down nuisance businesses."You have a lot of juice," he said about the power and resources residents have.
Multiple politicians and officials stressed that stop-and-go establishments have been an issue for decades. Bullock hopes that last week's discussion can help create businesses that have a positive impact on impoverished communities.
"There's nothing wrong with wanting a beer on a Saturday afternoon and watching the game," she said. "We just want it to be responsible and those businesses to understand that."