Features, Local Business in Brewerytown
Cats and Coffee
---
A New Café Looks to Find Forever Homes for Philly's Strays
Kathy Jordan is always thinking of ways to help Brewerytowns' stray cats. Outside the storefront that will be Le Cat Café (2713 W. Girard Avenue), she looks around at the construction on West Girard. "There's new apartments coming up across the street. That's exciting, hopefully some of them will need a cat."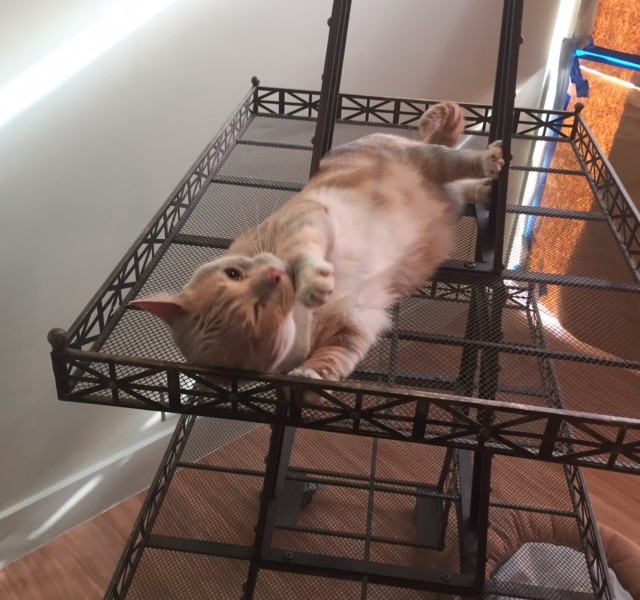 Jordan has lived in Brewerytown for the last 20 years and is excited about the changes in the neighborhood.
"Businesses on West Girard are supporting each other. I've worked with a lot of people on this street, including Girard Vet right across the street for a long time. There's a lot of good feelings. Everything is really up-and-coming right now."
Le Cat Café will function as an adoption arm of Green Street Rescue, the no-kill cat rescue Jordan has been running since 2004. The 12 cats up for adoption will live in the West Girard café space and they will be cared for by Jordan and a volunteer staff of "cat wranglers."  She's hoping for a March 1 opening date.
"Green Street Rescue's work needs more exposure and the best way to get people interested in anything is to have fun with them. We want to educate people, adopt these cats and maybe help prevent cruelty," Jordan said.
There are plenty of strays in Philadelphia that need rescuing. According to statistics from the ACCT, animal control rescued 14,935 stray cats in 2015, but only 5,679 of those cats were adopted and almost 3,000 were euthanized. Due to zoning board regulations, the cafe will only be able to hold 12 cats at a time.
In the high-ceilinged, freshly painted room Jordan lists her plans for the café, ideas coming to her as she talks. So far, she's thinking: yoga and pilates classes, music nights with opera singers, senior nights and story times where kids can read to the cats, photography classes, a trap-neuter-release program and a lint roller station so you can freshen up after an afternoon of cat cuddles.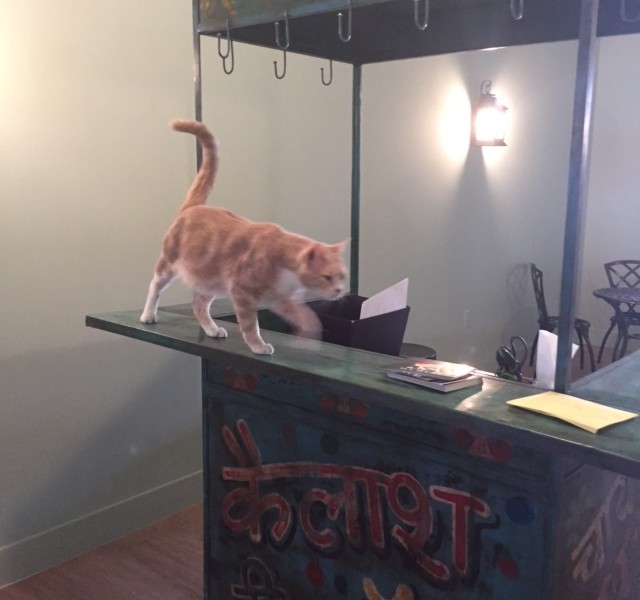 She's also planning on having the cats streamed live over iPet Companion, a service that allows digital users to interact with shelter cats in real time. Just don't expect a third-wave coffee experience at Le Cat Café.
"We'll have a Keurig. Tea, coffee, hot chocolate, real simple. The café is about cats and community. It's not really about coffee." She laughs, "You can bring in food from someplace else. It's about the cats."
Cats in shelters spend most of their days in small, dark cages. Jordan believes that the free-roaming café cats will be healthier, friendlier and therefore more adoptable. It's her belief that an animal's personality shines through when they're not caged.
"It's about adoption and education. Letting people see that the scraggly, filthy cat you saw in the street is the one you're adopting," she said. "They may need to learn some manners or have a bath but they're friendly, they want to go to a loving home."
A $12 donation with get you an hour of cat time, a cup of coffee and Wi-Fi access. You're welcome to bring your own food, and she'll have cat treats for sale.  The café will be 100% donation funded and they have a Giving Grid donation page set up.  (https://www.givinggrid.com/lecatcafe). All donations are tax deductible. Le Cat Cafe is also currently accepting applications for volunteers, who will be tasked with "scooping, sweeping and wrangling." Projected café hours will be 11am-7pm.
So what's the goal for Le Cat Café? Jordan says, "I hope we run out of cats."